Ribollita, a hearty Tuscan soup
I've never been one to dislike Mondays, tending to appreciate the fresh starts. A few weeks ago, though, one particular Monday, left me feeling like Wonder Woman, deflecting roadblock after roadblock in my attempt to fulfill my long list of things to do, and combat a series of seasonal illnesses (hello bronchitis, strep and the flu). It was one of those moments where the task of single parenting left me feeling breathless.
In the grand scheme of things, everything turned out fine, and thanks to lots of chicken soup, a cold & flu tincture from the health food store, and a homemade batch of thieves' oil to rub on our feet daily (more about this soon!), we are mostly recovered. I hope, fingers crossed, lest I tempt the fates too much.
Well, in the midst of it all, I revisited an old recipe from my cookbook Homemade With Love: Simple Scratch Cooking from In Jennie's Kitchen. It's hard to believe next month is my book's fifth birthday. It feels like a million years ago in many ways, and reading through the book brings me back to another lifetime (you can still buy it from Amazon, or my preferred choice, Book Depository. I receive no kickback from Book Depository, I just love that they offer free shipping internationally, and you can also find European printings of books.
This Ribollita is from that cookbook, and a perfectly comforting cold-weather meal. It's brimming with beans, veggies, and a thrifty way to make use of stale bread, a key component to this Tuscan soup. It starts off with browning some bacon for extra flavor. You can use pancetta, or opt for a vegetarian soup by skipping that step, and swirling some oil in the pot and move on to the next step of sautéing the aromatics.
I use kale in this recipe, but you can swap in any leafy green—Swiss chard, spinach, even escarole. Canned beans are totally fine to use, in fact it's how I developed the recipe originally, but if you happen to have some beans cooked from scratch in the fridge, I'd use those given the choice. Hope you all find it as delicious and comforting as I do, and that your Monday is off to a gentle start.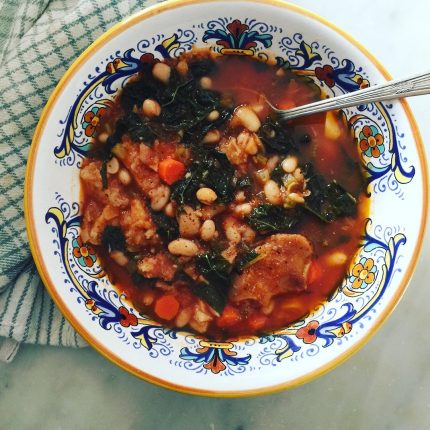 Ribollita
Ingredients
4

slices

74g bacon, diced (1 tbs olive oil if not using bacon)

2

cloves

garlic

crushed

3

large carrots

sliced into coins

3

ribs of celery

diced

1

medium onion

diced

4

cups

1L vegetable broth

1

small bunch lacinato kale

ribs removed & leaves torn into pieces

1

can

15-ounces/425 grams white beans (1 ¾ cups)

I can

14-ounces/400 grams diced tomatoes

2-

inch

piece

116g of Parmesan Rind

2-

inch

piece

63g of French Bread, torn into bite size pieces
Instructions
Add the bacon to a medium pot over medium-high heat. Sauté until browned and crisp. Using a slotted spoon, transfer to a paper-towel lined plate to drain.

Add the garlic, carrots, celery, and onion to the bacon drippings in the pot. Sauté until slightly softened.

Stir in the vegetable broth, cheese rind, diced tomatoes and bacon. Bring to a boil then reduce to a gentle simmer for 10 minutes.

Add white beans and kale. Stir. Cover the pot, and cook for 10 minutes. Add the bread cubes, and let stand off the heat a few minutes so the bread can soak up the soup a bit. Be sure to remove & discard the cheese rind before serving.