chipotle orange chocolate chip cookies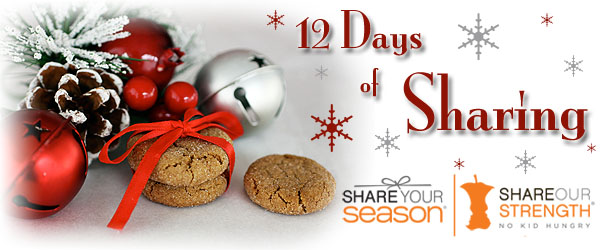 Everything in life starts with a seedling, whether it's literally in the case of plants, or figuratively with an idea. Two ideas were swirling in the air back in October. I'd made up my mind to host a virtual cookie swap. It seemed a fun way to share everyone's holiday recipes. Then came the October Share Our Strength food chat on twitter (#sosfood). Some of my favorite food bloggers were brainstorming on ways to help those less fortunate. Even though we were many miles apart, I felt connected to all of them. So, It all started with a cookie and an idea. It sounds simple, but the difference it could make in a child's life is enormous. For the 12 days, we're baking our hearts out to make sure no kid goes hungry this holiday season. How can you help? It's easy. See that badge below? Click on it and make a donation. The feeling that will wash over knowing you've made a difference  in a child's life will be the best gift you get this season.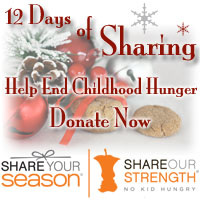 And because we can't thank you enough for your generosity, we've found some amazing corporate donors to help us. Each donation you make via the 12 Days of Sharing badge between today and December 18th equals a free entry into a giveaway for some pretty cool prizes. How cool? Well, let's start with a brand new Cuisinart Stand Mixer? Check out the complete list of giveaway prizes. How about setting a challenge for yourself, and pack breakfast or lunch for the next week? Use the money you'd normally spend and donate it to Share Our Strength each day.
Want to get involved? In addition to donating, how about sharing a recipe with us in the virtual cookie jar. It doesn't even have to be a cookie. Sara from Cupcake Muffin contributed this amazing looking coconut lime white chocolate chip muffin recipe. I can't wait to give it a try and taste. If you have a recipe you'd like to add to the cookie jar, get the details here.
Since this idea all started with a simple cookie swap, it seemed fitting to share my new chipotle orange chocolate chip cookies. On the surface they look like a plain old chocolate chip cookie. After the first bite, though, you realize what you get is an intense layer of flavors. The first wave is orange. Then comes the chunks of chocolate, and just when you think you're done…wait a second. Yep, you'll feel a warm, tingly feeling in the back of your mouth—that's the chipotle. Now go browse the virtual cookie jar and see what everyone else is baking, and when you find your favorite recipe, pay it forward and make a donation to Share Our Strength—it's what Oprah would want. Really, In Jennie's Kitchen is a  featured blog at Oprah.com.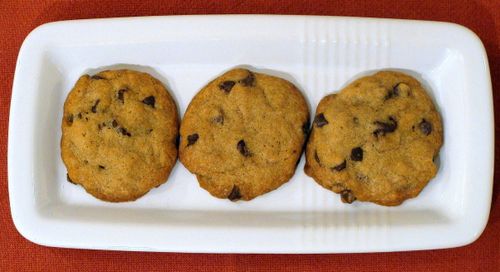 Chipotle Orange Chocolate Chip Cookies
makes 4 dozen
I write for the Cuisinart Stand Mixer blog, and feel extremely lucky to have gotten this powerhouse mixer complimentary for my recipe testing. Get a chance to win one of your own by making a donation here.
2 cups flour
1/2 teaspoon baking powder
1/4 teaspoon baking soda
1/2 teaspoon kosher salt
3/8 to 1/2 teaspoon chipotle powder, depending on taste
1 1/2 sticks butter, softened
1cup brown sugar
2 large eggs, at room temperature
Zest of one orange
2 teaspoons pure vanilla extract
12 ounces bittersweet chocolate chips or chopped chocolate
Preheat oven to 350ºF. Add flour, baking powder, baking soda, chipotle and salt to a medium bowl. Whisk to combine; set aside.
Add softened butter and sugars to the bowl of your Cuisinart Stand Mixer. Beat on medium-high speed until fluffy. Adds eggs, vanilla extract and orange zest. Beat until fluffy well blended.
Add flour mixture and mix until dough is just combined and there is no visible flour remaining. Stir in chocolate chips. Drop by teaspoonfuls onto a lined baking sheet (I use silicon liners) . Bake for 10 minutes, until edges are golden. Remove from oven and let stand on sheet for 2 minutes. Transfer to a wire rack. Serve warm or cool completely and store in an airtight container for up to three days.