Honey Chamomile Spice Cake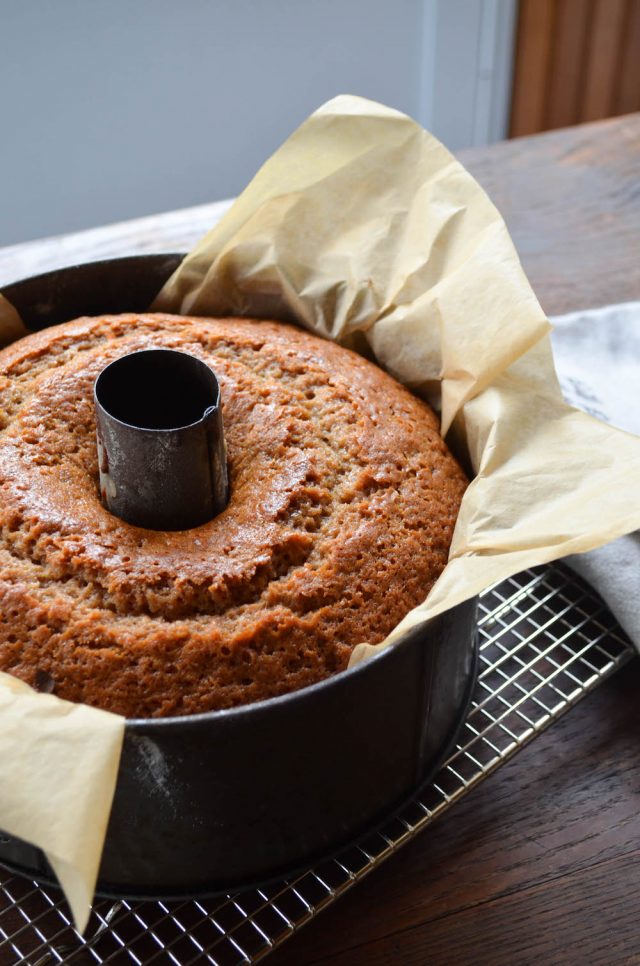 This Honey Chamomile Cake is a bit of a bully. There's a half dozen recipes in the queue I want to share, but this here gentle giant pushed its way to the top. It's not the cake's fault, really. I'm sharing this so immediately for anyone who's celebrating Rosh Hashana, the Jewish New Year, this weekend, but this cake is really a lovely everyday cake, too.
It's incredibly easy to make—Virginia, my little one, made it mostly by herself. Another bonus is you don't need to take out the stand mixer, or even a hand mixer. We used a whisk, and while it's a little bit of an arm workout (her words exactly), a whisk gets the job done just fine without dirtying any other equipment. So, I guess the other bonus is that this is a one bowl cake!
The original recipe was included in a Cook & Learn bundle from my friend Michelle's website, What's Cooking with kids. I'm so happy I saw the link to this particular bundle while I was on Twitter last week because it was a perfect homeschool activity for Virginia. The kit includes worksheets, really they're fun games to help with spelling, writing, and spur creative thinking.
A recipe is also included with each bundle, and the genius part here is that it's formatted in a very easy-to-follow format for young cooks. Virginia did most of the heavy lifting, so to speak, with making this cake. She took care of all the measuring, and I didn't intervene, even though I know one mix up in measurements could be disastrous when in comes to making a cake from scratch.
Being who I am, and what I do for a living, of course I did tinker a bit with this recipe. We didn't have any orange juice in the house, so I swapped in fresh pressed apple cider. The apples seemed a nice pairing, since apples and honey are common bedfellows for Rosh Hashana. I should back step for a moment, and explain why honey. It's to signify a sweet New Year ahead. I'm no doubt over simplifying, and will hope my friend Marisa chimes in on this post to offer a more thorough explanation.
The recipe also called for coffee or tea. While this cake has absolutely no place in the detox I'm doing (sugar, flour, eggs!), being mindful of what I'm eating did inspire me to use an herbal tea in here. Honey and chamomile are natural pairings. The flavor is really subtle, more of a quiet undertone.
I should mention that while there's a significant amount of sweetener in here, between the sugar and honey, this Honey Chamomile Cake is not at all overly sweet.
That's mainly because it's a large cake—enough to serve 14 to 16 people. I know, you wouldn't expect a humble tube pan cake to be that plentiful, but it is.
We'll be away this weekend, celebrating with friends at a Bat Mitzvah and wedding (I know, busy weekend!), and have a belated Rosh Hashanah dinner on Monday evening. I've wrapped this cake in parchment, and plan to tuck it in the freezer so we can continue enjoying it then.
Update: we've been enjoying this cake for a few days now, so I wanted to say this one of those recipes where it gets better with age.  Feel free to bake this up to 3 days in advance, wrap in parchment paper, and leave out on the counter until you're ready to serve it).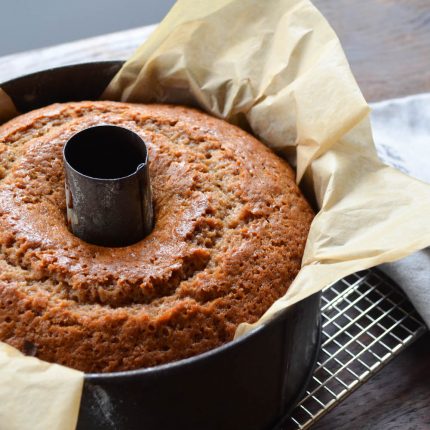 Honey Chamomile Spice Cake
I love that you (almost) just dump everything in a bowl, mix it up, pour it in the pan, then bake. It sounds too easy to be true, but it really is, and will likely be the most tender, moist cake you ever eat. For that reason, I'm writing this a little differently for ease and to save some wordiness in the directions (this headnote, however, is a lost cause for excessive word count!). I used an old vintage Swan's Down tube pan, and wanted to take extra precaution that my cake would leak out. It has these air vents that you can open and close, I assume to help the cake cool faster. Anyway, I decided to measure a piece of parchment paper long enough to generously hang over the sides. I then cut out a hole in the center so it could slide over the center tube. It worked like a charm.
Ingredients
Dry Ingredients

3 1/2

cups

500 grams all-purpose flour

1

tablespoon

15 grams baking powder

1

teaspoon

5 grams baking soda

1/2

teaspoon

kosher salt

4

teaspoons

8 grams ground cinnamon

1/2

teaspoon

ground cloves

1/2

teaspoon

ground allspice

Wet Ingredients

1

cup

235 ml grapeseed oil

1

cup

320 grams creamy, churned honey

1

cup

200 grams granulated sugar

1/2

cup

95 grams light brown sugar

1

cup

warm

235 ml chamomile tea

1/2

cup

120 ml fresh pressed apple cider

3

large eggs
Instructions
Preheat your oven to 350ºF (180ºC). Grease and flour a 10-inch tube pan.

Add the dry ingredients to a very deep bowl. Whisk to blend.

Add the wet ingredients to the bowl. Using a whisk, and starting off slowly, stir until it forms a thick batter. It'll be a "little arm workout", as my 8-year old said while making this. You could break out a stand or hand mixer, but the whisk worked fine for me.

Pour the batter in the prepared pan. Bake for 55 to 60 minutes, until a skewer inserted in the center comes out clean.