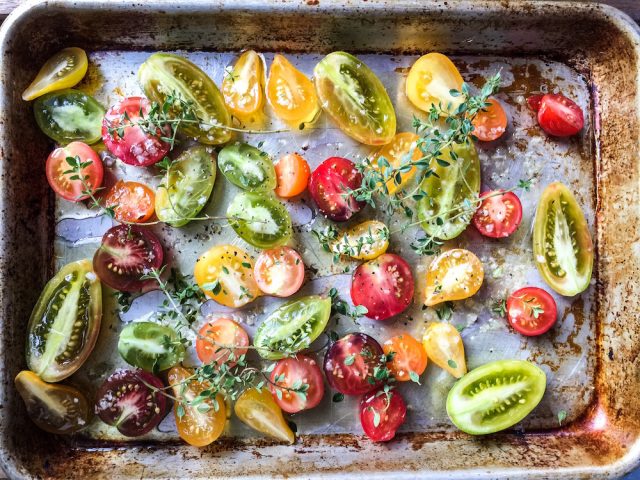 I'm sorry for getting this week's meal plan up so late in the day, folks. I woke up feeling like a hippo had made my forehead it's home—cue the change in seasons, and my sinuses going all out of whack! The good news of having been hit with such a horrible headache is it reminded me to add making a new batch of Fire Cider to my To Do list. I hope to share more about how to make your own fire cider in the coming weeks. In the meantime, if you see fresh horseradish root at the farmers' market or your local health food store, make sure to buy some—it's an essential ingredient, and one I find to be rather challenging to track down myself.
On to what I'm planning to make, or at least thinking about cooking this week! I just took a fresh loaf of bread from the oven, and plan to share a new recipe for bread dough soon (hopefully this week?). I'm not sure how much longer eggplant will grace me with its presence at the farm stand, so this might be our last chance at Crispy Baked Eggplant until next summer.
The cooler temperatures also mean roast chicken will be a regular around here. Last week I made mashed potatoes to go with them, my younger daughter's favorite. Not sure about this week. There's a tub of leftover white rice in the fridge, so that means fried rice will happen for school lunch during the week. I'll use this recipe as a base, and add in whatever proteins I have in the fridge to bulk it up.
Isabella's high school is going on a two-day camping trip nearby, a group building exercise of sorts. The school is tiny—only 205 students in total, from nursery school through grade 12, so when I say the whole high school, it's only around 35 students plus teachers. I volunteered to bake desserts for one night, and deliver them since the camp is close to my house. Perfect Chocolate Chips are on the menu, and some sort of pie, probably apple since that's all the fruit we have in season here now (cue sad face). Here's a peek at everything on my "to make" list. Hope the weekend was peaceful, and the week ahead a good one!