Twice as Nice: Vegetable Fried Rice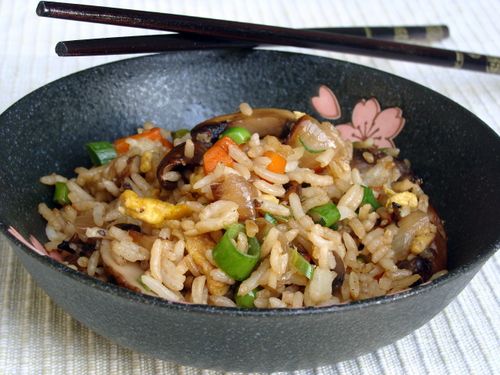 Growing up in Brooklyn there were always two reliable takeout options: pizza and Chinese. While you can still get an awesome slice of pizza, some of the best, least expensive and most convenient pies come from my own kitchen. The same now holds true for Chinese food.
True, Chinatown is mere minutes away by subway, but it's too busy and the frenzy rattles my nerves. Not to mention schlepping with two kids is not my idea of a fun night out. Instead of settling for a mediocre meal in the neighborhood, I've started building my own collection of Asian recipes. Some are from other bloggers and authors (I was lucky enough to get a sneak peak at the new Steamy Kitchen Cookbook by Jaden Hair—and boy are you all in for a treat). Another book I enjoyed recently is Chop, Sizzle and Stir: Easy Recipes for Fabulous Stir-fries by Nadia Arumuga. I tested some recipes for the October issue of Working Mother magazine, and especially loved the Beef with Butternut Squash and Szechuan Pepper.
Then, there are the are the recipes that come from what I have on hand. I always keep soy sauce, oyster sauce, sesame oil and black bean sauce in the pantry for seasonings. My other secret weapon is rice—leftover rice specifically. The grains tend to hold their shape and absorb the flavors better the next day, so I always make extra to have on hand for later in the week.

Using a rice cooker comes in handy for a few reasons. One, you don't have to worry about anything boiling over. Most are coated so there's no sticking to the pot, either. And most importantly, they just plug into the wall, so you can measure ingredients, add, then push a button and get on with preparing the rest of the meal. Both Aroma Housewares and Panasonic sent me some models to test. The 3 cup, very compact, and inexpensive Panasonic did a kick-butt job, but the rice didn't stay hot for very long. Probably a good choice if you don't have kids and can actually eat your food the moment it's cooked. For volume cooking and rice that stays nice and hot a long while, I'd go with this Aroma model. It also has a setting for brown rice and a quick cook feature. The water reservoir is also a nice touch. 
Now, enough tech talk. The real reason I love fried rice is because it's a quick, easy meal. While most people think of it as a side dish, I'm happy to sit down with a bowl and call dinner done. It's got veggies, eggs and if you want to make it even more filling, then go ahead and add some chopped up roast pork or leftover rotisserie chicken. And while I consider a wok indispensable (it was the first piece of cookware I ever bought), you can also make this recipe in a large nonstick skillet.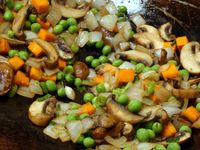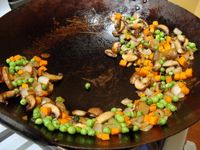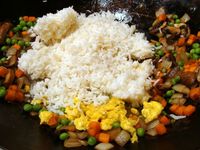 Vegetable Fried Rice
Serves 6 to 8
1 Tablespoon canola oil, plus more as needed
1 large egg, lightly beaten
1 small onion, chopped
1 carrot, diced 1/4-inch
½ cup sliced baby bella mushrooms
¼ cup frozen peas
4 cups leftover white rice
4 teaspoons soy sauce
1 teaspoon oyster sauce
1 teaspoon sesame oil
Salt & freshly ground pepper, to taste
¼ cup sliced scallions
In a small bowl, whisk the soy sauce, oyster sauce and sesame oil together; set aside.
Heat 1 teaspoon of oil in a wok or deep skillet over medium-high heat. Add onions, carrots and mushrooms and saute until golden, about 5 minutes.  Add peas to wok and stir-fry for 1 minute. Push vegetables to outer sides of wok or skillet and heat another teaspoon of oil over medium-heat. Add egg and use a chopstick or fork to scramble.
Add rice and remaining oil, plus more if rice is still to sticky, and stir fry vigorously to mix well and break up any large clumps of rice. Pour reserved soy sauce mixture over rice and stir well to coat. Season with salt and pepper. Add scallions, toss well and serve while hot.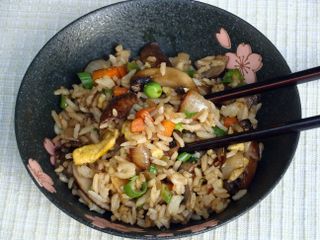 Related Recipes
Homemade Pizza                Coconut Peanut Sauce Beef


SaveSave