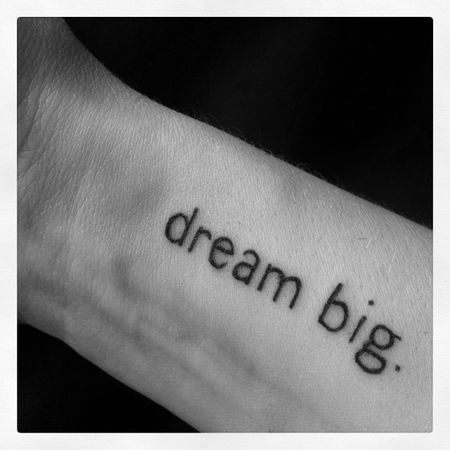 It used to be I woke up and knew what kind of day I was going to have, or at least what mindset I would approach it with. Most days it was with a sunnier side of life outlook. On the days I stirred feeling a restlessness in my core, I'd do my best to break out of it.
Nowadays, unpredictability seems to be the name of the game. I feel lost, like I'm in need of an anchor, something to ground me and assure me that everything will be okay. I know this is only a phase, but the anxiety on my part stems from the wonder of how long this phase will last. The feelings of sadness and insecurity also come barreling out of nowhere. One minute I'm fine, fondling Valentino dresses at Loehmann's—I didn't buy any, the next I'm a teary mess talking to the salesman at West Elm. It just seems to be par for the course these days.
I needed something to center me, keep me focused and remind me that I can do this, even during the seconds and minutes when I don't want to. See, everyone seems to think my girls are enough to keep moving forward. I love them, gosh knows I really do. Isabella and Virginia, if you girls read this post one day when you grow up, you should know that next to your daddy, the two of you are my beacons. I am very aware, though, that you both need to be free to grow up one day and live your own lives. You do not need to be tethered to a mom who is utterly dependent on you for her own happiness. I've always been keenly aware of this, long before your papa died.
As you grow up, it's important to understand that independence is key in preserving the relationships that matter most. So, a mother is not simply a mommy. A wife is not just the woman who married her husband. A writer is not just someone who puts words to paper for a living. People are like puzzles, and there are a multitude of pieces that make us complete. My challenge now is to figure out how to live life minus one key piece. The puzzle that is my life is not one I want to discard, but your lives are your puzzle and I cannot take a piece of you to fill the void your daddy has left in mine.
So for the days when I need a reminder that I will survive, flourish and have so much life left to live, I got that tattoo you see above. It is something I've always believed in staunchly. Some day, I'll tell you both about the challenges your daddy and I overcame. For now, just know that this humble Brooklyn gal and a blue-collar boy from the Bronx made good because we never gave up on our dreams.