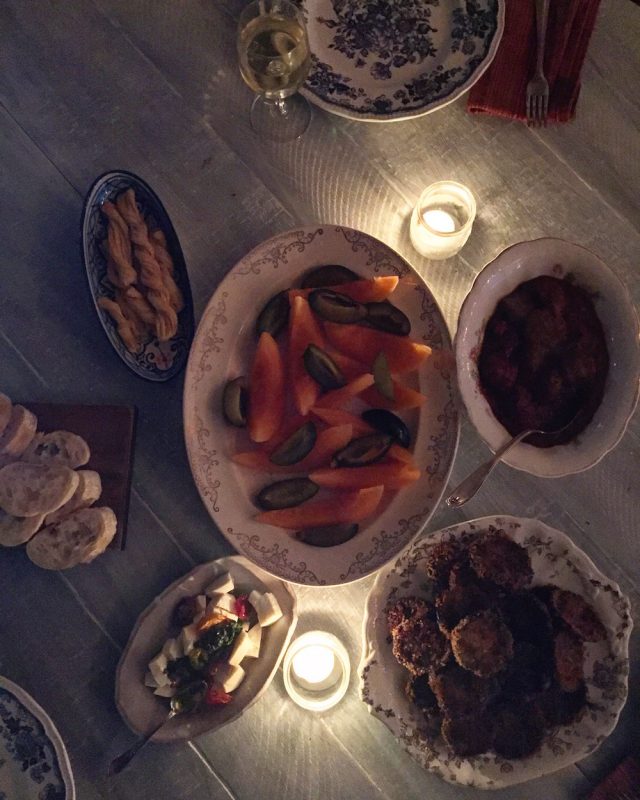 I spent a few days in the city last week—part work, part play, and just got back Saturday afternoon, so it feels like one big game of catch up now. I also have to confess something. I didn't cook for three whole days, and you know what? It felt amazing. I feel so torn about admitting that. I mean, I love being in the kitchen, but especially around this time of year, I feel a little burnt out with all of my preserving projects. They'll be an endless source of enjoyment in a few months when everything is cold, grey, and we're knee-deep in nothing but apples and cabbage.
Canning is more than a recreational sport for me. It allows us to appreciate the summer harvest year-round, but it gets exhausting as everything comes in at once—tomatoes, cucumbers, eggplant, peaches (I think those may be done by now, though). So, it was a welcome relief to step out of the kitchen, and eat every meal out for three days, in NYC of all places, too.
But let's talk about what eating at Chez Perillo will look like this week. School starts on Thursday, and part of thinking ahead involves having options for lunch. I read an article someone shared on Facebook a few days ago about things should do to prepare your kids for college, and of course one of them is make them pack their own lunch.
I see the sensible side to this, and have encouraged (perhaps pushed) my girls to be independent. They do not rely on me for breakfast, unless I've baked something on a whim or specifically offered to make a hot meal. Most mornings, even during the lazy days of summer, they know to forage around the fridge and cupboards for sustenance. Virginia has been preparing her own midday snacks since she was seven years old.
When it comes to school lunches, though, I don't mind taking the steering wheel. Packing their lunch is my way of sending them off with a hug to unwrap in the middle of their school day. Maybe they had a spat with a friend, trouble figuring out a math problem, or are just in a sad mood without understanding why. Whether they realize it or not, that lunch provides them nourishment beyond a physical need.
This isn't to say you should pack your children's lunches if you really don't want too, or if they enjoy doing it themselves. I just feel like we're bombarded with so many click baity articles about what we should and shouldn't do that might leave us wondering if we should trust our gut or some arbitrary journalist in dire need of clicks for ad revenue.
Dumplings are a favorite lunch food (really anytime food for my girls), and travel nicely in insulated thermoses. I prepare a big batch of dumplings in advance, flash freeze them on a baking tray, then store in a ziptop bag, and cook as I need them. To keep thermos hot, I fill it with boiling water while the dumplings are cooking, then toss it back into the teapot when I'm ready to add the dumplings. If you want to cook them the night before, they heat well in the microwave, too.
Last week I attended an event at Martha Stewart's test kitchen for Marley Spoon. I'm going to write more about this once I test the kit in the comfort of my own home, but let's just say I was blown away with them at the event. We cooked straight from the kits, and if anyone was ever NOT a candidate for a meal kit it would be me. I make everything from scratch, and have an extensive pantry of spices, ingredients, and a garden full of fresh herbs. Why would I use a meal kit? (See previous paragragh about cooking fatigue!)
The idea that I can make a homemade meal, from scratch, and not have to do one bit of planning is what won me over. The ingredients are mostly organic, but not all, and the meat is sustainably sourced. I'll elaborate on Marley Spoon more in a separate post, but wanted you to know they are part of my meal plan this week for two nights. The servings are very generous compared to the way we eat, so I suspect these two kits will yield some leftovers, too.
And with that, let's take a look at my full meal plan for the week (or as close as a non-planner like myself can get to planning a week's worth of cooking).
Marley Spoon's Pork Schnitzel & Sautéed Chicken with Salsa Verde
Vegetable Dumplings (this recipe for the wrappers & this recipe for filling)
Healing Broth (putting myself back on track with a cup of this every morning)
Crispy Roasted Tofu (I plan to let the girls eat the chicken, and use this for myself with the orzo pilaf & salsa verde from my Marley Spoon meal kit)
Apple Breakfast Bars (perfect for school lunch)
Shredded Cabbage & Apple Salad (this salad is perfect as a side, but also a quick, easy meal if you add a fried egg to it!)
Smoky Corn & Bean Chili (I make this recipe at least once a week–it's the girls' favorite, and ready in less than 30 minutes)
p.s. this is a good time to put up a batch of Homemade Vanilla Extract if you want to give it as gifts for the holidays. Mine is chilling out in the family room closet (a good cooler, dark spot in the house), and will be ready to use in two months.