Whole Grain Blueberry Muffins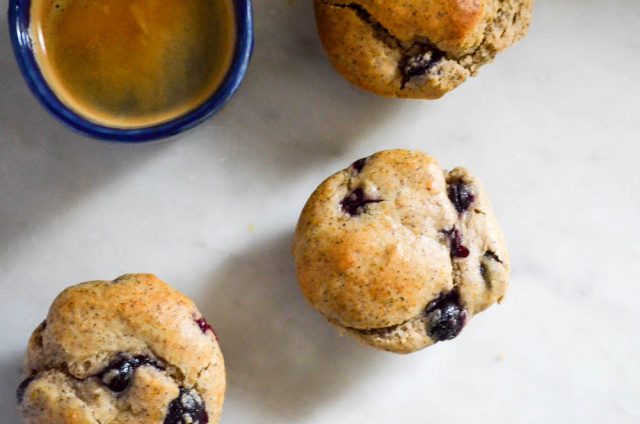 Is it too soon to share another blueberry muffin recipe? There are certainly other recipes I can share, but something about this new Whole Grain Blueberry Muffin recipe feels timely with (gulp) school starting next week. We tend to eat breakfast—wait for it—in the car. Well, the kids do. I wake up nice and early, do my meditation, have coffee, read the news, and then wake up the not-so-little-anymore bugs.
They're not really eat-first-thing in the morning people. My girls need time to wake up, and work up an appetite, so often they'll toast a bagel, or make a peanut butter sandwich to eat in the car. Sometimes we even pack cereal in a mason jar, with milk in a separate thermos. It's kind of hilarious watching them with their cloth napkins, and real spoons in the back seat. I know Michael is laughing, watching the whole thing from wherever he may be.
What I love about these muffins is that they have staying power. Bake a batch today, and you can enjoy them for a day or two afterwards. They stay fresh, soft, and the flavor develops. Speaking of which, as I write this, I'm remembering there are a few tucked under the cover of a silver cake stand in my dining room, invisible to anyone who doesn't know they're there. I'm in NYC for a few days for meetings and events, soooo I must send a note to my sitter, letting her know they are there. Otherwise, that'll be a fun science experiment when I get home.
This year the girls are signed up for the school bus, except of course the school bus doesn't stop by our house, so I'll have to drive them to it five miles away. I know my logic, and if I'm already in the car, there will be days when I decide to just drive the extra 10 miles, and bring them to school myself. On those days, we'll be packing muffins. Something tells me they will not want mama to send them on the school bus with homemade muffins wrapped in cloth napkins.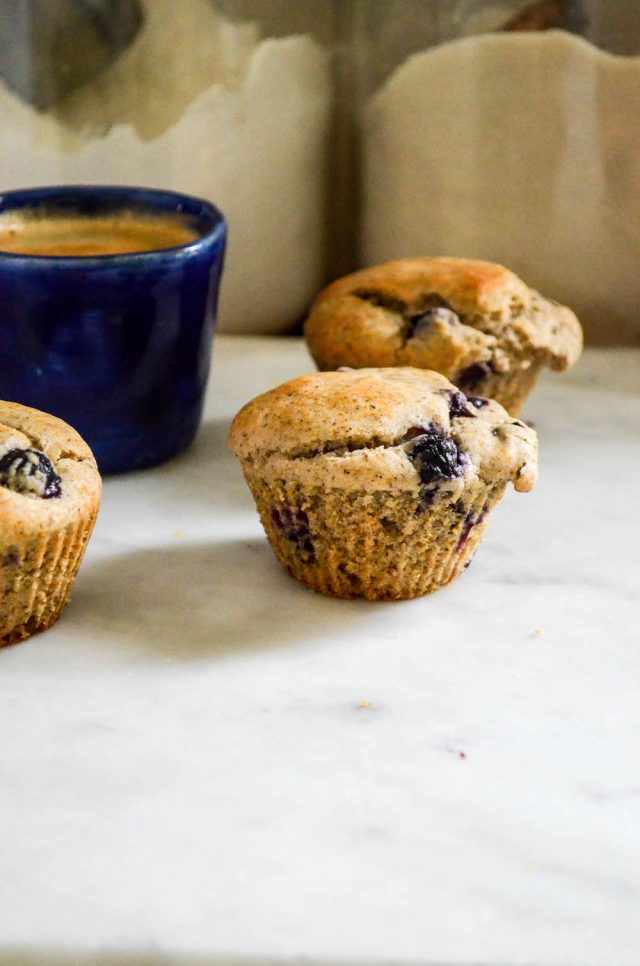 So, the muffins, let's talk about them. If you made these muffins from earlier in the week, then you realize the recipe looks familiar, and for good reason. I used that one as a springboard for these Whole Grain Blueberry Muffins. I used a local flour, that bills itself as "all purpose", but in reality it's closer to a whole wheat pastry flour, not as light, and yet not as dense as straight up whole wheat flour.
There's a bit of buckwheat flour in here, too, and I highly recommend keeping it in there. If you're worried about how to use up the remaining buckwheat flour, try this, this, this, this, this, or this recipe. Oh, and there's this recipe, too—make sure you pin it for the month of December.
These Whole Grain Blueberry Muffins are also dairy-free. I used homemade almond milk. Feel free to use whatever milk you have on hand, dairy-free or dairy-full—either will work just fine. As for the blueberries, fresh or frozen—again, use what you have, or can find. Hope the week has been a good one, and you all have some plans to relax and enjoy this last weekend before Summer unofficially ends. I'll pop back in here on Sunday with a meal plan for the week!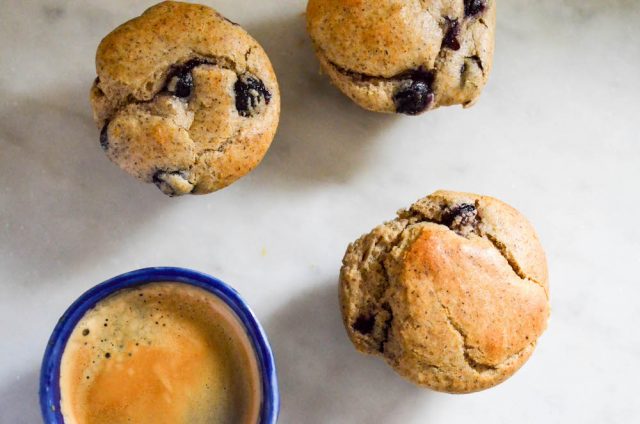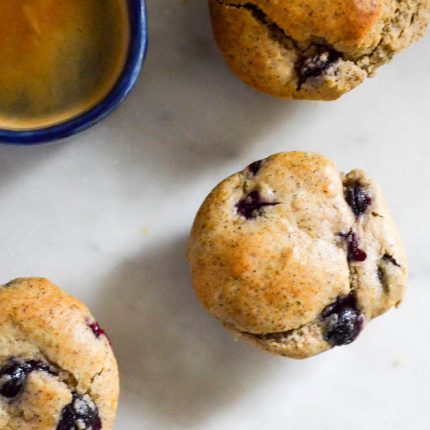 Whole Grain Blueberry Muffins
Ingredients
120

grams

soft whole wheat pastry flour

15

grams

buckwheat flour

1 ½

teaspoons

7 grams baking powder

Pinch

of sea salt

1

egg

2

tablespoons

40 grams creamy, churned honey

¼

cup

60 ml grapeseed oil

6

tablespoons

90 ml almond milk (or your favorite milk)

½ to ¾

cup

100 grams blueberries, fresh or frozen (not thawed)
Instructions
Preheat the oven to 350ºF. Grease a 6-cup muffin tin, or line with parchment cups.

Whisk flours, baking powder, and salt in a medium bowl.

In a separate small bowl, whisk egg, honey, oil and milk together until blended. Pour over the flour mixture, and stir with a wooden spoon. Fold in the blueberries.

Evenly spoon the batter into the prepared muffin cups. Bake for 28 minutes, golden and center springs back when gently touched (you can also use the good old skewer test for doneness).
SaveSave