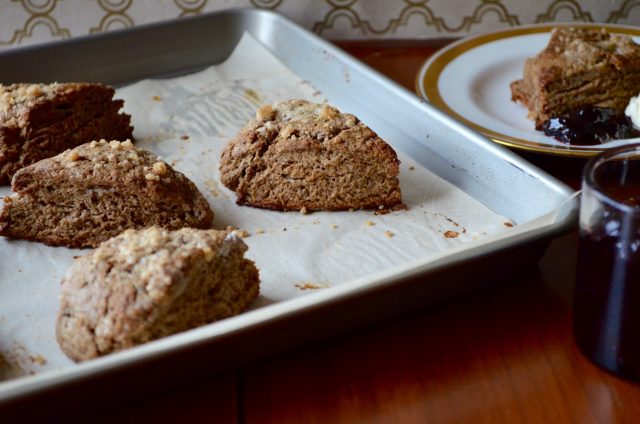 I was well into my 20s before I'd tasted my first scone. That notion makes me chuckle a bit because they're something my girls have grown up—a must at tea parties for everyone, including the stuffies. Now, mind you I was not deprived. My world just revolved around all the goodies you'd find at an Italian-American bakery or pastry shop. Cannoli, sfogliatelle, and rainbow cookies, oh my!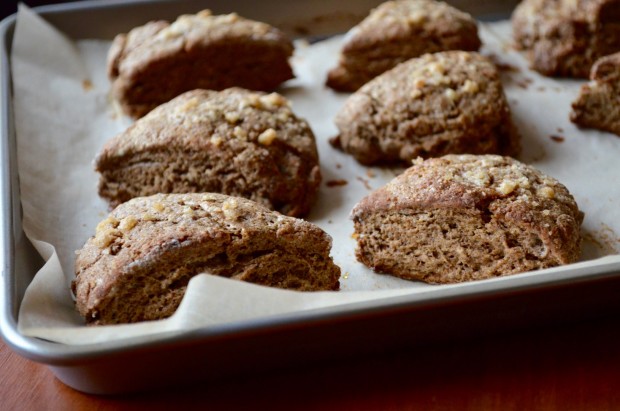 Oh, how I wish I were hosting a holiday party this year. These gingerbread scones would be the stars of the breadbasket. A smear of double cream (okay, maybe thick slather), spoonful of homemade sour cherry preserves (I wish I made more this past summer!), and a hot cup of lady grey tea make it a win-win-win. Now, don't let the long-looking list of ingredients scare you off here. I promise the scones come together quickly, and easily. I've been working my way through a bag of buckwheat flour, and these scones felt like a natural excuse to add some. The earthiness of the buckwheat play nicely with the combination of ginger, cinnamon, and cloves. If you don't have buckwheat flour on hand, don't fret, just use all whole wheat pastry flour. About 1 2/3 cups (250 grams) should do it. And in a pinch, even regular all-purpose what flour would work fine; just use that same 1 2/3 cup measurement.
Okay, my friends. I'm off to pack our bags. We're NYC bound again tomorrow to celebrate the holidays with a few besties. It's going to be a whirlwind weekend, but will be worth every mile we travel. Hope you all have a wonderful weekend!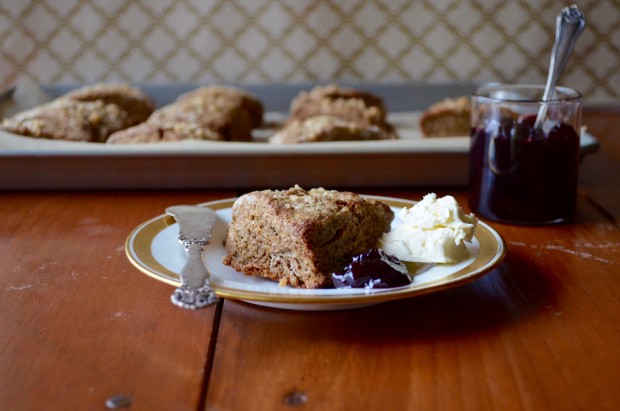 More Favorite Scone Recipes from In Jennie's Kitchen
Banana, Walnut & White Chocolate Chunk Scones
Gingerbread Scones
Makes 12
Documentary Pairing: Fairytale of New York by The Pogues
1/4 cup (62 ml) buttermilk
1 large egg
2 tablespoons (40 grams) molasses
1 1/4 cups (187 grams) whole wheat pastry flour
1/2 cup (60 grams) buckwheat flour
1/4 cup (50 grams) natural cane sugar
1 tablespoon (14 grams) baking powder
1/4 teaspoon (2 grams) fine sea salt
1 teaspoon (3 grams) ground cinnamon
1/2 teaspoon (1 gram) ground cloves
1/2 teaspoon ground ginger
6 tablespoons (3 ounces) very cold butter, cut into 12 pieces
1 tablespoon (15 ml) heavy cream
Coarse natural cane sugar, to finish (optional)
Preheat the oven to 425ºF.
Using a fork, lightly beat the buttermilk, egg and molasses together in a small bowl; set aside.
Add the flours, sugar, baking powder, salt,  and spices to a deep medium-sized bowl. Whisk to combine. Add the butter and rub together quickly with your fingers, until it forms a sandy-looking texture with some pebble-sized pieces. Pour in the buttermilk-egg mixture. Use a fork to stir together until it forms a crumbly-looking dough.
Turn the dough out onto a lightly floured counter. Knead it once or twice to give the dough a smoother appearance. Divide the dough in half, and shape into two 1/2-inch thick rounds. Use a sharp knife to cut each round into 6 triangles (as if cutting a pizza).
Place the scones on an ungreased baking sheet, and brush with the cream. Sprinkle a bit of sugar on top, if using. Bake for 10 minutes, until bottoms are lightly browned. Remove from oven. Set tray on a wire rack to cool a few minutes before serving. Leftovers may be stored in an air-tight container and heated in the toaster the next day.