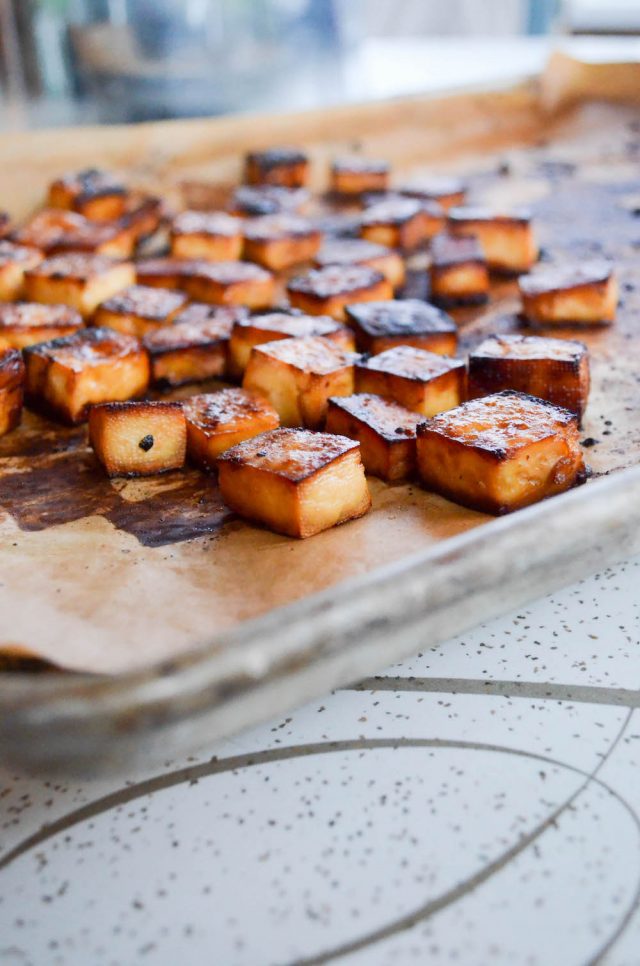 I love tofu. Those are words I would've never imagined saying 20 years ago. Two decades later, though, and figuring out how to best use this plant-based protein, things are different. I find myself making a batch of this Crispy Roasted Tofu at least once a week, and while the intention is always to add it into a salad or stir-fry, it's also an addictive snack.
Many recipes call for a lower roasting temperature, but the real secret to making amazing crispy tofu without frying it, is to give it a blast of heat. The center of the cubes dries out, while the exterior crisps up perfectly.
I'll admit to not always sticking to a recipe as I'm sharing here today. Sometimes I just wing it, throw the tofu on a lined baking sheet, give a few shakes of soy sauce, some sesame oil, salt, and pop it in the oven. You should improvise, too. Toss it in your favorite salad dressing instead, and use this high-heat roasting method.
Be mindful that some brands of parchment can't handle this high temperature, and while none have gone on fire (thank heavens!), the edges have singed a bit. For that reason, you might want to use foil instead (just be sure to coat the foil with a bit of oil first).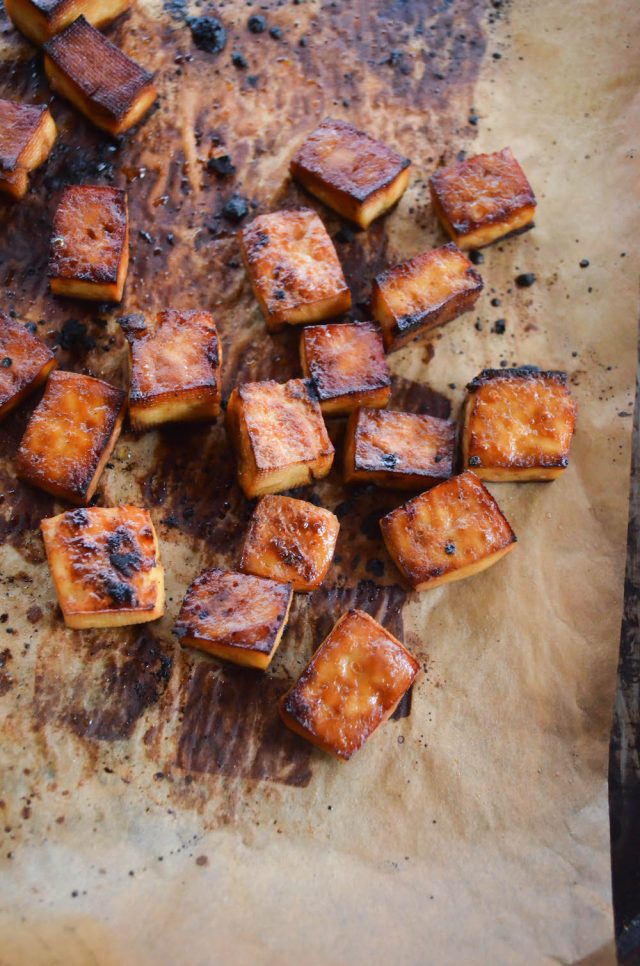 Check Out My Latest Parade Piece
Boo! 11 Deliciously Spooky Halloween Treats
Some More Salad Inspiration
Cabbage, Apple & Toasted Sesame Seed Salad
Crispy Roasted Tofu
Ingredients
1/4

cup

soy sauce

1

teaspoon

5 grams Dijon mustard

1

teaspoon

maple syrup

1

pound

tofu

cubed
Instructions
Add the soy sauce, Dijon, and maple syrup to a bowl. Whisk to combine. Add the tofu, cover, and let sit in the fridge overnight.

The next day, preheat the oven to 450ºF. Line a rimmed baking sheet with parchment paper or foil. Arrange the tofu in a single layer on the tray. Bake for 10 to 12 minutes, until golden underneath. Turn each piece of tofu over. Bake for 10 to 12 more minutes, until golden and crisp all around.

Leftover tofu should be stored in a covered container in the fridge.