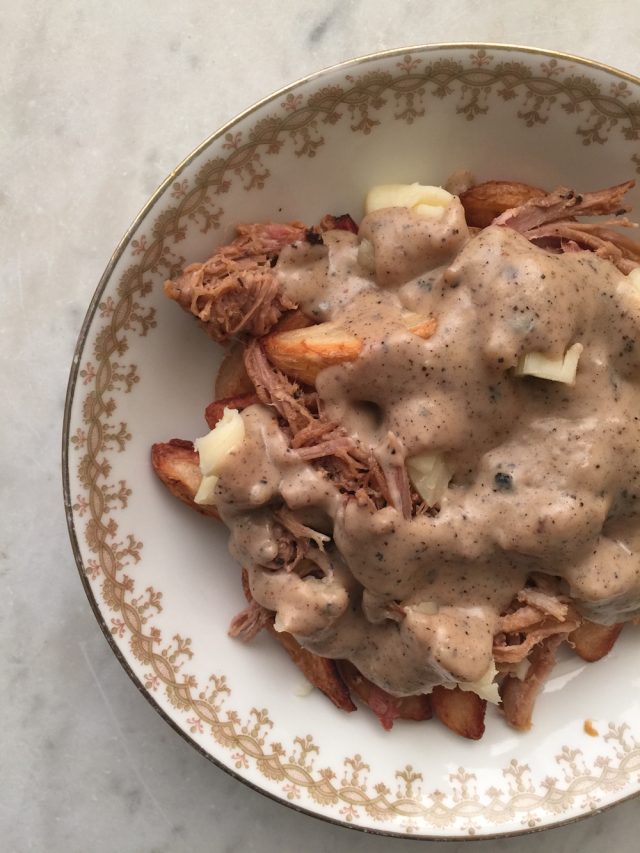 Yes, the irony isn't lost on me with this recipe. I mean, it contains just everything I avoid eating these days. It's not like I live in a boring, quinoa and kale eating world. Almost one month to my mindful eating habits, I feel like I'm finding the balance of mostly choosing foods that are good for my mind and body, with indulgences here and there. And good heavens, this here Pulled Pork Poutine is one of those indulgences, a very decadent one.
Before tasting poutine, I wasn't very enamored with it. Loads of gravy and cheese on potatoes just wasn't my thing. I believe they call them disco fries here in the U.S., swapping in melted cheese for the cheese curds. In fact, Aside from gravy on Thanksgiving, I'm not very fond of it (gasp!). This is the only misstep in my love of southern food. The gravy of people is red sauce, so I blame it on that.
For starters, gravy is one of those things I prefer to have when I make it myself. It's in this weird class like mayo. I'm not going to try and justify it, so you'll just have to accept, food peculiarities and all. For the sake of ease, and at the request of my editor, I used frozen fries for this recipe (the Alexia brand, in case you're curious).
Making homemade fries is a serious, and worthwhile, upgrade to this Pulled Pork Poutine (try this recipe, or this one).
Suddenly, the girl who doesn't like gravy, let alone it slathered on fries, was licking the salty remnants from her fingers when I made this earlier this year for Relish Magazine. Mind changed, tastebuds blown away. Best part is this uses up leftovers, and it's a hearty one bowl meal for colder fall and winter nights. So, as you can see life is all about moderation. No, every day can't be a Pulled Pork Poutine party, but the ones that are, are damn delicious.
Click here to get the recipe for my Pulled Pork Poutine at Parade's Community Table.
Click here to get more One Bowl Wonder ideas on my Pinterest page.