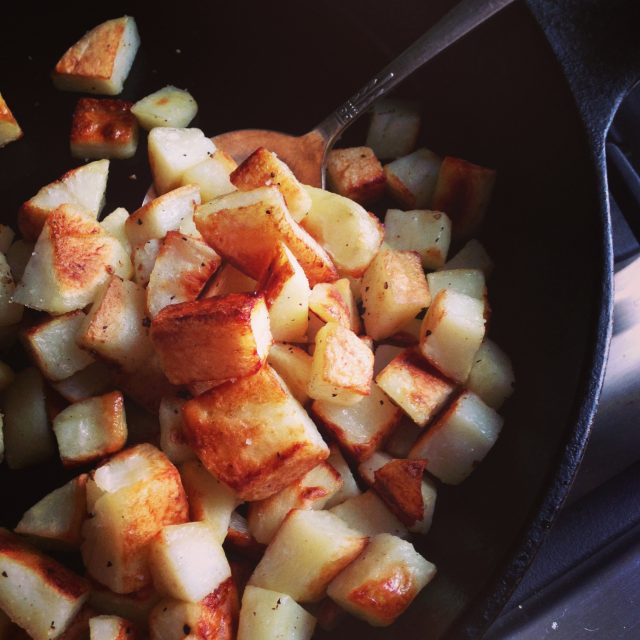 There are few things in life that are perfect. This is something I keep trying to remind myself, but my inner Martha Stewart often battles with the realities of life. A little chaos never threw me for a loop, but lately reigning control over some variables in my life offers incredible solace. Being able to make what I consider to be the perfect roasted potato is one of those variables. I wrote about them last week for Relish Magazine. I'm so happy to share the news that I've started writing for them again twice a month.
I've got some video to go along with the recipe too. You were all amazing in your response to the pizza video a couple of weeks ago. Adding more video to the site is something I've been mulling over for a few months now. I'd hide behind widow humor, though, and sarcastically joke that my producer/camera man/editor is gone. Then one day, it all clicked. There's enough perfect, glossy, produced content out there. That holds true for food, fashion, parenting magazines, etc. What we don't have enough of is real life. I'm talking about an honest glimpse of being in the kitchen. That is what I hope to capture in the videos I'll be sharing from now on. My hair isn't perfect, my Brooklyn accent is so thick, even a Ginsu couldn't cut through it, and I now realize I say "okay" and "um" a lot.
But I'm having fun, more fun than I've had in a while in this space. I'm moving forward here, in the same way I've been making strides to walk a new path in my life outside this blog. As I shoot and edit cooking videos on my iPhone I constantly hear Mikey whispering "wait, let me help you with this", as he would often say. He loved collaborating, and helping me succeed in everything. Making these videos has helped me feel connected to him as I learn to live without him. The magic of capturing life through this new lens has sparked something inside me. Perhaps it's the first ingredient in my new life recipe.
Get the recipe for Perfect Roasted Potatoes over at The Relish Dish.
Music Pairing: Your Sweet Voice by Matthew Sweet
Perfect Roasted Potatoes (final) from Jennifer Perillo on Vimeo.