Roasted Sweet Potato, Spinach & Pecan Salad
As I write, snow is falling, the kids are sleeping, and my To Do list is frighteningly long. Last night I stayed up way past my bedtime (as usual), making sure all the items were ordered for the family in need we adopted in town. I didn't hesitate to say yes when Family of Woodstock had a wish list for a family of six. I figured people would be more likely to sponsor smaller families because we're all on mindful budgets during the holidays. Donations from remarkable friends and The Children's Place made this possible, and I'm eternally thankful.
We leave for London in 10 days, and while work is busy, and that's a good thing, I'm trying to make holiday baking a priority, too. So, before I head into the kitchen to make some cookie doughs, and try my hand at homemade almond paste (wish me luck!), I wanted to stop in here, and share this Sweet Potato, Spinach & Pecan Salad recipe with you.
I made this salad a few weeks ago, perhaps even longer than that, for work. I love the simplicity of the ingredients, and how they come together for a very flavorful meal. Admittedly, I've never been a fan of sweet potatoes. In testing this salad, and eating way too many sweet potatoes within a week, I discovered two things: 1. I actually do like sweet potatoes, and 2. my tummy feels differently than my taste buds. Yep, turns out they're a food I should eat in moderation, if at all.
I wouldn't have known this had I not started my cleanse of sorts three months ago. By eliminating so much from my diet, I've been able to isolate which foods cause me indigestion, stomach upset, achy joints, or headaches. I'd been feeling great with my mostly clean eating 5 to 6 days a week, limiting my sugar, eliminating dairy, eggs, meat, nightshade veggies, etc.
Then I began testing this salad assigned for work, and after three days of eating sweet potatoes, it all clicked. When I noticed stomach cramps creeping back in, slowly every day after eating, I thought about what I'd been eating differently. Boom. Sweet potatoes.
Now, I realize this story doesn't make a compelling case to try this salad, but rest assured it's a wonderful salad. I loved every bite of it, and I learned a valuable lesson that I felt necessary to pass along. If you eat sweet potatoes, and have no worries, then go ahead and enjoy this Sweet Potato, Spinach & Pecan Salad! But, if you've noticed you feel bloated, or have an upset stomach after eating them, then reading up on why sweet potatoes can be bothersome is worthwhile (start here).
In any case, thanks for your patience with this somewhat long, meandering post on a Monday morning. I'm going to make those cookie doughs I mentioned earlier, and since public schools are on snow delay, I'm going to give the girls a treat, and let them sleep in a bit this morning, too!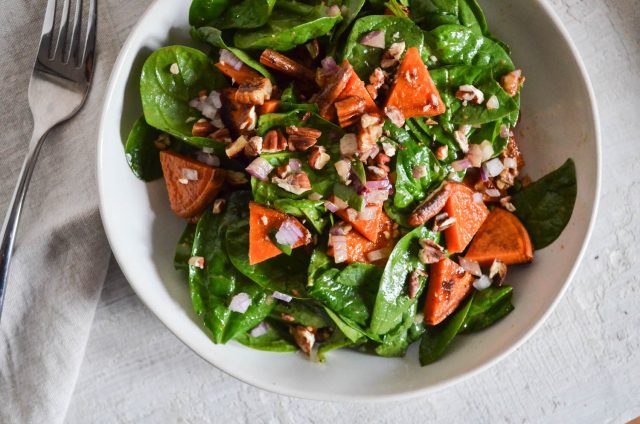 Seven Years Ago: Homemade Hot Cocoa & Chocolate Ganache
Six Years Ago: Gingerbread Muffins
Five Years Ago: Chocolate Gingerbread Doughnuts
Four Years Ago: Marcella Hazan's Smothered Cabbage
Three Years Ago: Crispy, Chewy Gingersnap Cookies
Two Years Ago: Gingerbread Crispy Rice Treats
One Year Ago: Grain-Free Peppermint Fudge Brownies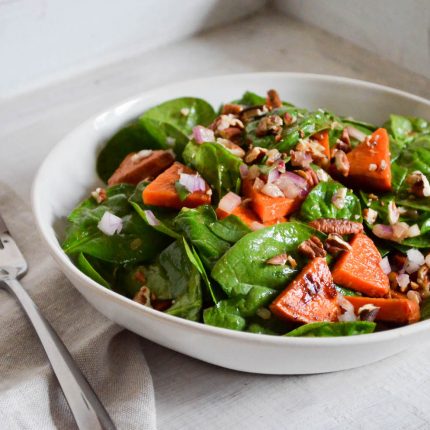 Roasted Sweet Potato, Spinach & Pecan Salad
Don't take life too seriously when putting this salad together. Spinach is the green I highlighted here, but arugula would be nice, too, as would watercress. Something about pecans reminds me of fall and winter, but if you want to use walnuts instead, go for it.
Ingredients
4

cups

baby spinach

rinsed & dried

1

sweet potato

roasted & cut into half moons or triangles

1/2

small red onion

finely chopped

1/2

cup

pecan halves

toasted & chopped (divided)

2

tablespoons

Vinaigrette Dressing recipe is here
Instructions
Prepare, and roast the sweet potatoes.

Add the spinach, sweet potato, onion, and half the pecans to a deep bowl. Spoon the dressing on top, and stir to mix everything. Divide the salad amongst 4 dishes, or arrange on a large serving platter. Sprinkle the remaining pecans on top, and enjoy!
SaveSave
SaveSave
SaveSave