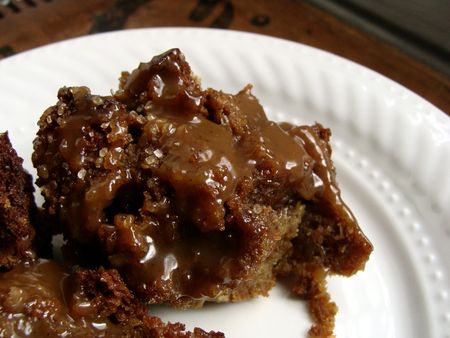 I went against my better judgement last week. When the singed mufffins came from the oven, I berated myself with "I told you so" at least a dozen times. Without this error in judgement, though, the world wouldn't be as sweet a place. At least my world wouldn't, and yours too, once you make this.
I set out to make gingerbread muffins for Isabella's school holiday party. After baking a test batch and being quite satisfied with the results, I set out all the ingredients the night before so I could wake the morning of and bake them fresh. Day old muffins just would do.
Thinking I was all that, being ready to go and effortlessly mixing together the batter, I filled the muffin tins. Then I paused, knowing full well I should bake them in batches. While many recipes say you can bake trays side by side, the outcome is never as it should be. I know this, but the night before I decided the 20 minutes extra sleep were more important as I set my alarm.
As expected, the muffins didn't bake evenly, and all the outer ones had burnt edges. Now I really dug a hole for myself. I suppose I could've just showed up with nothing, but the perfectionist in me wouldn't accept failure. I had eight muffins left from the test batch I made the day before. Not enough to bring to a class of 26 kids plus parents, but just enough to make a small tray of bread pudding. I'd been thinking about making one with these muffins the moment I tasted them. No time like the present to wing a recipe, right?
I proceeded to cut them into cubes, then whisk together some egg yolks, cream, milk, sugar and vanilla extract. I spooned it all into a baking dish and set in the oven, then said a few Hail Marys. I walked out the door to bring Isabella to school and told the Mr. to take it from the oven when the timer went off, and let it cool before packing in a container I'd left out. On the way out the door, I grabbed some homemade vanilla bean caramel sauce from the fridge.
Then I waited for the Mr. to arrive, cake container in hand.
We settled in to watch Isabella's holiday chorus recital. Her last elementary school one, I should add. The tears flowed freely.
Then the moment of truth. We got to Isabella's class. As I opened the Rubbermaid container, I was about do something I'd never done before—serve something I'd never tested, let alone even tasted. While the class sang Happy Birthday to one of their mates, I poured the caramel sauce on top. Then dug into with a spoon, figuring I could toss it in the garbage before anyone saw it if it was horrid.
To my delight, it wasn't just acceptable. It was amazing, and it was all the result of one failed recipe. Proof that in every failure lies something good, be it a lesson or inspiration to do better next time. Perhaps being more forgiving of our mistakes is the best New Year's resolution.
Gingerbread Muffins
makes one dozen
Yes, I know, I lured you with the prospect of bread pudding, but you need to know how to make the muffins first, so remember patience is a virtue. First, let's get started with the muffins.
2 cups (8.5 ounces) flour
1/2 cup (4 ounces) granulated sugar
1 tablespoon (11 grams) baking powder
1/4 teaspoon (1 gram) baking soda
1/2 teaspoon (2 grams) sea salt
1 teaspoon (4 grams) ground cinnamon
1 teaspoon (3 grams) ground cloves
1 1/2 teaspoons (4 grams) ground ginger
6 tablespoons (3 ounces) cold butter, cut into 12 pieces
1/2 cup (112 ml) molasses
1 cup (8 ounces/225 ml) buttermilk
2 teaspoons (10 grams) coarse sugar, for sprinkling tops (optional)
Preheat oven to 400ºF. Grease one 12-cup standard size muffin tin or fill with paper liners; set aside.
Add the flour, granulated sugar, baking powder, baking soda, salt and spices to a deep bowl. Whisk to combine. Add butter and using a pastry blender, or your fingers (my preferred method), blend until it forms a sandy-looking mixture.
Add the buttermilk and molasses to a small bowl and beat with a fork. Pour over the flour mixture and stir, using a fork or wooden spoon, until just mixed and there are no visible traces of flour. Spoon into the prepared muffin tins and sprinkle tops with an even amount of coarse sugar, if desired.
Bake 18 minutes, or until the tops are golden and a skewer inserted comes out clean. Remove from oven and let cool 10 minutes in the tin, then transfer to a wire rack to cool completely before serving.