Strawberry Ginger Crumb Muffins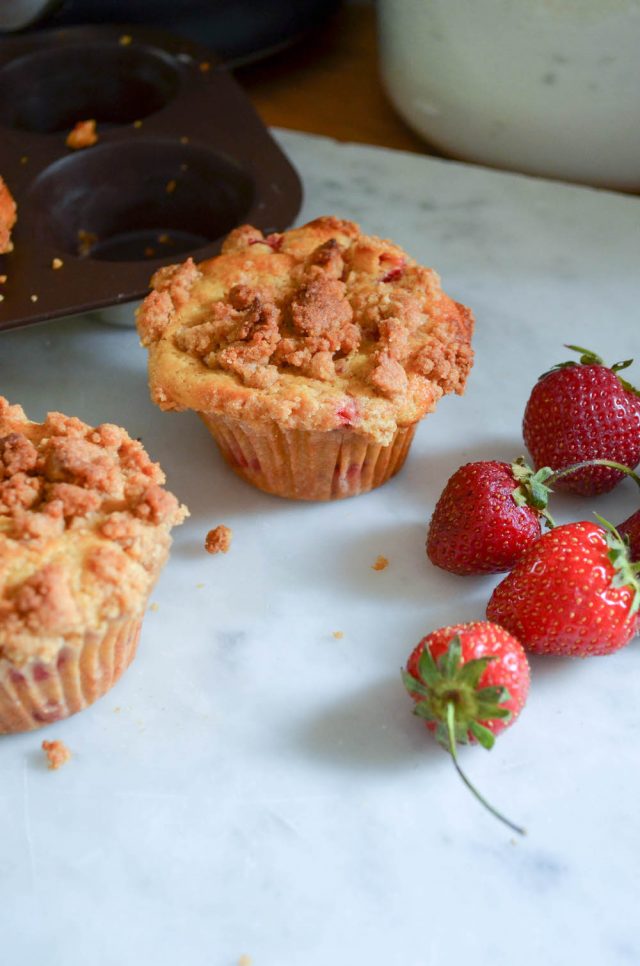 Our home runneth over with pie, but lest you think that's all I bake these days, these Strawberry Ginger Crumb Muffins are proof that pie isn't the only sweet thing happening around here. Except, they're not overly sweet, at least in my opinion. And they shouldn't be because let's be honest, a sweet muffin is really just a cupcake disguised as a breakfast food, right?
I began with my recipe for Old Fashioned Blueberry Crumb Muffins as a launching pad to make these Strawberry Ginger Crumb Muffins. Strawberries were easily swapped in for blueberries. Almond extract took the place of vanilla extract since that felt a more natural pairing with strawberries.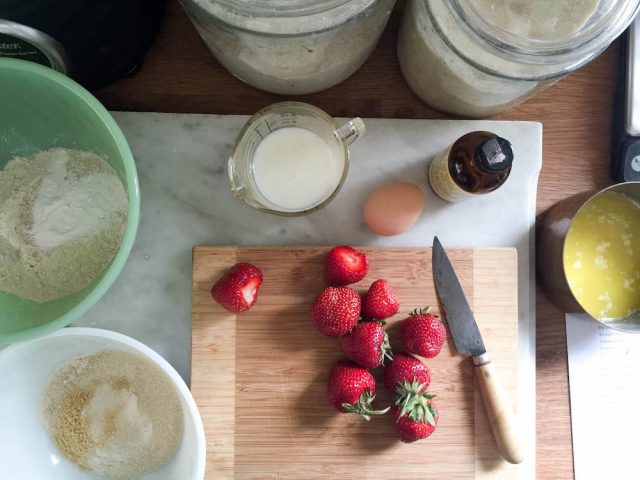 While I do think cinnamon would work well here in the crumb topping, I was in a gingery mood, so decided to add some ground ginger to it instead. I went with 1/4 teaspoon, just enough to add some essence, but not enough to tempt the goddesses of finicky eating, also known as my children. I'd say you can bump that up to 1/2 teaspoon if you want more a prominent ginger flavor. I also think fresh grated ginger would be quite wonderful here, but haven't tried it yet myself.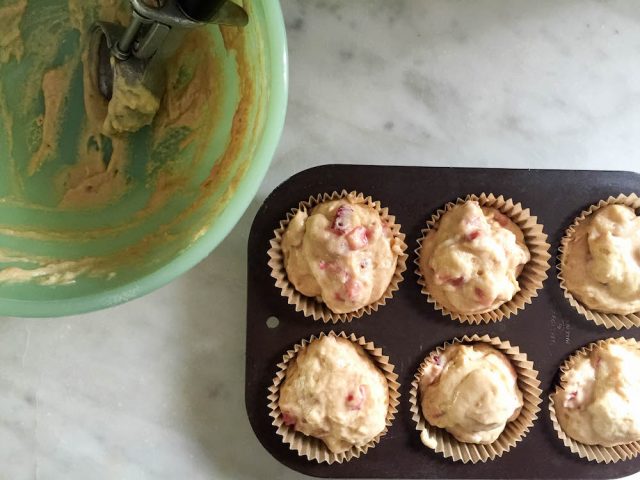 Let's talk about crumb topping for a moment here. I'm not sure I mentioned this when I wrote about those blueberry muffins, but am sure I've said this before in one my crumb cake recipes—please, if you're going to do anything "crumb", do it right. There's no room for skimpy crumb toppings in my baking world.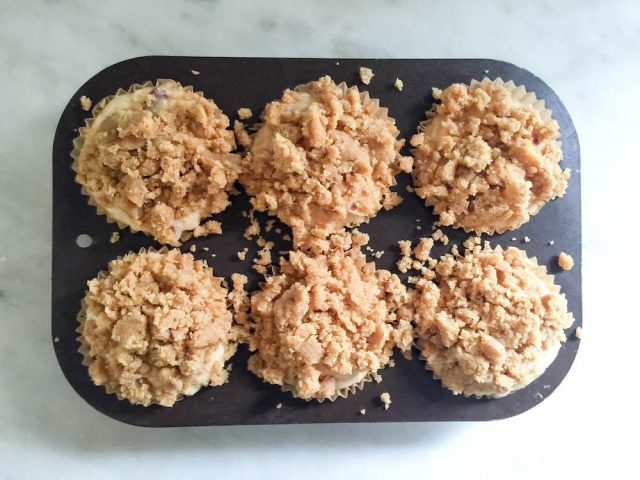 You're going to wonder about the amount of crumb topping once you add the batter to the tins. It is not too much, I promise. Trust me on this. As the muffins rise in the oven, the topping disperses rather nicely, creating a crumb topping that neither overwhelms or overpowers the muffins (if that sort of thing were even possible when talking about crumb toppings). This recipe makes a tidy little batch of just six muffins since I've been trying to bake in smaller quantities, but it easily doubles if you're hosting a bigger crowd. I also think most baked goods, especially muffins, should be eaten the day they're made, but I do suppose you can freeze the batter with the topping, and bake them straight from the freezer (need to remember to experiment with this…).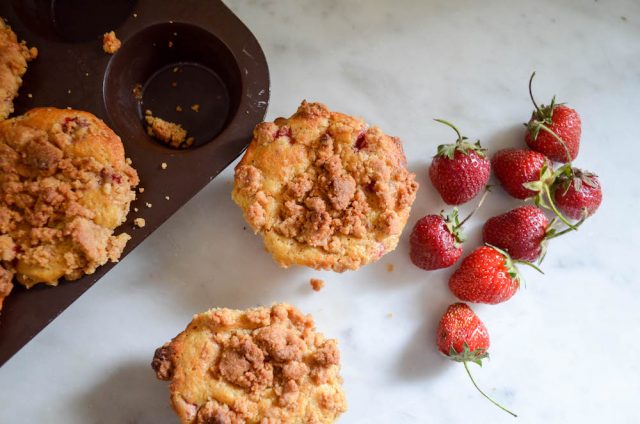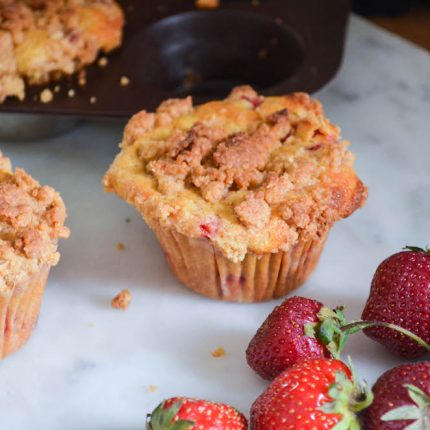 Strawberry Ginger Crumb Muffins
A lovely muffins, made from summer sweet fresh strawberries, and topped with a gingery crumb topping.
Ingredients
For the Crumb Topping:

6

tablespoons

56 grams whole wheat pastry flour

4

teaspoons

20 grams granulated sugar

4

teaspoons

20 grams brown sugar, light or dark is fine

1/4

teaspoon

1 grams sea salt

¼

teaspoon

ground ginger

3

tablespoons

42 grams butter, melted

For the muffin batter:

3/4

cups

112 grams whole wheat pastry flour

3

tablespoons

37 grams granulated natural cane sugar

1/4

teapsoon

1 grams sea salt

1 ½

teaspoons

8 grams baking powder

1

large egg

2

tablespoons

28 grams butter, melted

1/4

teaspoon

almond extract

Scant 1/2 cup

118 ml well-shaken buttermilk

6

fresh strawberries

chopped
Instructions
Preheat your oven to 400F (200C). Line a 6-cup muffin tin with paper liners.

To make the crumb topping: add the flour, sugars, salt, and cinnamon to a deep bowl; whisk to combine. Using a fork, stir in the melted butter, making sure there are no dry bits of flour; set aside.

To make the muffin batter: add the flour, sugar, salt, and baking powder to a clean deep bowl. In a small bowl or large measuring cup, combine the buttermilk, egg, and melted butter. Beat with a fork.

Pour the buttermilk mixture over the flour mixture. Stir with a fork until just combined. Using a rubber spatula, fold in the berries.

Evenly spoon into the prepared muffin tin. Tap the pan lightly on the counter so the batter settles into the cups. Evenly sprinkle the crumb topping onto the muffins, pressing it in gently so it sticks.

Bake until a deep golden brown, 25 to 30 minutes. Remove from the oven. Set the tray on a wire rack, and allow muffins to cool at least 10 minutes before serving.
SaveSave
SaveSave
SaveSaveSaveSave
SaveSaveSaveSave
SaveSave
SaveSave
SaveSave
SaveSave
SaveSave