Chickpea, Coconut & Butternut Squash Stew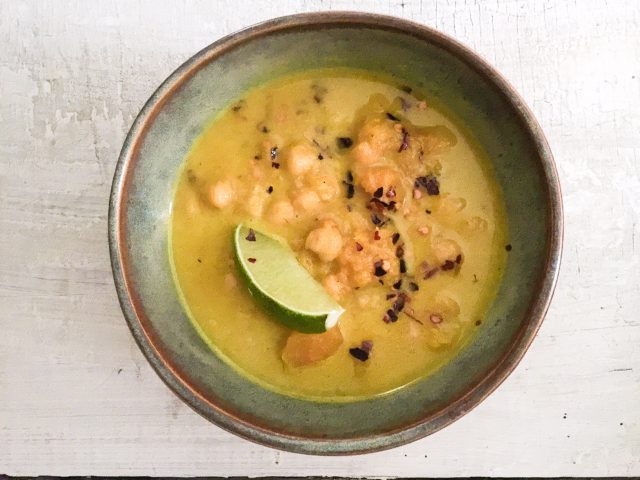 I know it doesn't look like much, but this Chickpea, Coconut & Butternut Squash Stew is quite an amazing dish, and for a few reasons. For starters, it costs about $10 to make, and only takes 20 minutes to cook. Also, it's quite filling, without being heavy. It's also vegan, which is a bonus if that matters to you, but shouldn't be a deterrent if you have preconceived notions about vegan recipes.
I was kind of hesitant to share the recipe now, with all the summer produce coming into season. I mean, who thinks of eating stew when July 4th is a holler away? It's just too good a recipe to hold onto until fall or winter (and who really wants to think about snow or cold weather when we just ditched our down jackets a month ago).
So, about this stew. It came about as part of project I worked on during the interview process for a job. The job didn't work out, but creating this stew reinvigorated me in a way. Honestly, I can't find the words to say how I'm feeling about work, and this ridiculously crowded field in which I chose to make a career. I'm of just the right age to think "get off my lawn" every time I watch a kids' cooking competition on Food Network (Virginia's latest obsession), but then remind myself those thoughts will only weigh me down. How does one stay relevant, while also sticking to their true self in this on-demand, instaperfect world?
And that's how we get to this Chickpea, Coconut & Butternut Squash Stew. One of the assignments for the interview was to adapt a recipe from a favorite cookbook. I chose Nigel Slater's Tender, and fell hard for his Chickpeas with Pumpkin, Lemongrass and Cilantro. Everything about that stew had me wishing for a bowl of it, and incidentally it was a colder spring day. If the sun had been shining, or the weather warmer, who knows if something else would've inspired me.
As to be expected with a Nigel Slater recipe, there's a bit of preciousness to it. Listen, I love Slater. I'd seriously consider selling a part of my soul to live his life (see what I mean here). Okay, so I realize once you click over to his Instagram, you're going to think, "wait, Jennie's feed looks like that, too". And you'd be kind of right, except I do it on a much trimmer budget, while juggling single parenthood. So, that's how we get to my version of his recipe.
I swapped out the dried chickpeas for canned ones because at 5pm, you've got to improvise if you want to eat dinner in a timely fashion. There's enough flavor from the spices in here to revive the blandness of canned beans.
Slater's recipe also calls for pumpkin, which good luck finding fresh pumpkin in June, at least in my tiny town. I thought about cubed, fresh butternut squash which can sometimes be found already prepped in the produce aisle, but there was another issue at play here: cost. The three recipes I was working on all had to come in at less than $40 total, with each one serving six people. My solution: frozen butternut squash. The pumpkin was meant to cook, and break down a bit, so the softer cooked texture of the squash would be fine, and it was half the price, at only $2.99 for a bag.
Did I also mention the recipes had to take 30 minutes or less to make from start to finish, and couldn't have more than six ingredients (excluding olive oil and dried spices). I know, right? I'm quite proud of the creative muscle I exercised here, too! That's why you see a laundry list of dried spices here, and nothing that I had to buy—these are all stocked in my fridge. Learn to love your dried spices, folks. Fresh is awesome, and necessary in some dishes, but whether you're pinching pennies, or need some flavor in a pinch, dried spices are indispensable.
The only thing I'd change about this recipe is adding some fresh cilantro, or a pesto like this one as a garnish. With only one ingredient left to consider, as I neared my tally of six, the lime wasn't not negotiable. The stew needs that vibrant shot of acid to wake up all the flavors, otherwise they remain a bit dormant.
I love cooking with abandon, using what I want, when I want. I didn't get the job I was hoping for, but I was reminded of why I first began developing recipes—to excite homecooks, and encourage more people to get back into the kitchen, and that is exactly what this Chickpea, Coconut & Butternut Squash Stew did for me.
Eight Years Ago: Spanakopita
Seven Years Ago: Summer Farro Salad
Six Years Ago: Sweet Pea & Parmesan Crostini
Five Years Ago: Simple Twist of Fate
Four Years Ago: Roasted Strawberry Basil Sauce
Three Years Ago: Strawberry, Tomato & Basil Salad
Two Years Ago: Perfect Chocolate Chip Cookies
One Year Ago: Best BBQ Ribs
Chickpea, Coconut & Butternut Squash Stew
Adapted from Nigel Slater's recipe for Chickpeas with pumpkin, lemongrass & cilantro
Ingredients
2 to 3

tablespoons

olive oil

4

garlic cloves

chopped

1-

inch

piece of ginger

grated or chopped fine

1

16-ounce bag frozen butternut squash

1

bay leaf

2

teaspoons

coriander

2

teaspoons

turmeric

½

teaspoon

cumin

Sea salt & freshly ground black pepper

2

15-ounce cans chickpeas, drained & rinsed

1

cup

coconut milk

1

teaspoon

red pepper flakes

2

limes
Instructions
Heat the oil in a pot over medium heat. Add the garlic and ginger, and sauté until fragrant, 60 to 90 seconds.

Add the squash, bay leaf, coriander, turmeric, cumin, and enough water to the pot to cover the squash. Season with salt and pepper. Bring to a boil, then reduce to a simmer, and cook until the squash is tender, 8 to 10 minutes.

Stir in the chickpeas, coconut milk, and red pepper flakes. Simmer 10 minutes more.

Ladle the stew into bowls, and serve with a squeeze of fresh lime.
SaveSave
SaveSave
SaveSave
SaveSave
SaveSave