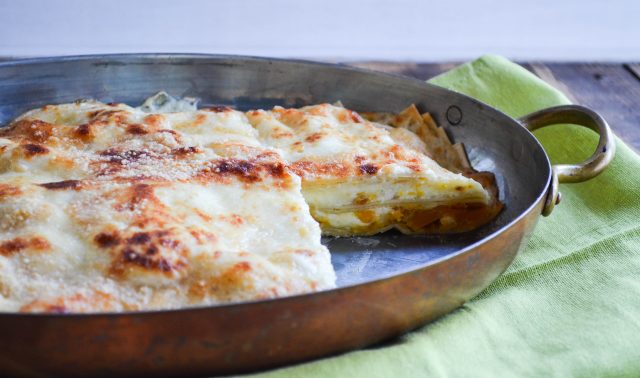 Growing up, my aunt hosted Thanksgiving at her apartment in Clinton Hill, Brooklyn. This was long before it was playground to the rich and famous. If you've ever read Patti Smith's Just Kids, and remember the period in which she talks about living a few blocks from Pratt Institute, that's closer to the Clinton Hill of my youth (though a few years later than Smith lived there with Robert Mapplethorpe).
During the 70s, Clinton Hill wasn't the neighborhood you wandered at night, or drank expensive bottles of wine. It was long before Rosie Perez lived down the block from my aunt. Back then, my father walked to get the car, and only once he was parked in the hydrant in front of my aunt's building on the corner of Clinton and Dekalb Avenues did we venture downstairs with my mother.
Times changed—my parents divorced, as did the neighborhood (hello, gentrification), but one constant throughout the years until my uncle passed away in 2001, was baked ziti at our Thanksgiving table. No, we didn't have baked ziti in place of turkey. We ate baked ziti as a course before the main.
Yes, you can imagine the scene afterwards, everyone in a food coma, stuffed with pasta, cheese and el tryptophan. As if that dinner wasn't enough, there were always Italian pastries, apple pie and a basket of roasted nuts—an assortment of walnuts, almonds, Brazil nuts and hazelnuts, which I'd always known as filberts, and had no idea they were the same until my early 20s.
No idea why, but the memory of those Thanksgivings past drifted into my mind while thinking about this butternut squash lasagna I created for The Spruce Eats recently. It certainly would've been at least a more holiday-themed cheesy, baked pasta to start our meal. The thing about memories is they live in the attics of our mind, the door suddenly flung open, releasing them into our consciousness at the most unexpected times.
Get the recipe for my butternut squash lasgana here.
10 years ago Apple Cranberry Crumb Cake | See all recipes from 2009
9 years ago Vegetable Wontons | See all recipes from 2010
8 years ago Spice-Scented Cranberry Sauce | See all recipes from 2011
7 years ago Coconut Custard Pie | See all recipes from 2012
6 years ago Banana, Walnut & White Chocolate Chunk Scones | See all recipes from 2013
5 years ago Pumpkin Slab Pie | See all recipes from 2014
4 years ago The Best Buttermilk Biscuits | See all recipes from 2015
3 years ago Easy Apple Cider Doughnuts | See all recipes from 2016
2 years ago How to Make Perfect Gravy | See all recipes from 2017
1 year ago Hot Cocoa Cookies | See all recipes from 2018