How To Make Your Thanksgiving Mashed Potatoes Sing This Year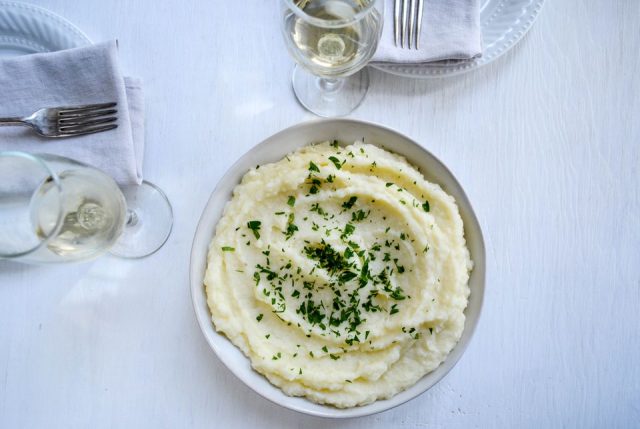 There are some meals you don't want to mess around with, and Thanksgiving is one of them. I get that 1000%. The first year I hosted, I wanted to make my mark, and decided to serve spoonbread instead of mashed potatoes. I may as well have presented my family with a live turkey and told 'em to wrestle their own dinner.
I learned a lot from that first Thanksgiving about blending old traditions with new ones I wanted to create. Admittedly, these horseradish mashed potatoes are something I would've never tried feeding my side of the family. They were always the "let's keep everything the same" contingent at our Thanksgiving table.
Michael and his parents were always willing to mix things up, so long as I let Michael handle the stuffing. And Mikey's love of horseradish leads me to believe these zingy mashed potatoes would've become a fast favorite.
The recipe is one I created for The Spruce Eats, so head on over there using this link to check it out. And don't forget to read this post (with 33 recipes!) if you're still looking for ideas to plan your Thanksgiving menu.
10 years ago Apple Cranberry Crumb Cake | See all recipes from 2009
9 years ago Vegetable Wontons | See all recipes from 2010
8 years ago Spice-Scented Cranberry Sauce | See all recipes from 2011
7 years ago Coconut Custard Pie | See all recipes from 2012
6 years ago Banana, Walnut & White Chocolate Chunk Scones | See all recipes from 2013
5 years ago Pumpkin Slab Pie | See all recipes from 2014
4 years ago The Best Buttermilk Biscuits | See all recipes from 2015
3 years ago Easy Apple Cider Doughnuts | See all recipes from 2016
2 years ago How to Make Perfect Gravy | See all recipes from 2017
1 year ago Hot Cocoa Cookies | See all recipes from 2018