Mikey's Thanksgiving Stuffing
I decided to lay claim to hosting Thanksgiving the year I was pregnant with Isabella. No one was up to cooking, let alone cleaning up the aftermath from feeding a dozen people, and someone suggested we go out for dinner. I almost cried.
When I told Michael I wanted to host, he looked at me, and reminded me of the headache it would be, not the actual cooking, nor the cleaning—it was knowing that my family, the people whom I love dearly, would wonder, most likely even moan about why we had replaced the canned cranberry sauce and Stove Top stuffing with homemade recipes. Let's not even discuss the spoonbread I made in place of mashed potatoes (I admit I pushed the envelope too much there…).
These are all the thoughts that went through my mind as I tackled putting one of his beloved recipes to pen and paper for a project with Moink. It seems a little odd at first to think a work partnership with a meat delivery service would stir such memories and emotions, especially as my diet has become less meat-centric, but as I contemplated the project, the story began to write itself.
First, a little bit about Moink, and why I decided to work with them. Moink is owned and operated by family farmers who want to make humanely-raised, ethically-sourced meat available to everyone. They offer four, fully customizable box options, and shipping is always free. What set their service apart for me was the flexibility in choice, wide range of products available (they offer salmon, too), the fact that you can choose to have a delivery shipped every four, six, or eight weeks, and most importantly quality—all of their meat is free of antibiotics, growth hormones, sugar, genetically modified grains, nitrates, artificial colors & solutions.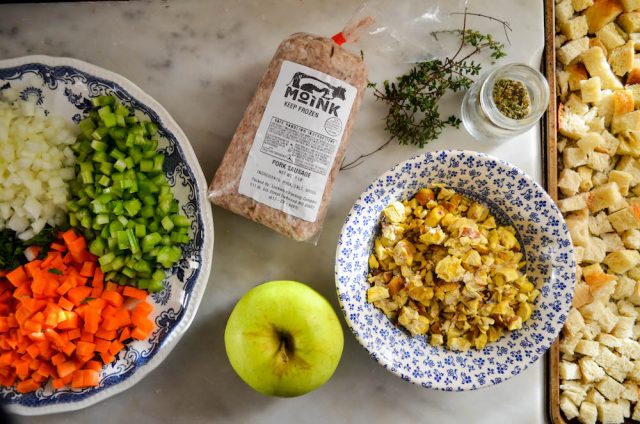 The average box provides 13 to 16 pounds of meat, plus a bonus free whole chicken if you sign up before November 30th. While it's a substantial amount, when broken down into a delivery every eight weeks, it comes out to about 9 ounces of meat per person, per week for my family of three, an amount that fits in with the role meat plays on our plates.
Now that you know some more details about Moink, let's get back to how the puzzle pieces fell into place. In reviewing their choices when putting my delivery together, I noticed ground breakfast sausage was available. Perhaps it's because of the impending Thanksgiving holiday, but I immediately thought about the stuffing Mikey used to make every year.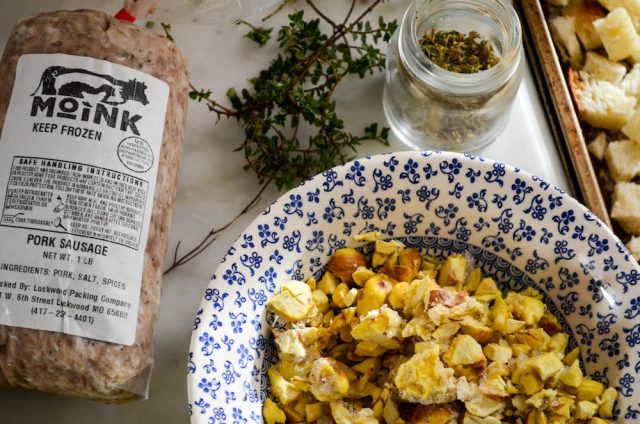 Originally called Rick's Kitchen Sink stuffing, it had more ingredients than I ever thought belonged in a stuffing recipe. Actually, until that day back in 1995, I'd never even eaten stuffing. It wasn't something my family made from scratch as I mentioned earlier. Instead, it came from a box of Stove Top (we also ate baked ziti as a first course before turkey, so clearly, we had some crazy things happening at our holiday table). Stuffing held no appeal for me—the polar opposite way Michael felt about his stuffing. His favorite part was eating it cold from the fridge, something that still makes me feel queasy just thinking about it!
As the title might suggest, his stuffing recipe had a lot going on—pork sausage, carrots, onions, celery, chestnuts, apples, parsley, and dried herbs. As years passed, his stuffing evolved over time. I always urged him to add mushrooms. Some years he'd appease me, but more often I lost that battle. In fact, I meant to add them to this version I'm sharing today, even bought them, and then forgot to pull them from the fridge, so I took it as yet another sign that he would have final say, even in death, over whether or not mushrooms belonged in his stuffing.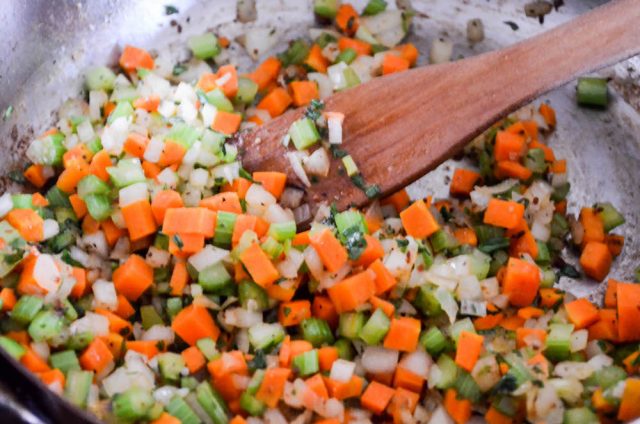 He did learn after some convincing that finely chopping the vegetables made for a more harmonious stuffing experience, providing a little bite of everything in each forkful. We also began adding egg as a binder to hold it together, an ingredient and tip that wasn't in the original recipe.
There are two things extra meaningful about the stuffing this year. I decided to swap out white country bread for my homemade challah, and there was no need to buy chestnuts from the market since I had collected some from my backyard earlier in the fall. I often find myself in the yard, sitting on the bench swing, wondering what he would think of our life today.
Sometimes it's all bittersweet because I'm not sure living in a rural area would've ever been a possibility for him, his job so connected to New York City. He never wanted to leave Brooklyn because he didn't want to be tied to a train schedule, and miss out on time with his family due to the long commute. In a way, this life is only possible because a simple, painful twist of fate put us all on a different path.
I'll be cooking this stuffing along with mashed potatoes and gravy to deliver to the community center in Woodstock next week before the girls and I settle in for a cozy Thanksgiving dinner at home, knowing that even though it's been seven years since we celebrated together, a little part of him, and the love we shared is nourishing those who need it most.
Disclosure: Compensation for this post was provided for by Moink. All opinions expressed are my own. Thanks for supporting brands that value and support the work I do here at In Jennie's Kitchen.
This recipe is now in my Thanksgiving E-book, and can be found my new site, Simmering. Click
here
.
SaveSaveSaveSave
SaveSave
SaveSave