spice scented cranberry sauce
Thanksgiving is an angst-ridden cooking day for many people. Throw in a food allergy, and well, I can see how it can make for an even tougher situation. We have none of these issues in our family, though once you learn a thing or two, I think they're much easier to deal with than picky eaters who show up with their own box of Stove Top stuffing.
Isabella has been friends for a few years now with a little boy who has a cow's milk allergy. For those who've been with me for a while, you know how Oliver has been an inspiration in my recipes. While butter and dairy are a huge part of my cooking, I'm challenged in a good way to think differently of how to add flavor and texture.
Another little voice that I often find whispering sweet somethings in my ear is Shauna.
One word echoes in my mind when confronted with adapting or developing a recipe to make it tasty and safe for everyone to eat: yes.
That's all Shauna's doing.
Rather than fret over what I can't use, I focus on what I can. When you look at it that way, you begin to see there's a whole world of options. Take cranberry sauce for instance. Most homemade recipes are naturally gluten-free, like the one above that I created for my Relish Magazine blog.
Then there's this sweet potato, leek and ricotta souffle I posted last year.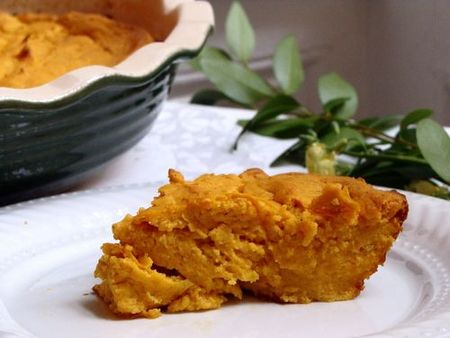 And this creamed corn.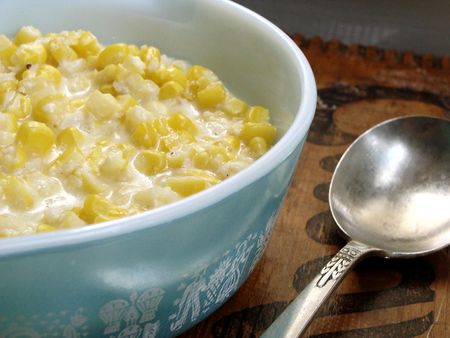 How about carrot fettucine with a lemon thyme butter sauce?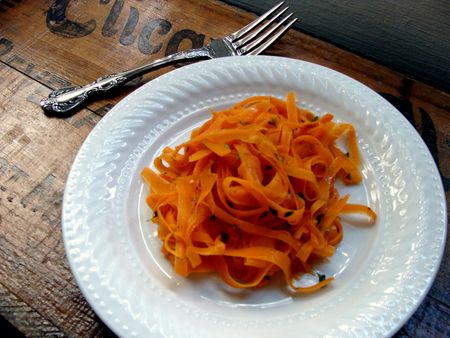 Don't forget dessert—this almond oat crumb topping just begs to be added to a fruit crisp.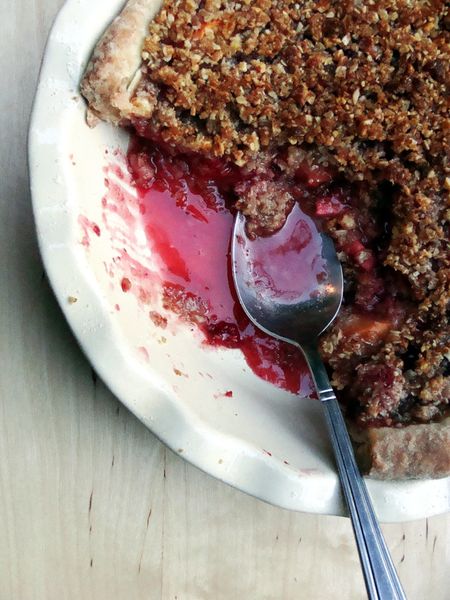 Not only does food heal, it also bonds us in the most amazing ways. A few friends came together this week to share their favorite gluten-free recipes for Thanksgiving, so go visit Shauna for a cornucopia of inspiration. Then add her and Danny's new book, Gluten-Free Girl & the Chef to your holiday shopping list.
And don't forget, the most important ingredients at your table everyday are the people with whom you're breaking bread, be it gluten-free, dairy-free and what not.
Spice-Scented Cranberry Sauce
Makes about one quart
This recipe is easily doubled, just expect an extra 8 to 10 minutes of simmering time for the "sauce" to reduce to a jammy consistency. While it can be served the same day it's made, I think it only gets better with a day or two of "aging". And if you prefer a more traditional tasting cranberry sauce, then feel free to omit the aromatic spices and cook as directed.
One 12-ounce bag cranberries, rinsed & picked over
1/2 cup (4 ounces) water
1/2 cup (115 grams) granulated sugar
3/4 cup (210 grams) packed brown sugar
1/2 teaspoon (4 grams) sea salt
1/4 teaspoon ground ginger
1/8 teaspoon allspice
1/8 teaspoon ground cinnamon
freshly ground black pepper, to taste
Visit my Relish blog for more ideas and to get the directions for making my spice scented cranberry sauce.