Ginger, Parsley & Pistachio Pesto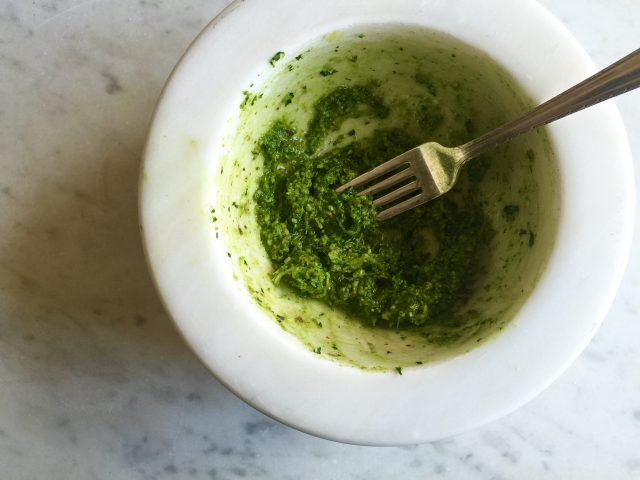 I've gotten into this habit of eating soup for breakfast. I find starting the day with a warm, soothing bowl of broth is a gentle way to wake up my body. It makes sense, if you think about it. Some people drink hot tea, so what is the difference between that a hot, brothy soup? Some days I add rice noodles; I try to keep some cooked ones in the fridge as an easy add-in. My freezer is usually stocked with broth from my slow roasted chicken soup, although I used the last bit of it before heading upstate. Time to restock when we get back to Maryland in a few days.
Last week, while putting together one of these comforting breakfast bowls, I felt like it needed some oomph. I had broth, noodles, and a poached egg. Still, I wanted some pronounced flavor, something that would stand out, rather then blend in. I scanned the counter and fridge, taking a quick inventory of ideas. And that's how this pesto came to be. Really, it's more of a chimichurri, in regards to the technique, and the lack of basil, but I'm sticking with pesto. It just feels more familiar to who I am. My kitchen, my rules.
I love the way this pesto made my soup sing that morning. Everything was awake the moment I swirled it into my bowl. The broth became lively in flavor. The ginger melding beautifully with the yolk, bursting from the poached egg I added. And as for me, I was happier than words can convey. A simple little soup, aided by a few dollops of this roughly thrown together pesto, energized me to tackle the tasks of the day.
You'll notice this ginger, parsley & pistachio pesto isn't much of a recipe. It's a guide, no exact measurements, just something you should feel as you go along.
No parsley? Don't fret. Use cilantro, if you like it, or that's what you have on hand. I absolutely love ginger. I've become so smitten with in recent years, but if you don't have any, or want to swap in garlic, then go for it. Same for the nuts. Use whatever you have, or whatever you like.
Seven Years Ago: Zucchini Muffins
Six Years Ago: Quick &Easy Risotto
Five Years Ago: Traditional Cream Scones
Four Years Ago: Roasted Rhubarb Jam
Three Years Ago: The Gift of Nothing
Two Years Ago: 18 Hours in Philly
One Year Ago: Shredded Cabbage, Apple & Toasted Sesame Seed Salad
Ginger, Parsley & Pistachio Pesto
Knob of fresh ginger root, peeled
Few generous pinches of fresh, flat leaf parsley
Sea salt, to taste
10 to 12 pistachios
Grapeseed oil
Add the ginger, parsley, and salt to a mortar and pestle. Grind until the ginger begins to break down.
Add pistachios. Continue grinding until it forms a thick paste.
Stir in some oil until you reach your desired consistency.