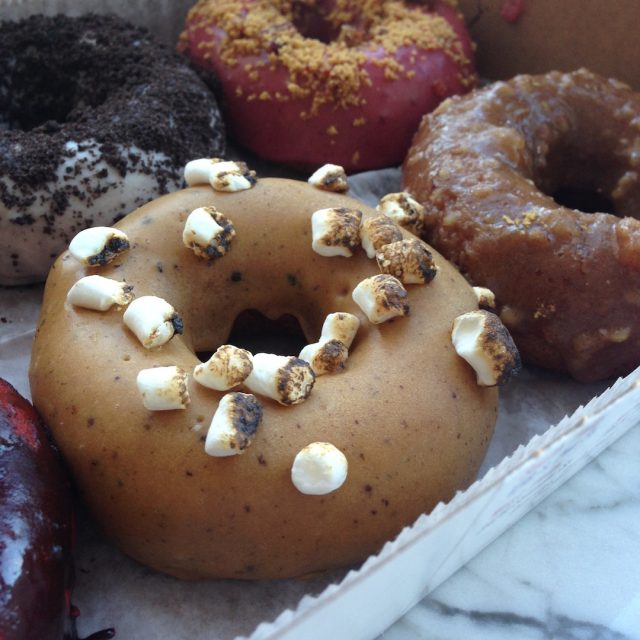 "Let me get this straight. We're driving to Philadelphia for doughnuts."
That was Isabella's response when I told her about my road trip plans for the weekend. The sun had scurried behind storm clouds, and raindrops began to dance upon the windshield as we rolled out of Brooklyn. My mind was divided between concentrating on the stop signs and streetlights, and my real reason for driving 95 miles for doughnuts.
Brooklyn is just too painful a place to be during our downtime. Somehow the weekday routine of school and work is manageable, though barely. My apartment is filled with noise permeating through the walls from a neighbor teaching piano lessons for hours on end every day. Smoke seeps up through the floorboards from downstairs, and spring signals construction in the hood, so amidst the chirping of birds is a chorus of power tools.
Our house upstate is usually our refuge but there's some work being done in the bathroom, and since we only have one, we must wait until it's finished before we can go. So, my doughnut plan seemed more like a delicious distraction, and less like running away. Still, I wasn't completely convinced as we left. In fact, I hemmed and hawed over even making the trip until two hours before hitting the road.
It wasn't until I hit the turnpike that I felt confident in my decision. Suddenly, grey skies were relegated to my rearview mirror, the rain stopped, and rays of sunshine dripped from the clouds ahead. When I was a kid, I imagined that was the angels looking down. Then as if by magic, the sun shone brightly across my face for the remainder of the drive. Michael knew how much I loved the warmth of the sun.
By time the Philadelphia skyline came into focus, the worries and weather in Brooklyn were a distant memory. I knew I wasn't running away from the past. I was chasing something new. That's the challenge with grief—accepting that your idea of normal never returns. It's the new normal that is a daily challenge to embrace.
We settled into Hotel Palomar, and then went in search of dinner. If you find yourself in Philly, Village Whiskey is a must. Rarely do I go to a restaurant these days where every dish wows me, but Village Whiskey did just that. As I sat there, sipping my Commodore, I looked at my girls, the candlelight dancing in their eyes, smiles curled around their straws sucking up a thick red velvet milkshake. We were all giggles, breaking curfew, wondering what movie might be on television for us to curl up and watch back at the hotel. At that moment, I realized we have a gift more powerful than grief. We have each other.
And when all else fails, we have doughnuts.