Strawberry Buttermilk Cake Doughnuts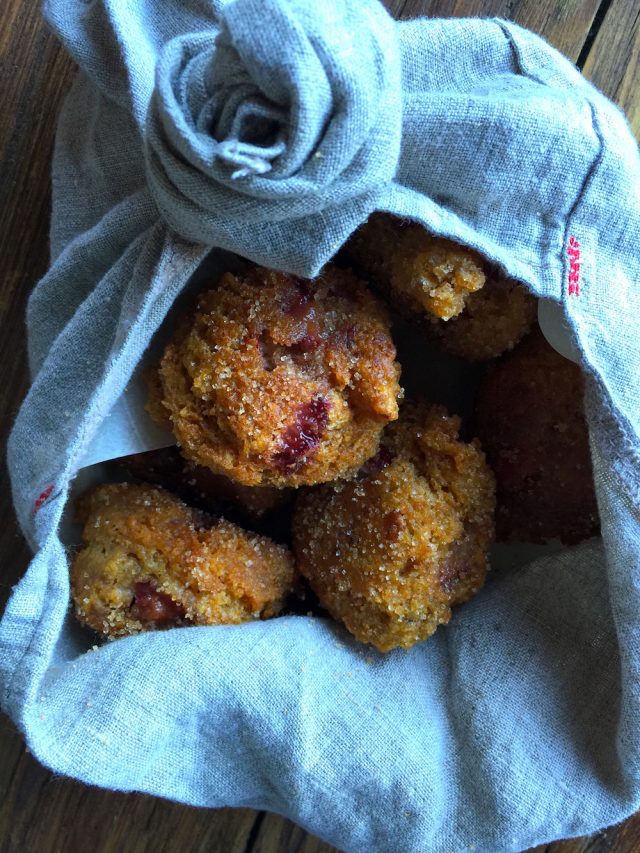 It's obvious looking here, here, and here that I'm obsessed with doughnuts. The day I told my girls we were driving to Philly to try a new (to me) doughnut place they thought I was crazy. Back then, we were still living in Brooklyn. Philadelphia was a mere 90 minute drive away. There are a lot of awful bad doughnuts out there, so the prospect of a great ones 80 miles away seemed an effortless drive. This new recipe I'm sharing for Strawberry Buttermilk Cake Doughnuts makes the drive less tempting, especially since I'm now four hours from Philly.
So, what happens when you take a doughnut addicted gal and throw her knee-deep in strawberry season? It was inevitable I would play around combining the two. Most doughnut shops would do this with a strawberry glaze on top. Not me. I wanted little jam-like pockets of strawberry, and I most definitely didn't want the waiting involved making raised doughnuts (read: yeast-based doughnuts).
I wasn't going to let a silly little thing like time stand between me and making strawberry doughnuts. That's when the idea of cake doughnuts came to mind. Since they're baking powder based, there's no rising time involved. The batter just needs a quick rest, about as long as it takes for the oil to heat.
These Strawberry Buttermilk Cake Doughnuts are ready from start to finish in about 20 minutes.
The batter is quite similar to that of buttermilk pancake batter. In fact, when made this way, this type of doughnut is generally referred to as a fritter. I was even going to call them fritters. One bite, though, and the taste screams doughnut, so that's my story, and I'm sticking to it. If you wanted to take the time to roll these out, and shape them with a doughnut cutter, go for it. I like the bite size nature of these. Think of them as doughnut holes without having to make the actual doughnut.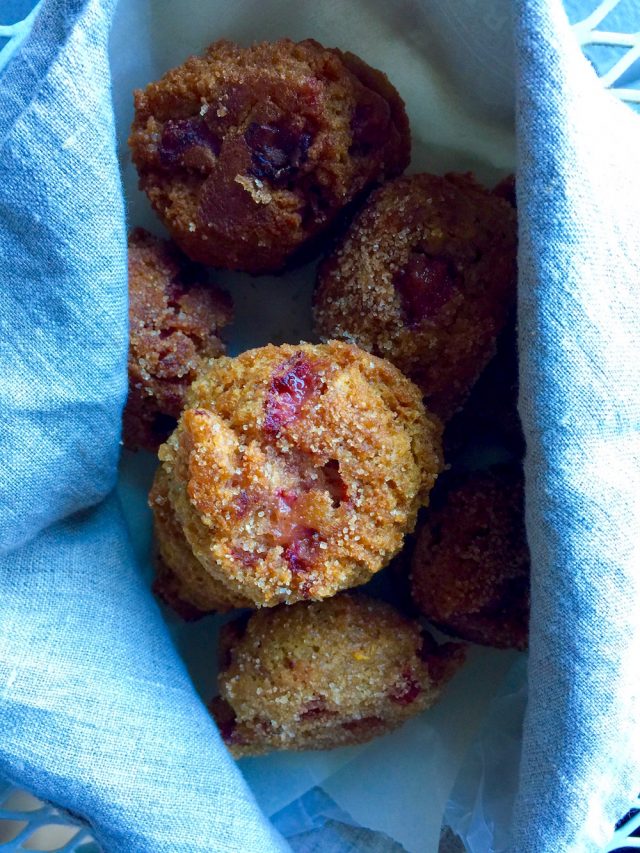 A few notes before you ask. No, you can't use regular milk in here. It will result in dense doughnuts, and that is never a good thing. You can sour your own milk. This is not my preferred way, as experience has taught me nothing quite gives the effect of an excellent quality buttermilk. I know, though, that not everyone has access to buttermilk. I had no luck finding any during my stay in Paris four years ago. Also, I can't believe that amazing trip was four years ago. Calgon, take me away. But I digress.
To sour your own buttermilk, add 1 tablespoon of cider vinegar to a measuring cup. Add enough milk to reach the 1 cup line. Let it sit for 5 minutes. You'll notice the milk will be curdled and thick. Yes, you can use lemon juice in place of cider vinegar. I notice a difference in the body of the resulting soured milk, though, so if you were wondering what would jennie do, then I'd always choose cider in a pinch.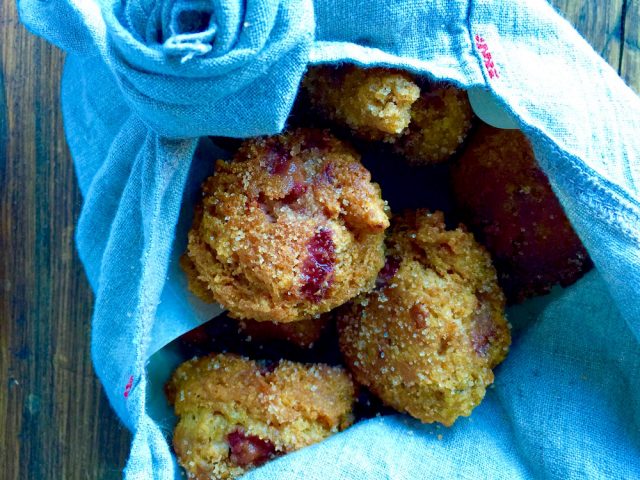 I'm kind of crazy for uniform shapes when baking. Cookie scoops are my best friend, and I own them in various sizes. If you're OCD like me when it comes to this, then I highly suggest you stock up on them, too. Of course, I wouldn't let not owning a scoop stop me from making these. I mean, that would be even crazier than my obession with cookie scoops.
Fresh from the fryer, these are everything a cake doughnut should be. A crispy bite gives way to a light, tender cake inside, dotted with bits of warm fresh strawberries. When it come to finishing these, you can certainly skip the roll through cinnamon sugar, but I implore you to try it both ways. I thought for sure I'd prefer them plain, and well, that faint bit of cinnamon sugar on the outside just seals the deal (cinnamon and I have a complicated relationship, so that's saying a lot, folks).
While I'm madly in love, head over heels with these doughnuts, don't go worrying about me. I still own this shirt, so my doughnut quest road trip days are far from over. I'm just saying that when the craving kicks this Strawberry Buttermilk Cake Doughnut recipe means I can satiate it myself while I plot the course for my next delicious adventure.
This recipe is now part of my new site, Simmering. It can be found here.
Posts are free for everyone to read. Recipes are for paid subscribers only.