Easy, Everyday 30-Minute Cake Doughnuts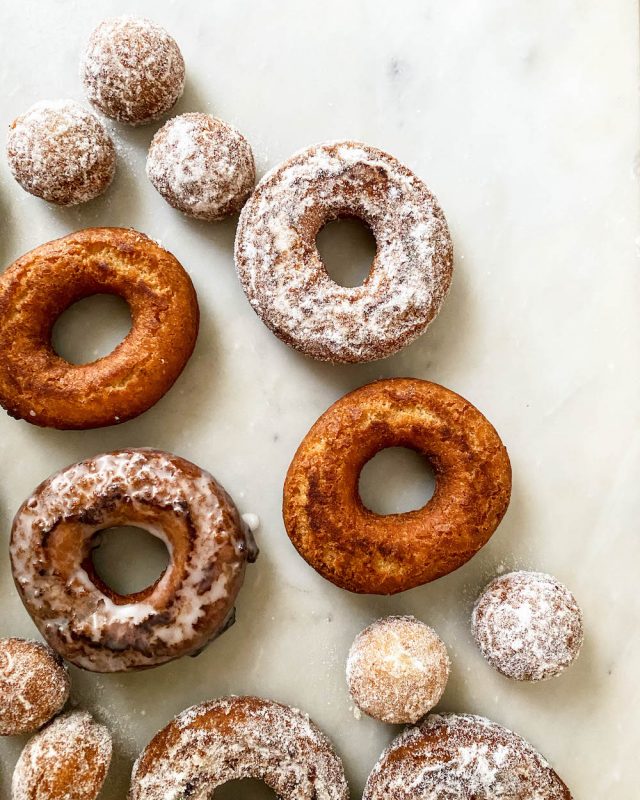 I hadn't planned on making doughnuts for breakfast a month ago, nor to repeat such tactics just a few days later but this is what happens when you wake and stroll Instagram before you've fully come to your senses. Anything seems possible in those first few minutes of a new day.
Meghan's photo of her grammy's doughnuts was staring at me, daring me to up the ante on a Monday morning. I took the challenge sure as the sun rises and sets every day.
The only thing wrong with this doughnut recipe is how easy it is to make. Freshly fried dough, crispy on the outside, perfectly cakey on the inside in just about 30 minutes could become a dangerous addiction.
Easy, everyday 30-minute cake doughnuts are a sweet dream come true when you live a 30 minute drive from the nearest bakery.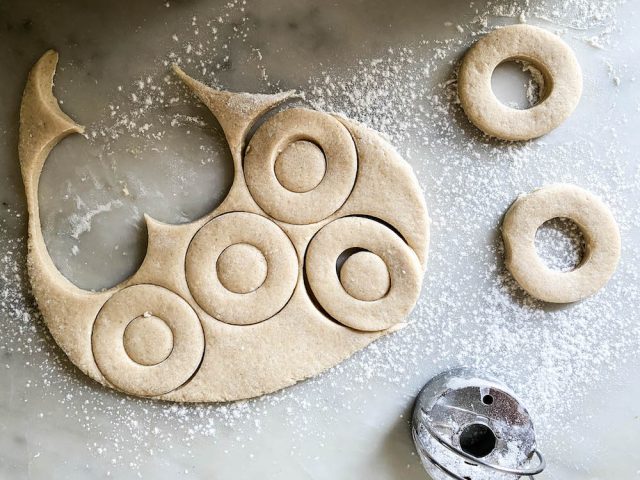 It's also a rare thing when a recipe actually works perfectly, in my professional opinion. The origins of the recipe probably speak to the reliability of it. It was't developed in a professional test kitchen with swanky equipment. These cake doughnuts were Meghan's grandmother's recipe. An honest recipe from a home cook.
Once you're done making them, sit down with your tea or coffee and read the original story Meghan shared when she first wrote about these cake doughnuts.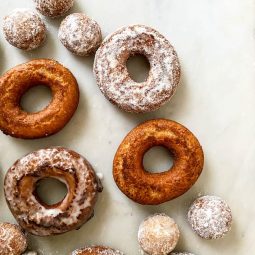 Easy, Everyday 30-Minute Cake Doughnuts
Ingredients
1 ½

cup

210 grams all-purpose flour, divided, plus more for the work surface

½

cup

100 grams granulated sugar

1 ½

teaspoons

baking powder

¼

teaspoon

fine salt

¼

teaspoon

ground cinnamon

⅛

teaspoon

freshly grated nutmeg

6

tablespoons

dairy-free milk

or milk of your choice

1

tablespoon

organic vegetable shortening

cut into 4 pieces

Safflower oil and additional shortening

for frying
Instructions
In a medium bowl. Whisk the flour, sugar, baking powder, salt, cinnamon and nutmeg until blended.

Add the milk and shortening, and stir until mixture forms a scraggly dough.

Scrape dough out onto a lightly floured counter, and knead a few times until it forms a smooth ball.

Roll dough out into ½-inch thickness. Lightly dip a doughnut cutter into flour, and press out circles (do not twist the cutter, press down and pull up quickly!). Reroll scraps and repeat cutting out doughnuts until there's no more dough left. Separate doughnut holes from doughnuts.

Fill a 4-quart pot halfway with a mixture of half oil and half shortening. Heat over medium-high until hot and shimmering (375ºF). Meanwhile, set a wire rack over a rimmed baking sheet.

If you plan to coat doughnuts, whisk cinnamon and sugar in a small bowl or prepare glaze for dipping.

Add one doughnut hole to test oil. It should sizzle vigorously immediately (if it doesn't oil isn't hot enough).

Once oil is ready, add a few more doughnut holes, making sure not to overcrowd the pot (or else they'll steam instead of fry). Cook until deep golden, 1–2 minutes, then flip and cook until deep golden on other side, 1 to 2 minutes more. Transfer to wire rack. Let doughnuts drain 1 to 2 minutes, then roll in cinnamon sugar or dip in glaze while still warm (return to wire rack and let glaze set).

Repeat with remaining doughnut holes and doughnuts (doughnuts will take an extra 1 to 2 minutes per side).