The Best Chocolate Cake Ever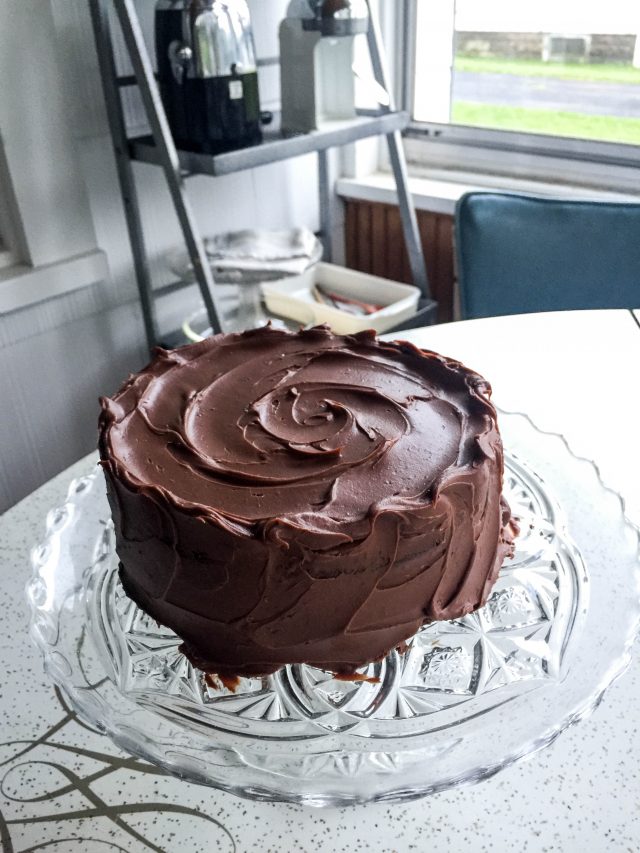 Every Friday I go up to Hudson, NY where I bake desserts at my friend's restaurant, Grazin'—recently voted best burgers in Columbia County. Every Friday, I bake this cake, and everyone goes bonkers for it. You know what else I do most Fridays? I come home and make it for me and the girls, too (perhaps sleep deprivation explains the smudgy frosting on this cake plate above). It sounds crazy, having spent a better part of the day baking for work, only to come home and do it again, but there's a good reason. This is seriously the best chocolate cake ever.
That's a hefty proclamation, and I'm not one to say that unless I truly believe it. I know a lot about chocolate cakes—the good and the bad ones. I ate my way through many of them while pregnant with Isabella 14 years ago (that might also explain why she loves this cake so much). 
A smaller version of the Devil's Food Cake I created for Mikey's 50th birthday back in 2000, this cake packs a perfect balance of sweet enough without being too sweet. Chocolatey but not too chocolatey (if there were such a thing). The addition of coffee might seem a surprise, but it's there to enhance and boost the flavor of the chocolate. I swear you won't taste a bit of coffee in the final cake.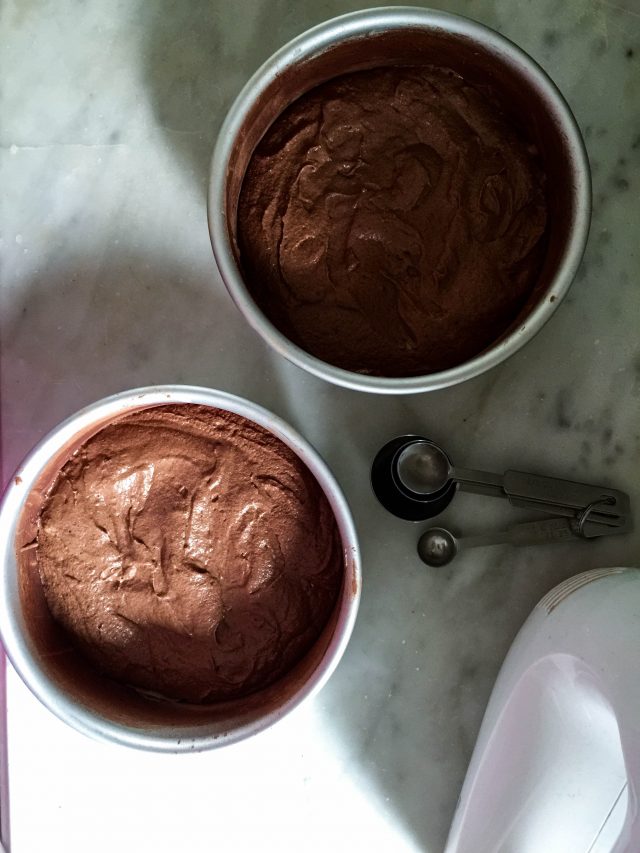 And the frosting. Oh my, where do I even begin? The best chocolate cake ever deserves the best fudge frosting ever, and this one delivers 110%. The base is a rich chocolate ganache, a chameleon of sorts. When first made, the ganache is thin. You'll wonder if I've led you astray. As it cools, though, the ganache gradually thickens. Get it at the perfect moment, and it's a fudgy, spreadable consistency, making it the most perfect chocolate fudge frosting.
For a cake this size, you only need a 1/2 batch of this recipe. Since the frosting does take some time to set up in the fridge, be sure to plan accordingly. My suggestion is to get it started as soon as you pop the cakes in the oven, so it'll be ready to use once the cakes are thoroughly cooled.
We tend to eat this cake in smaller slices. It's so rich, a smallish wedge is just enough, making it the perfect size cake for eight people. If you want a heftier slice, then plan on it serving six.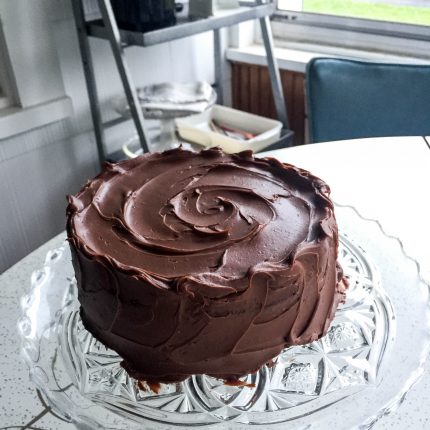 The Best Chocolate Cake Ever
Note about the frosting: it takes a few hours for the frosting (using this recipe) to cool & thicken up, so while the cake is ready relatively quickly, you want to get the frosting a few hours beforehand. If the frosting thickens too much, just let it sit out at room temperature, or give it short 10-second blasts in the microwave to refresh it.
Ingredients
¼

cup

25 grams cocoa powder, plus extra for coating pans

¾

cup

+ 4 teaspoons

125 grams all purpose flour

½

teaspoon

baking soda

Generous 1/4 teaspoon baking powder

¼

teaspoon

salt

1/2

cup

milk

3

tablespoons

strongly brewed coffee

¾

teaspoon

vanilla extract

4

tablespoons

56 grams butter, softened

½

cup

100 grams sugar

1

large egg

at room temperature

½

of this recipe for Rich Chocolate Frosting
Instructions
Preheat oven to 350ºF. Line the bottom of two 6-inch cake pans with a circle of parchment paper. Rub a bit of butter around the inside walls of the pan, and lightly dust with some cocoa powder.

Whisk the flour, cocoa, baking soda, baking powder and salt together in a medium bowl; set aside.

Mix the milk, coffee and vanilla in a small bowl or measuring cup; set aside.

Add the butter and sugar to a medium bowl. Beat until creamy and well combined, about 3 minutes.

Add the egg to the creamed butter mixture, and beat until light and fluffy.

Add the flour and milk mixtures to the bowl. Mix on low until just combined, 15 to 30 seconds. Beat on medium-high speed for 15 seconds more.

Evenly divide batter between the prepared cake pans. Tap the pans on the counter to smooth the batter out in the pans. Bake 20 to 22 minutes, until a metal skewer inserted in the center comes out clean. Remove from oven and let rest on a cooling rack for 15 minutes. Tip the cakes from the pan by turning it upside down on the wire rack, leaving parchment circle intact, and let them finish cooling completely on the rack.

Once cooled, frost as desired.
SaveSave