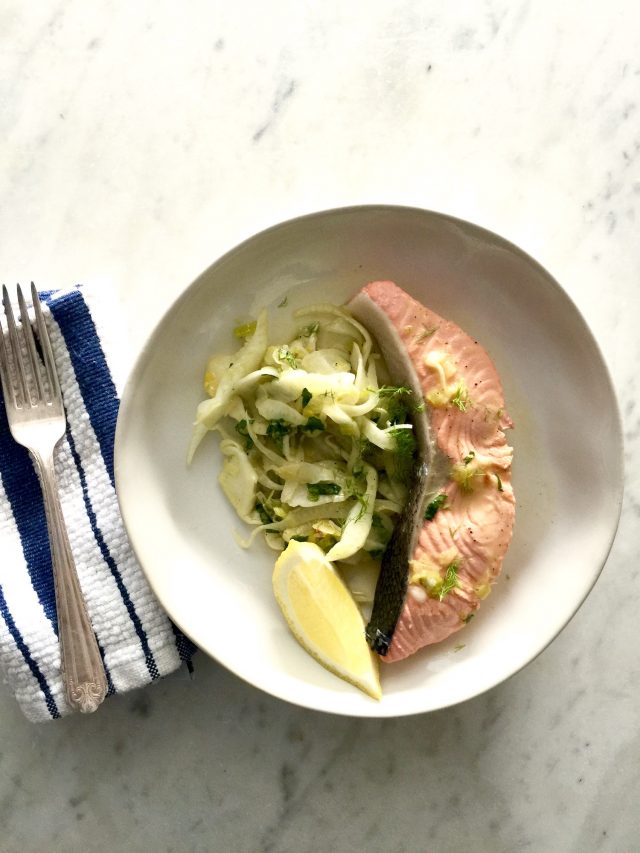 A few weeks ago, I shared a recipe for Fennel & Mint Slaw. What I didn't share at the time was how lovely it is as a canvas for poached salmon. I don't cook fish nearly often enough, but I absolutely love eating it. Something happened when I was pregnant, and I just couldn't tolerate the scent of it cooking.
That's where poaching comes into play. It doesn't permeate the air as heavily, or leave a lingering scent, the way pan frying or sauteeing does. The same goes for roasting—another great, healthy way to prepare fish. But to stay focused, today we're here to talk about poaching salmon.
How to poach salmon, in fact. It's much easier than you think.
If you've never poached a piece of fish before, and felt intimated by it, don't worry. It's much easier than you might realize. Trust me. I was late to doing it myself, but once I did it, I was hooked. The ease in preparing poached salmon combined with the healthier approach vs. pan frying it is a big appeal. My kids, however, don't like it, This means I usually make it for lunch. That's the reason this recipe is written for only 1 serving.
Depending on the size of your skillet, you can easily fit 2 or 3 fillets in the pan. And if you're skillet isn't deep enough, then use a pot. I love the way poached salmon pairs with fennel. The fish itself is plain, but the trick is making sure you get a forkful of the fennel salad with each bite. I prefer my salmon cooked rare to medium-rare. Chefs will say this is the only way to eat it, but that's the beauty of cooking it yourself at home. Make the salmon the way you like it, so keep that in mind, and add a few more minutes to the cooking time if you like it medium to cooked well through out.
Regarding the cooking water, don't toss it. Once the fish is removed, add some aromatics—onion, carrots, garlic, celery, and turn it into a light seafood broth. A perfect springboard to your next pot of soup, obviously one that is fish-centric.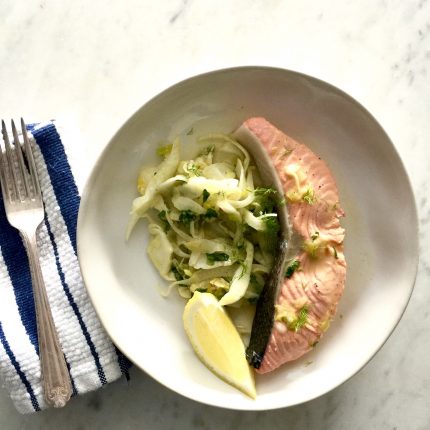 Poached salmon
Ingredients
1-

inch

thick salmon fillet

about 5 ounces

Wedge of lemon

Chopped fennel fronds

Fennel & Mint Slaw

recipe here
Instructions
Fill an 8-inch skillet with water, leaving 1/2-inch from rim.

Bring to a boil. Salt the water. Reduce to a simmer, then slide the salmon into the pan.

Cook for 2 minutes. Remove pan from heat, and let fish sit in the hot water for 3 minutes more.

Serve with fennel slaw, lemon wedge and chopped fennel fronds.