Za'atar Spiced Cucumber Salad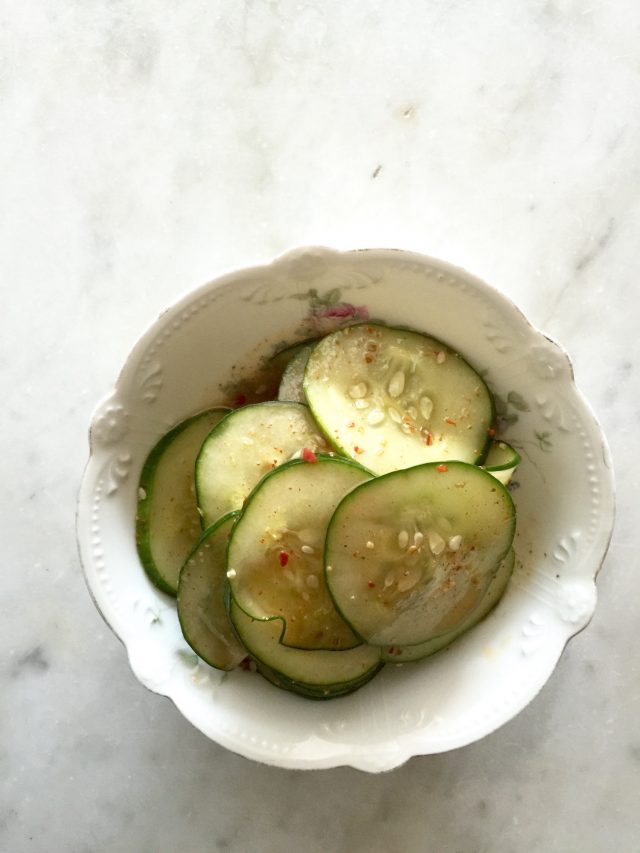 Remember the pickles in last week's Stuffed Cheeseburger post? Well, they weren't really pickles, at least not in the traditional sense. I did want a pickle-like addition to my burgers, though, and that's what lead me to make this Za'atar Spiced Cucumber Salad. Instead of the briny, vinegary bite you get from a true pickle, I wanted something more vibrant. A fresh burst of flavor.
I'd found some cucumbers at the farmers' market, and decided to slice one up into thin rounds. You can cut them thicker, if you prefer, but I'd let them sit a bit longer before serving so the dressing has a chance to really absorb into the cucumber. The dressing contains an acid (apple cider vinegar) and sweetener (maple syrup), much as you'd find in the brine for traditional pickles (different from lacto-fermented pickles). I chose the maple syrup to keep it vegan, but you can use honey if that's all you have on hand.
The za'atar adds a super refreshing flavor to this cucumber salad. If you're unfamiliar with za'atar, it's a Middle Easter spice blend, usually made with thyme (or sometimes oregano), sumac, sesame seeds, and salt. I've seen some versions made with cumin, as well. I bought some recently at Souk in Washington, D.C.. It was the freshest, most vibrant za'atar I've tasted to date, and has inspired me to try making my own for the freshest taste possible in the future (more on that in another post).
Regarding sumac, it's a reddish powder, ground from the fruit of the sumac tree. It has a tart, citrus note, and that's what really adds the vibrant flavor to this Za'atar Spiced Cucumber Salad. Sumac is also used as a natural dye, so you might see it in some all-natural, dye-free candies and treats in certain products.
This Za'atar Spiced Cucumber Salad is perfect for picnics.
One last note, and this is about the korean chili flakes. I wanted my cucumber salad to have some oomph, you know just a bit sassy, like myself (okay, maybe I'm a lot sassy). Anyway, I went with a generous pinch, which equaled about 1/2 teaspoon. Feel free to adjust the amount, adding more, less, or leaving it out all together based on your own preference.
If you're planning a picnic this 4th of July, this Za'atar Spiced Cucumber Salad would be perfect to take along. It doesn't need to be refrigerated, a big bonus for packing a picnic. If you're traveling a distance, and it'll be longer than 2 hours before you eat them, I'd suggest cutting them a little thicker than shown here so they hold up, and retain their crunch. I'll be sharing a round up of my favorite 4th of July picnic recipes later this week.
Za'atar Spiced Cucumber Salad
Ingredients
3

tablespoons

cider vinegar

1

tablespoon

olive oil

Splash of maple syrup

1

cucumber

very thinly sliced

1

teaspoon

3 grams za'atar

Sea salt

to taste

1/2

teaspoon

Korean chili flakes

optional
Instructions
Add the vinegar, oil, and syrup to a small bowl. Whisk until well blended.

Add the cucumber clies, za'atar, salt, and chili flakes, if using. Stir until everything is well mixed. Let the salad sit at room temperature for at least 15 minutes, and up to 2 hours, before serving.