homemade nut-free nutella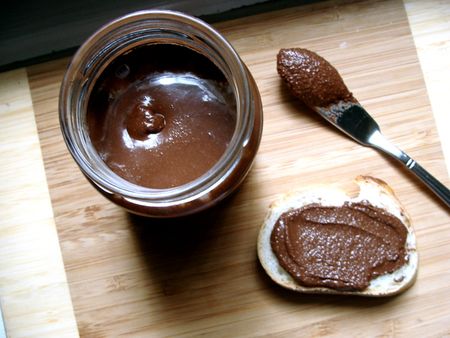 I owe you all an apology. I promised to share my easy homemade mayo recipe, but I came upon a lovely surprise in the test kitchen recently and decided to put those plans on hold for the next post.
Actually, I put it to a vote, and asked what I should post next. Needless to say, the outcry for a homemade nut-free nutella kicked mayo's butt.
Before sharing, I should preface there's a few more things I'd like to try with this recipe. What you're about to see is a work in progress, but it is one that I promise won't disappoint you. As-is, I'm quite smitten with this devilishly delicious spread.
What would I do differently, you're wondering? For starters, I'm curious to see how it tastes with some vanilla bean, as I use in my regular homemade nutella recipe. And while I chose not to include powdered milk in that recipe, I do think it could work nicely in this nut-free version.
Yes, a few days ago I set out to make a nut-free version of Isabella's favorite food group—nutella. She started camp yesterday (finally!), and there's a strict no nut policy (obviously this applies to food, not the kids or parents). She loves peanut butter and nutella, so it has become my go-to sandwich when I'm feeling pressed for time on busy mornings—or just uninspired after packing more than 1,000 lunches over the course of her school career!
So many exclamation points—but it's homemade nut-free nutella, and that is cause for celebration!
Now, I'm going to let you in a little secret. Okay, it won't be a secret for long.
I don't like nutella. I realize I'm probably the only person who doesn't have a fondness for eating it straight from the jar. Added to things, like this frozen yogurt I created for Cuisinart, and I'm so there. On its own, though, it holds no allure.
What I did learn making this nut-free version is that I LOVE sunflower seed chocolate spread. It doesn't sound as sexy or catchy or nutella, but it's damn good slathered on a slice of baguette.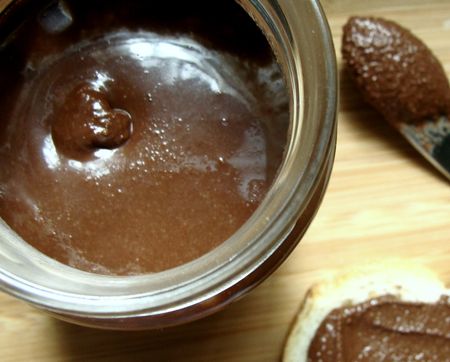 Homemade Nut-free Nutella
makes one generous cup
Before you get started, make sure your sunflower seeds are specifically labeled nut-free if you have a nut-allergy, or are making this as a treat for someone who's allergic. This means the bulk bins are off-limits, since there's too much risk of cross contamination. A quick search on Amazon, came up with these raw sprouted sunflower seeds that are nut-free, gluten-free, wheat-free and vegan.
If dairy is an issue for you, then by all means try this recipe with a dairy-free chocolate, but do keep in mind I tested it with 55% Guittard chocolate discs. I can't vouch for using a dairy-free chocolate, but would love to hear the testing results if you do, so please share in the comments.

1 cup ( 138 grams) shelled raw unsalted sunflower seeds
4 ounces (112 grams) bittersweet chocolate discs, melted
1/4 cup confectioners' sugar
1 to 2 teaspoons vegetable oil
Add the sunflower seeds to the bowl of a food processor. Pulse until it becomes a fine, almost powdery, consistency. Add 1 teaspoon of vegetable, and process until it forms a smooth paste. You may need to add the additional teaspoon, depending on the sharpness of your food processor blades.
Pour in the the melted chocolate, and pulse until smooth and well-mixed. Add the confectioners' sugar and process until it forms a smooth, spreadable consistency, scraping down the sides as needed to make sure it is well mixed. Store in a tightly sealed glass jar and use as desired.
Storage note: My batch is only three days old, and since it doesn't contain any dairy, I'm opting to stow it away on my counter top.