strawberry ricotta bruschetta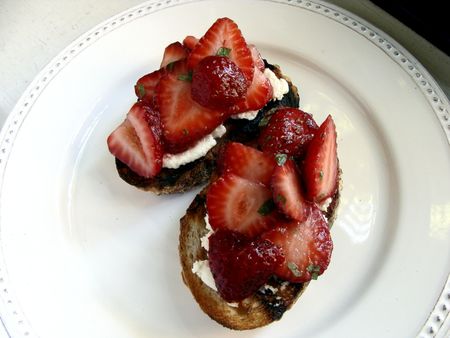 I loved my mother's Tupperware containers growing up. I can still remember the tiny blue one she used to serve us ice cream in, and the tops that fit just perfectly always intrigued me. I don't know why, but I still love holding a sealed container upside down and marvel at how a simple lid stops gravity from doing its job.
The blue container had a pink companion piece, and the sight of those only meant good things, like ice cream, jello or a homemade cinnamon sugar butter mixture. In fancy culinary terms, we'd call it a compound butter. I doubt my mother knew that's what she was making, as she swirled the softened butter together with the fragrant spice and sweet sugar. The house smelled sinfully good, as a pat melted across a crisp slice of bread just after it popped from the toaster.
It's quite an easy concoction to make on your own, so I was curious when I heard Land O'Lakes had a new cinnamon sugar buttery spread on the market. Since it has been my butter of choice for baking for a long time, I raised my virtual hand a few weeks ago to take on a project to develop a recipe using the spread, along with a few other bloggers—we're all posting a recipe this week which will be featured on the Betty Crocker website, for which we're also being paid.
Once I found the new butter at my local Met Food, I was quite happy to see it had a list of ingredients Isabella could easily read and understand: cream, water, sugar, canola oil, cinnamon, salt and citric acid. Maybe the last ingredient would take a little explaining, but I knew what it was and gave it the thumbs up.
What about the taste test? It reminded me of being eight again, watching the toaster carefully, waiting with anticipation for the bread to fly out. Except this time I was the mommy and it was my own daughter waiting to gobble it all up. It may not have been homemade, but for Isabella, it was quite the treat for me to let her have toast with cinnamon sugar butter for breakfast.
Sure it's easy enough to soften some butter and make this on your own, sometimes, though, it's about the memory and the moment.  
I thought long and hard about what kind of recipe to create. Growing up, my only reference point for cinnamon sugar butter was spread on toast. Then I realized what would make that memory even better—some creamy ricotta. Since strawberries were in season at the time too, the wheels started turning and I thought about creating a sweet bruschetta.
It's a delicious way to make new memories while paying homage to the old ones. When Isabella and Virginia get older, perhaps they'll put their own spin on it.
strawberry ricotta bruschetta
4 servings, 1 bruschetta each
1 cup (5 ounces) whole strawberries, stems removed and sliced 1/8-inch thick
1 teaspoon (6 grams) natural cane sugar
2 mint leaves, chopped fine
4 slices baguette, cut 1/2-inch thick
2 teaspoons Land O Lakes ® Cinnamon Sugar Butter Spread
4 teaspoons fresh ricotta
Combine the strawberries, sugar and mint in a medium bowl. Stir well to coat, and let sit on the counter for 30 minutes, so the strawberries release their juices.
Meanwhile, preheat an outdoor grill. Using a butter knife, spread 1/2 teaspoon of the cinnamon sugar butter on one side of each slice of bread. Place the bread slices on the grill and cook until slightly charred, 30 to 60 seconds, then turn over and cook another 30 to 60 seconds on the other side.
Spread 1 teaspoon on the buttered side of each slice of grilled bread. Spoon an even amount of strawberries on top of each slice of bread. Serve immediately.
Tips: 
Be sure to scrape the grill dow with a wire brush before grilling the bread, especially if you previously cooked something strong flavored or meat-based.
Don't fret once strawberry season is over. You can swap in raspberries (leave them whole) or fresh peach slices.