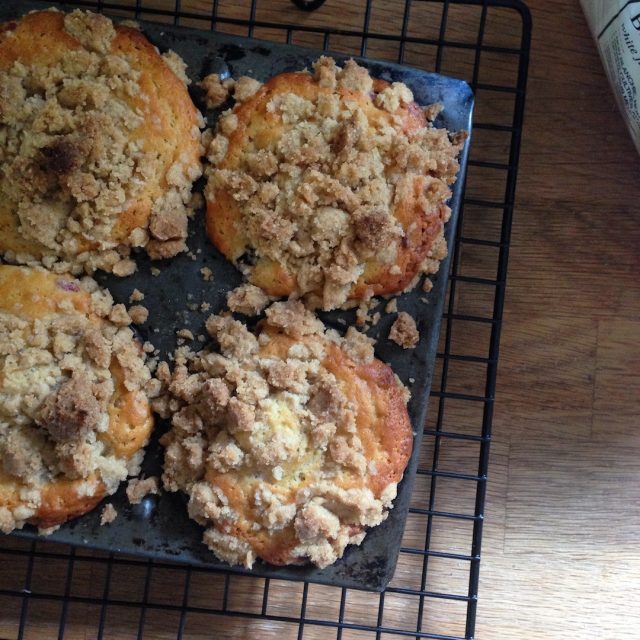 Where to begin? It has indeed been a while since I've been here. While the packing felt utterly overwhelming at times, the move was ultimately uneventful, and for that I'm eternally thankful. I'm sitting here with this silly grin, as I write in my backyard. The sun is strong, but the wind is an equal rival, and the trees provide a natural umbrella of shade. The wind chimes are softly dancing behind me. My smile is from the wonder as I pop my head up from the computer to gaze at the woods behind the house. Perhaps the property sounds grander than it is—I only own a 1/4 acre, but it's my 1/4 acre. The woods behind the house are protected property, providing us with some extra peace and solace. To my right, is another 1/4 acre of field that belongs to my neighbor, and she kindly lets the kids play there.
I very blessed for this little home we have settled into in the Catskills. I'm happy, and at peace, and if I'm being honest, it scares the heck out me. The last time I felt this content with my life fate swept in and stole my sense of security. As my dear friend said this week, I just have to focus on the moment.
The girls and I have been lounge lizards since school ended. We took a brief trip to Canada, visiting Quebec City and Montreal (more on that later). Otherwise, I wanted a quiet summer, free of alarm clocks and schedules. We've been going to bed a little later, and sleeping in. Before the move I finished up a big project for Food Network (you can take a peek at it here), so I've been cooking free-style, so to speak, not recording recipes, not looking up in books. Just cooking for the pure love it. It sounds a bit odd to say that because the truth is even when I'm cooking for work, my heart is 110% into it. Simply said—I love what I do.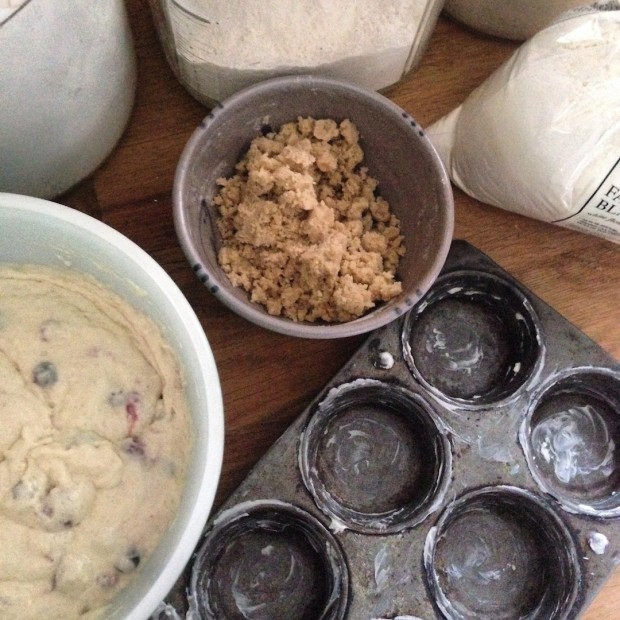 This free-style cooking does pose a bit of a challenge when I share photos of what I'm making on Instagram. Everyone asks for the recipes, but many of them are just on the fly variations of existing ones, and others are totally in my head. The only problem for some of you when I bake this way is that I always do it by weight. If you don't have a scale, this recipe may entice you enough to buy one.
I'm very picky about muffins, and find there are many more awful ones being sold, than ones worth the calories. For starters, they shouldn't be jumbo. And they should be light, but not so light they can be mistaken for a cupcake. Texture is important too, so when I have the time, I prefer a crumb topping. Fillings are also important, should you go that route. Too many berries, and they'll weigh it down. Too little, and you feel cheated.
Balance, that is what muffins are all about, much like marriage. When I wrote Homemade with Love, my muffin making habits tended towards cutting in cold butter with the flour mixture. These days, I find myself making them with melted butter instead. It's a bit less messy, shaves a minute or two off the preparation time, and gives the muffins a little more heft, but not too much. I wouldn't say one is better than the other, it's just about what kind of muffin you prefer eating (or how laid back you're feeling).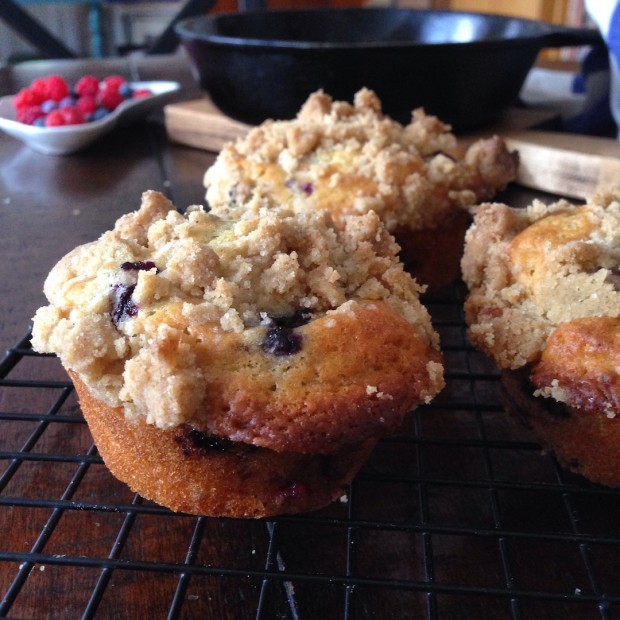 So, here's my "on the fly" easy muffin recipe. Feel free to make it your own, use whatever berries you like, add chopped nuts to the topping, swap in allspice or cloves for the cinnamon, even chai spices would work nicely. Oh, one more thing. I created a picnic board on Pinterest last week, so take a look if you need some inspiration for summer outings. They do double duty as great work and camp lunches, too.
Mixed Berry Muffins
Makes 8 muffins
PLEASE READ BEFORE SHARING MY RECIPES: I really appreciate that you like my recipe enough to want to share it with your readers. I work hard at developing them, and the only way to way to truly show your thanks is to LINK to the recipe. If you feel the absolute need to reprint the recipe, then you must rewrite the directions in your own words, and give credit as "recipe by In Jennie's Kitchen" with a link back to this page. If you make sufficient changes to the recipe, then you may list it as "adapted from In Jennie's Kitchen", again with a link back to this page. Thank you!
For the topping:
75 grams flour
25 grams granulated sugar
25 grams brown sugar, light or dark is fine

1 gram sea salt
As much cinnamon as you like (I err on the side of a generous pinch)
56 grams butter, melted

For the muffin batter:
200 grams flour
50 grams granulated sugar
1 gram sea salt
1 gram baking soda
10 grams baking powder
1 large egg
56 grams butter, melted
225 ml of buttermilk

Generous handful of berries (blueberries, raspberries, and/or blackberries)
Preheat your oven to 400F (200C).
To make the crumb topping: add the flour, sugars, salt, and cinnamon to a deep bowl; whisk to combine. Stir in the melted butter, making sure they are no dry bits of flour (I sometimes use my fingers for this). Set aside.

To make the muffin batter: add the flour, sugar, salt, baking soda, and baking powder to a clean deep bowl. In a small bowl or large measuring cup, combine the buttermilk, egg, and melted butter. Beat with a fork.
Pour the buttermilk mixture over flour mixture. Stir with a fork until just combined. Fold in the berries.

Evenly spoon into an 8-cup muffin tin (sorry I use my vintage stuff when I'm not in development mode!). Evenly sprinkle the crumb topping onto the muffins.

Bake until a deep golden brown. Sorry, I really have no idea on timing. I was picking berries while they baked. Based on my all my muffin baking experience, my guess is they baked 25 to 30 minutes. The trick with muffins  is to take them a few minutes further than you think they need, hence a deep golden color, not just simply golden. It took me years to become comfortable with this since instinct, or perhaps fear of them burning, kicks in.