Chickpea & Fennel Tartine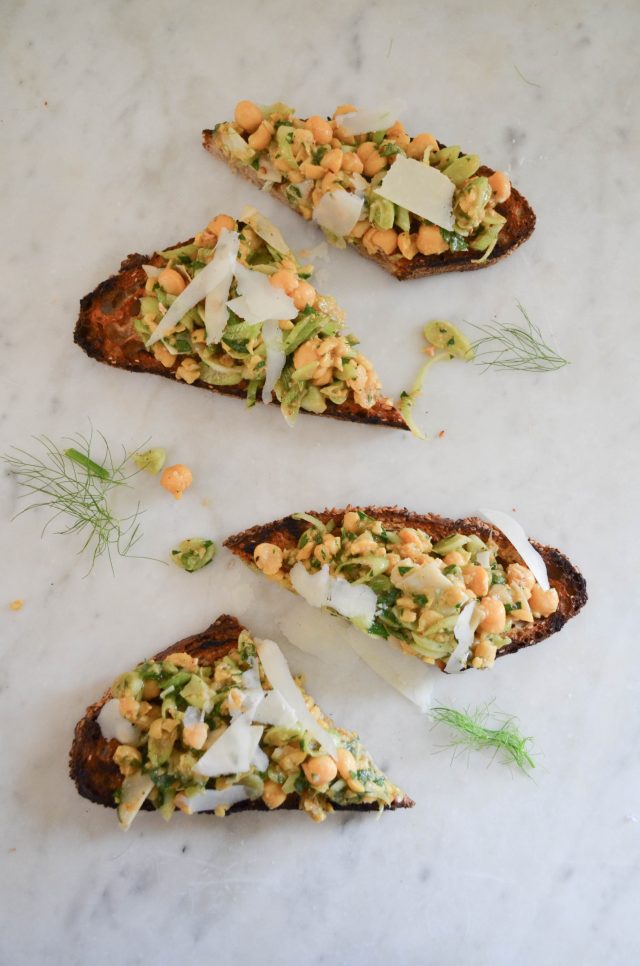 Paris is a bread lover's dream, so yes, that was just one of the million reasons I'm in heaven when I visit. Right next door to my favorite bakery, Poilâne, is their sister restaurant, La Cuisine De Bar, specializing in tartines, open-faced sandwiches. It was memories of my times spent nibbling on these thoughtfully constructed sandwiches that led me to create this Chickpea & Fennel Tartine.
On its own, the salad is lovely, and a nice beginner to any summer entree. Piling it on top of toasted bread transforms it from an appetizer to a substantial main course. Perfect for lunch or a light, but filling, dinner.
Good quality bread is key here. Think sturdy, too, along the lines of country bread, something that can hold the topping when you pick it up. Grilling the bread adds a nice charred flavor to the tartine. If you don't have an outdoor grill, toasting it in a cast iron skillet is a great alternative. In a pinch, I'd even use my toaster oven because this tartine is so good, I wouldn't want to deny myself the pleasure of enjoying it.
Pecorino-Romano cheese is what I usually have on hand, but Grana Padano or Parmigiano-Reggiano would be equally lovely. Use a vegetable peeler to shave paper-thin slices, and use as much or as little as you like, or leave it out if you want to keep this dairy-free.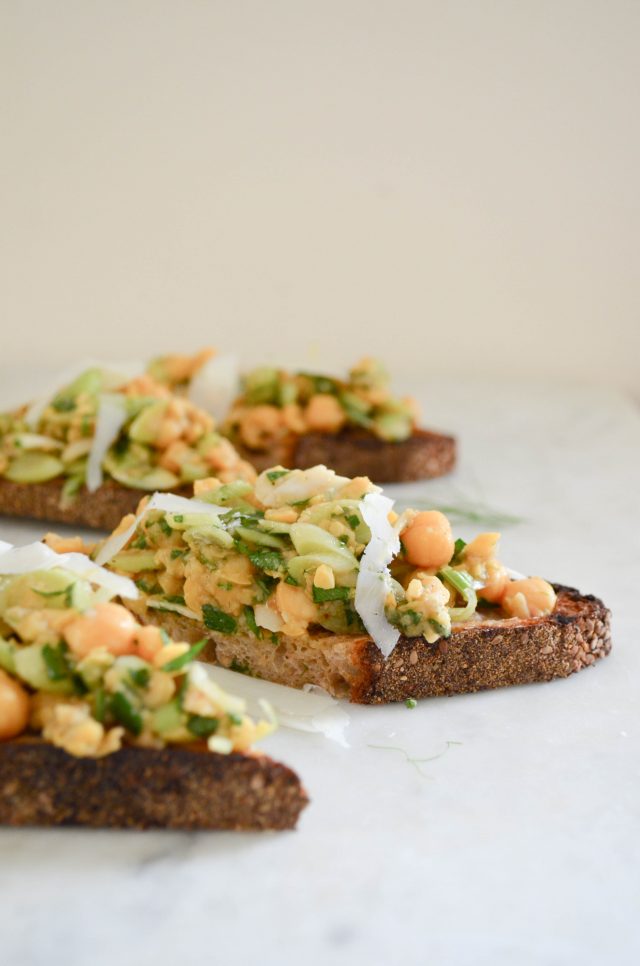 One last note to share. I realize it sounds a bit fussy to peel the outer skin from the chickpeas. Trust me, it's so worth the extra few minutes. Otherwise, I find the skins shed during the mashing process, and make for an unpleasant texture (but maybe that's just a quirky preference of mine).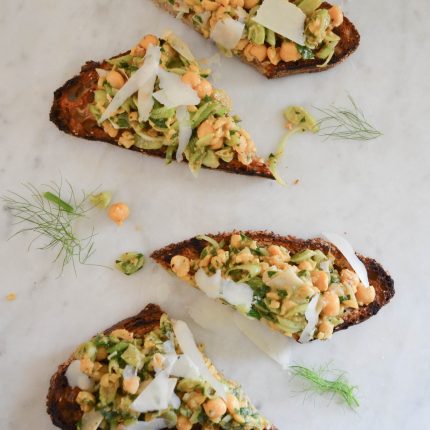 Chickpea & Fennel Tartine
Ingredients
1/2

can of chickpeas

outer skins peeled

1

skinny stalk of fennel

stalks thinly sliced & fronds chopped

Handful flat-leaf Italian parsley

chopped

Shaved Pecorino-Romano cheese

1

tablespoon

Basic Vinaigrette Dressing recipe here

1 to 2

teaspoons

extra virgin olive oil

plus more grilling bread

Squeeze of fresh lemon

Sea salt & freshly ground black pepper

to taste

2

pieces

of country bread
Instructions
Preheat a gas grill to medium-high.

Add the chickpeas to a deep bowl. Use the back of a fork, or a potato masher, to roughly smash them. Add the fennel, parsley, cheese,

Vinaigrette

, oil, and lemon juice. Stir to mix well. Season with salt and pepper. Let the salad sit for a few minutes while you prepare the bread.

Brush both sides of the bread with a bit of olive oil. Place on the grill, and cook until toasted, 1 to 2 minutes. Turn and cook on the other side another 1 to 2 minutes until toasted.

Divide the chickpea & fennel salad on top of the grilled bread slices. Shave a few more pieces of cheese on top. Cut each slice in half, and serve immediately.