Tomato & Chickpea Panzanella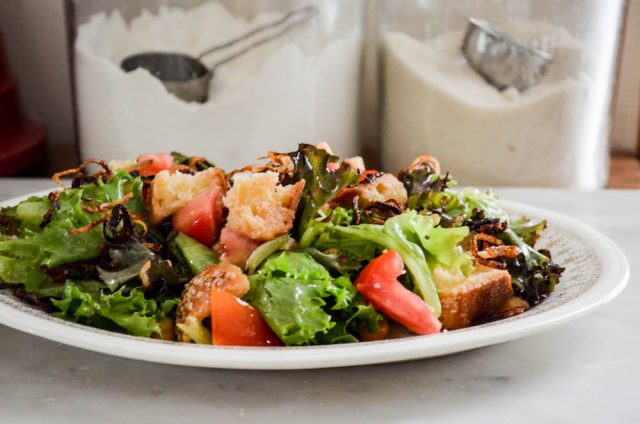 I remember my first bite of panzanella. We were sitting on the terrace of Adrian's in North Truro, watching the sunset over Cape Cod. I wrote about it in my cookbook, Homemade with Love, where I shared a recipe for slow-roasted tomato panzanella.
Michael wasn't always easy, and guess what? Neither was I. Being human dictates none of us are perfect, each of us a work in progress. And while I packed my bags, ready to leave so many times it became hilarious (well, not in the moment), there was always a reason to stay.
It's easy to romanticize your relationship post mortem, literally. I remember my therapist early on telling me to be careful of putting him on a pedestal. She knew intimately the pitfalls of our marriage, and helped us grow stronger over the course of two years to build a road back to each other.
When he died I knew there was only one person that could come close to understanding the depth of my loss. Only one other person could ever know how hard we worked and fought to stay together. Where many couples settle for less, accepting that maybe love wanes with marriage, we did the work to find purpose together and fall in love again in a new way.
These next few weeks will leave me feeling aware of every "last" as August 7th draws nearer. I know this from past experience. Almost eight years worth of past experience living without him. On the one hand I just want to stop remembering him, take a tonic to alleviate my mind of the memories so I can stop missing—missing him, missing a true partnership, missing sharing all the details big and small, missing the feeling of what it is to truly share a life with someone.
I can't speak to other marriages since I only know from the experience of my own, but what I can say is Michael was my person. I guess that's what I think of when I think about marriage, knowing there's that one person in the world who becomes your center, in a way both becoming each other's sun with which to orbit.
And while for a period of time there was an eclipse of sorts, I found my center again, my reason to continue orbiting.
I woke up Wednesday morning realizing that eight years ago, two days prior on July 22nd, was eight years since our last date. That's the way the widow's mind works, or perhaps just the grieving mind. You find logic in dates when none exists.
I laid in bed for a moment, and could almost—almost feel his hand clasped in mine. I could almost–almost hear his voice.
Panzanella reminds me of marriage. Bread is intoxicating when fresh from the oven. A good loaf needs no adornment. New love is like that too, all about the discovery, everything is so fresh.
Time brings changes and challenges. What do you do with the day old pieces? How do you make something old feel new again?
In the case of bread, taking a cue from the Italians is a good idea. Thrift and not wanting to waste is why panzanella exists. You can toast the bread if you like. Sometimes I do but more often I wait a day or two for nature to do the work of drying it out on the counter.
A brief stint soaking in the dressing hydrates the bread, making it flavorful again, giving what was once stale a breath of freshness, newness.
Three years before Michael died I instituted a weekly date night. Were it up to him, dates would've been non-existent, or relegated to just birthdays and anniversaries. I had to explain that curling up on the sofa every evening, much as I loved those moments, wasn't the same as taking time to be Mikey and Jennifer (he actually never called me Jennie).
Rather than sit back and stew about the lack of date nights, I owned it, and hired our sitter to stay late every Thursday night. All he needed to do was show up. Lil Frankie's become our regular spot, and not a week went by that I didn't feel those same old butterflies walking to the train to meet him.
Those date nights were our panzanella.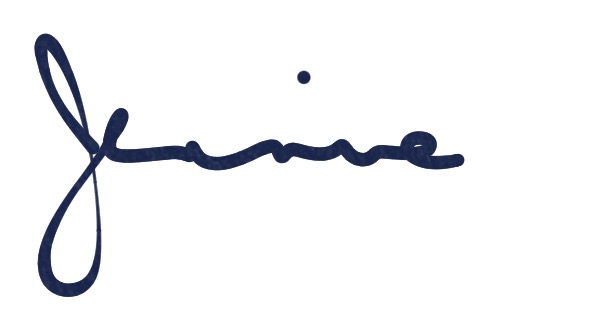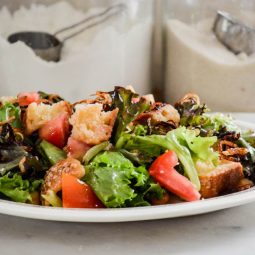 Tomato & Chickpea Panzanella
You can use ciabatta or country bread in place of the baguette, just don't use sliced sandwich bread. If you're really craving this salad and don't have stale bread, a few slices of fresh bread, toasted will work in a pinch.
Ingredients
¼

cup

olive oil

1

medium shallot

peeled & thinly sliced into rings

1½

tablespoons

white wine vinegar

Few pinches of sugar

Sea salt & freshly ground black pepper

to taste

1

ripe

summer tomato (190 grams), cut into cubes

3

slices

stale baguette

torn

½

cup

95 grams cooked chickpeas (these beans would be amazing, too)

Heaping handful of baby leaf lettuce or baby arugula
Instructions
Heat the oil in a medium skillet over medium-high until shimmering. Add the shallot, and sauté until deeply golden and slightly crisp. Using a slotted spoon, transfer shallot to a paper-towel lined plate to drain.

Pour oil from the skillet into a deep bowl. Whisk in the vinegar and sugar; season with salt and pepper.

Add the tomatoes, bread and chickpeas to the bowl. Toss to combine, and let rest for 10 minutes to allow the tomatoes to release some juices and the bread to soften slightly.

Add lettuce, toss again to combine, and serve garnished with crispy shallots.