I had my first sip of chai in 2007 on NYC's lower east side, at the original location of Doughnut Plant (back when there was tiny location which closed when the doughnuts sold out, which was around 2pm tops), and was smitten from the first sip. Every other chai afterwards was unacceptable—either too wimpy on the spices, or worse, from a prepackaged container with a chemical aftertaste. So, I would find myself hopping the metro when the craving for a cup hit. 
Soon after I watched a mesmerizing video of a street vendor making chai in India. The urge to finally make it at home had been born. Doughnut Plant is now much further than a 15-minute trip on the F train. In fact, it's closed right now due to Covid-19.
As I dream of a world where we can hug friends and plan get togethers, I'm thankful for memories of when the world felt less topsy turvy, and a sip of this milky spiced tea reminds me of sunny mornings running up the steps, out of the Delancey Street train station to enjoy freshly made doughnuts and a hot cup of chai.
Visit me here for a recipe to make Chai White Chocolate Scones.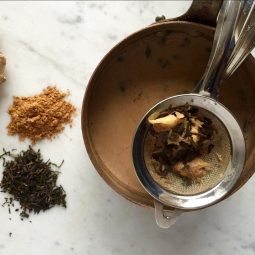 Masala Chai
Ingredients
½

teaspoon

cardamom

or 2 pods, crushed

8

whole black peppercorns

2

teaspoons

fennel seeds

crushed

1

tablespoon

ground cinnamon

1-

inch

piece fresh ginger

pounded (no need to peel)

4

cups

water

3

tablespoons

black tea leaves

I use darjeeling

⅔

cup

sugar

or more to taste (feel free to sub with desired amount of maple syrup or omit sweetener)

4

cups

milk

regular or non-dairy
Instructions
Combine spices and water in a medium pot. Bring to a boil. Add tea leaves and sugar. Reduce heat to medium-low and simmer for 5 minutes.

Rest a fine mesh sieve atop a funnel over clean glass mason jars (or any jars available). Pour tea through sieve, filling jars halfway. Discard any remaining solids.

Top jars off with milk. Allow to cool completely before storing in the fridge. Chai may be enjoyed cold or warmed over low heat in a small pot on the stovetop.