Strawberry, Honey & Rosemary Jam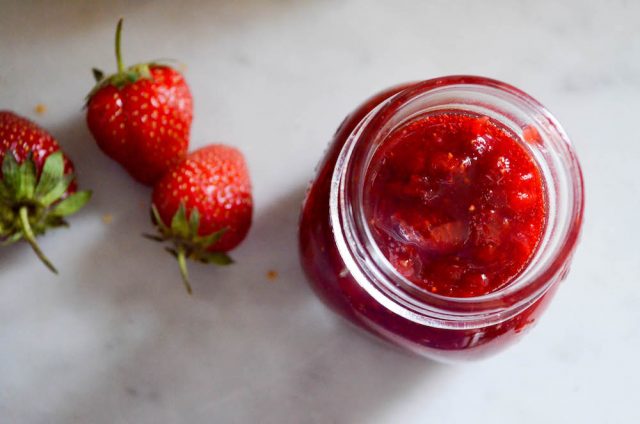 It seems summer has really arrived, at least based on the wicked humidity this past weekend. Another signal of the season is strawberries! They're finally here as of a week ago, or so. Everything happens later here in terms of the growing season. That comes as no surprise to anyone tucked away in the corners of northeast New York since we had almost two feet of snow just three months ago. Funny how that sounds so long ago, yet like just yesterday. But today is not a snowy day—it's a day for Strawberry, Honey & Rosemary Jam.
I don't remember what made me first try the combination of strawberries and rosemary, but it was likely sheer curiosity…one of those "I wonder what this will taste like" moments. That was a few years back, and I haven't revisited this duo since then, even though I loved it. I try to do a few new things in the name of research and development each season, so even old favorites tend to get lost in the shuffle.
The new thing I really want to chat about, though, is how to thicken your jam without using ridiculous amounts of sugar or pectin. Usually low sugar jam recipes call for pectin to help them set, something a whole lotta sugar usually does on its own when making jam. My first forays into jam making were with natural pectin, Pomona's in case you're curious. It was a great way to dip my toes in the waters eight years ago.
As time went by, using all sugar, and no pectin became my preferred method. I've always wanted to experiment with Christine Ferber's apple jelly pectin, but every time I think about it, the whole process feels too fussy (or perhaps I'm too lazy). But it did give me an idea, and one I planned for in advance.
I've been saving the peels from whenever I use granny smith apples. Next to summer apples, they're the highest in natural pectin, and the skin is where it's all concentrated (a good reason to buy organic ones, too). The peels store easily in a bag in the freezer.
So, when I decided this weekend to make a low sugar jam, sweetened mostly with honey, and just a touch of sugar, I added a handful of those apple peels to the pot along with a thick rind of lemon (make sure you include the white pith, as that also contains pectin).
And there was rosemary, too, which is how I fell down this rabbit hole in the first place. All the while, cheese was on my mind. As I began creating this flavor combo of strawberries, honey, and rosemary, I could almost taste how amazing it would all be on a cheeseboard.
The resulting jam is thinner than my usual ones, but still sturdy enough to my liking. I've been erring on the side of runnier jams the last couple of years, too. I must mention that the honey you use is important here. I only keep creamy, churned honey in the cupboards, as I'm sure I've shared in the past. This is thicker than the honey you might be used to, and also more delicate in flavor. I really can't say how using any other kind of honey will work in this recipe, as I haven't tried it any other way. And as suspected, this jam was wonderful with a triple cream cheese I indulged in this weekend. Hope you give it a try this summer, and feel free to use different herbs. I can see basil and lemon thyme working nicely here, as well.
This recipe is now part of my new site, Simmering. It can be found here.
Posts are free for everyone to read. Recipes are for paid subscribers only.