There's a whole lot of love tucked between the pastry of this Strawberry Cherry Pie. On the surface it's a seemingly seasonal pie that screams summer, but like almost everything I cook, there's a story. This is the pie I made to greet the girls when they came home from their first overnight camping trip. It was the first time I've slept alone in my own home without my kids in almost six years.
I've traveled for work and pleasure solo, and have been away from them plenty of times, but the difference surrounding this trip hit me as I was dropping them off for their overnight camping trip. This is the first time they chose to be away, whereas before I was always the one choosing to leave. It shuttled me straight into the future, when one day they will be gone, and it'll be just me. As a friend on Instagram said, we have our children on "loan" for a short time before they move on to the next phase of their lives.
Honestly, I used to dream about being an empty nester when the girls were younger. I looked forward to starting the next phase of my life with Mikey, after we raised our daughters. Everything is so different now, and often uncertain. I wonder what the future will look like but can't see it—it's foggy like the bathroom mirror after a hot shower. You keep wiping it down to get a better look, but it just fogs back up.
When I dropped off the kids at their homeschool hub for the camping trip, we hugged what felt like a million times. I thought about that while washing dishes later that day, and what a beautiful gift I was allowed in that moment. I mean, how many 14 year olds openly show their mother that kind of love in front of their peers? I don't know of many that wouldn't roll their eyes at the very least, and yet there was Isabella waving, and blowing me kisses as I pulled away.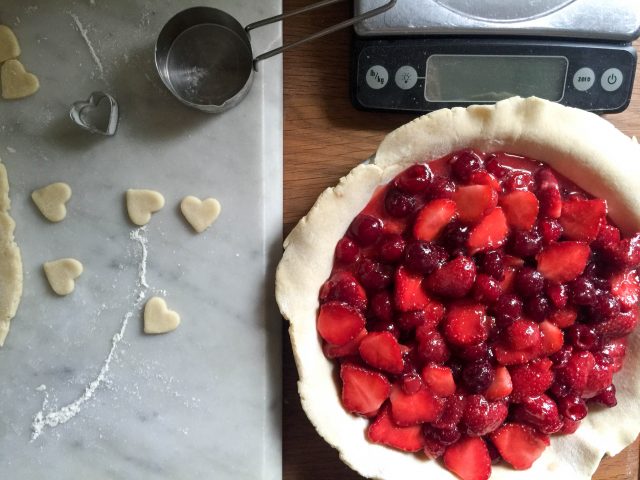 When I stopped by the farmstand on the way home, and picked up strawberries, I knew exactly what I'd be making the next morning for their return home. I'd already bought some cherries at the farmers' market in Woodstock the day before. I know, cherries in mid-June sounds crazy, but it's true. These were a balance of not too sour, but not quite a sweet cherry.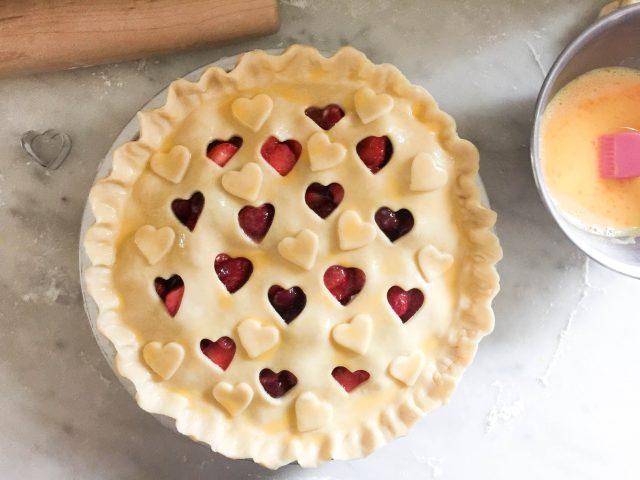 What better way to tie the whole message of my love for them together than with this heart kissed crust? It was easily accomplished with a tiny heart-shaped cookie cutter. If I had a bakery, and sold pies, I'd call this an Everlasting Love Pie. That perfectly captures how I feel about my girls.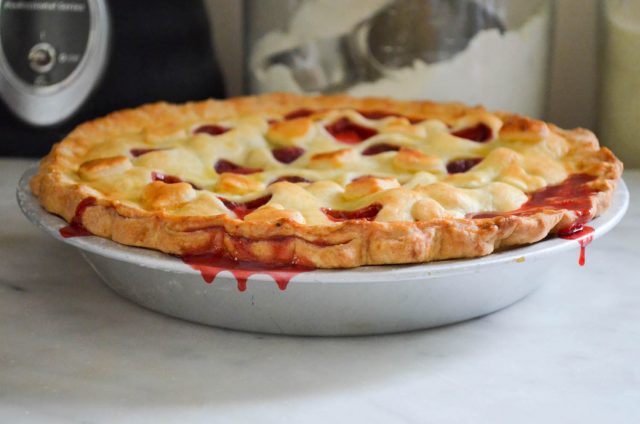 More from In Jennie's Kitchen
Eight Years Ago: Spanakopita
Seven Years Ago: Summer Farro Salad
Six Years Ago: Sweet Pea & Parmesan Crostini
Five Years Ago: Simple Twist of Fate
Four Years Ago: Roasted Strawberry Basil Sauce
Three Years Ago: Strawberry, Tomato & Basil Salad
Two Years Ago: Perfect Chocolate Chip Cookies
One Year Ago: Best BBQ Ribs
Strawberry Cherry Pie
Ingredients
Instructions
Preheat the oven to 425º (220ºC).

Combine the strawberries, cherries, sugar, flour, and lemon juice in a deep bowl. Give it a stir to mix well, then set aside so the fruit can release its juices.

Meanwhile, lightly flour a counter or cutting board. Roll one of the pie crusts into a 10-inch (25-cm) circle. Fit it into a 9-inch (22-cm) pie plate, letting the crust hang over the sides—don't trim it just yet.

Roll out the second pie crust into a 9-inch (22-cm) circle.

Stir the filling, and spoon it into the pie plate. Cover with the remaining rolled out pie crust. Use a scissor to trim the edges, and flute them, or crimp closed with the tip of a fork. Brush the top with the egg wash. Use the tip of a sharp paring knife to slit vents in the top (or a small round cookie cutter works, too).

Bake for 15 minutes, then reduce oven temperature to 350º (180ºC). Bake for 30 to 35 minutes more, until the crust is golden, and juices begin to bubble from the pie. Transfer to a wire rack, and let cool completely, at least 4 hours, before serving.