sweet pea & parmesan crostini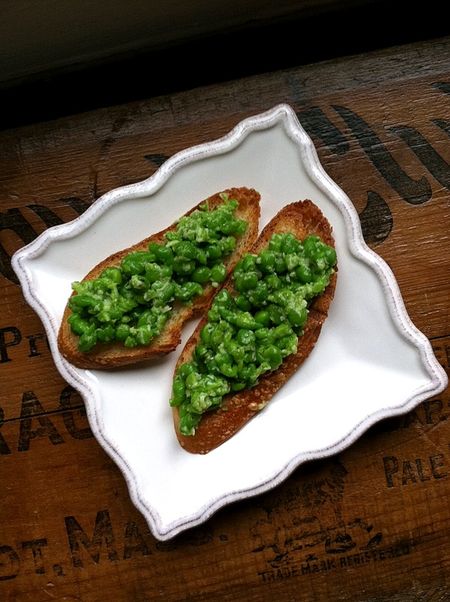 I'm still wiping the sleep from my eyes, though I've been up for hours now. I'd like to say it is because I was dreaming about sweet peas—that would certainly make for a more interesting story. Imagine, being lulled into unconsciousness with thoughts of delicate green tendrils, sprouting the first peas of spring, sugary enough to eat just shelled from their pods.
No, that is not how my story goes. Instead, my fatigue is due to bolting from bed to answer the shrieking screams of a three year old demanding fresh cold water in her sippy cup.
Yeah, you can only imagine my reaction. I'm choosing to believe it wasn't really about the water. It's never about the water, the toy or whatever seems to be the cause of their tantrums. I need to believe that, if only to retain any morsel of sanity.
A few weeks ago I offered up some advice at Eat, Write, Retreat. I encouraged new bloggers and writers to give themselves a break and reflect back on their early work when feeling like things haven't fallen into place or happened as quickly as they'd hoped. Reflection is always a good thing. It reminds us of where we've been, how far we've come and keeps us focused on our current journey.
It was by chance that I took my own advice yesterday. Olga came over to bake with me, and I looked up my recipe for sweet cherry hand pies for reference. Rather than just print out the recipe, I read my own words from nearly a year ago. They reminded me that even though motherhood feels like a stranglehold sometimes, in direct competition with my goals for myself as a woman, a person, an individual, the moments I have with them are fleeting.
Parenthood is borrowed time of sorts. For now, I'll work on patience, and remind myself that one day soon I'll laugh at all these silly moments—that is when I've had a good night's sleep.
Pea & Parmesan Crostini
makes 6 crostini
Why peas? Well, they're the girls' favorite vegetable, so whenever I see them at the market, my mind wanders to thoughts of Isabella and Virginia. Thankfully this recipe comes together easily, regardless of how much sleep you've gotten. I originally made this just as the winter ice was thawing, and used some peas I'd frozen form last year's harvest. You can simply swap in the fresh peas now available at farmers' markets.

p.s. You'll notice this recipe has specific Cuisinart product mentions. It was created for their blog, and has a little back story too. Go read my original post if you want to learn a bit about my inspiration for this recipe.
Pea & Parmesan Crostini
Makes 6 pieces
1 cup (4 ounces) frozen peas
3 tablespoons (14 grams) freshly grated Parmeggiano-Reggiano cheese
1 tablespoon extra virgin olive oil
1 basil leaf, chopped
Freshly ground black pepper, to taste
Six 1/2-inch thick slices of baguette
Preheat your Cuisinart Griddler, or use a grill pan set over medium heat.
Combine the peas with 1 cup of water in a microwave-safe bowl. Cook for 1 1/2 minutes until peas are heated through (you can alternately do this in a small pot on the stove top). Drain peas and add them to a medium bowl. Mash peas with a fork until the skins pop. Stir in the olive oil, cheese, basil and pepper; set aside.
Add the bread slices to your Cuisinart Griddler and press them into thin flat pieces of toast, or place them in the grill pan and toast lightly on both sides. Spread an event amount of the pea mixture on top of each warm slice of bread. Serve immediately.