orange-sesame tofu with snow peas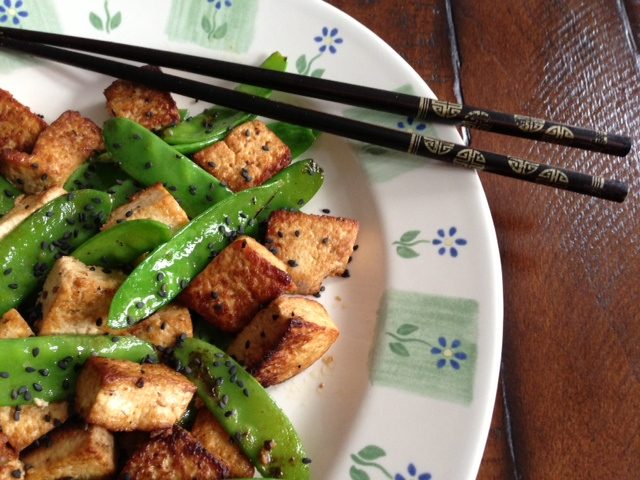 The days suddenly started getting longer. I didn't fully appreciate it until we sat down to dinner last night, and realized the only light casting a glow was from Mother Nature, streaming through our dining room windows. Today we left swimming class, and sure enough it was still daylight too. I often joke that I'm solar powered, so this is very good news. Last year I was amazed at how late it remains daylight in Paris during the summer. In the beginning of the month, darkness didn't descend until almost 11:00pm. I thought I'd have to paint the windows black to get the kids to fall asleep!
I'll miss the sun rising at 6:00am once we turn the clocks ahead this weekend. Before changing the time I mutter to myself "spring forward, and fall back", as a reminder to set them correctly. By April, though, the sunrise and I will surely be back in sync. All of this has nothing to do with tofu, except that ingredients, like time, is what we make of them. As I mention in my recent Relish article, tofu is a blank canvas, a chameleon of sorts, ready to soak up any flavor you're craving. You'll find my favorite recipe for orange-sesame tofu with snow peas here, but don't miss the video below before you go. I'll be back in a few days with details on a fun kids contest to celebrate the publication of my cookbook in a few weeks.

How To Prepare Tofu from Jennifer Perillo on Vimeo.