the glorious pasta of italy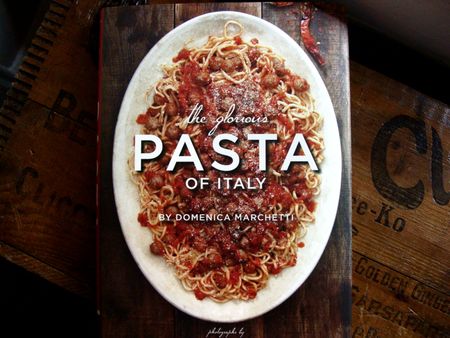 I grew up eating pasta—lots of it.
Actually we called it macaroni, and I don't think anyone in my family has called it pasta in all the years I've known them. My nana was born in the states. In Brooklyn to be precise, and she lived her life just a few blocks from where I now live with the Mr. and girls.
My family is Italian-American, through and through. We are a different breed from Italians hailing from the homeland. I'm a third generation Italian-American, and really only half since my father was Finnish and Flemish. Yet, I've never considered myself anything but Italian, my words flecked with the hurried hand movements and gestures for which my people are so well known. 
My connection to my family and heritage is one I've never questioned, and I just assumed my children would always feel this strong bond too. The first time Isabella asked "what are we mommy?", I replied "human beings". Frustrated, she sighed threw her hands in the air and said "no, I mean where do we come from?".
Again, I thought this was some existential question, and replied "well, some people believe God created us, but there's scientific proof that life started as a few cells millions of years ago". A few more stomps of the feet, and I realized what she meant. Isabella was asking what country we came from, and was obviously looking for an answer to a more important question. She knows one of her best friends is Jewish, another is from France. She senses they have a connection to something that extends far beyond her Brooklyn stoop.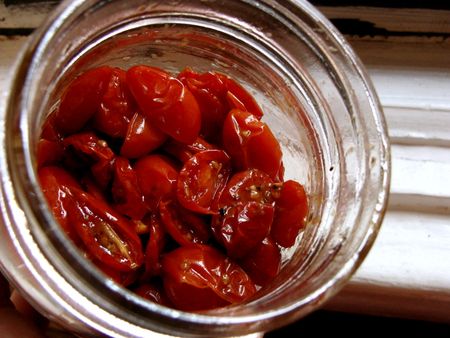 My heart sank a bit at this realization. Have I been doing something wrong? How was it possible my daughter didn't know she was Italian? She understands without doubt that she is Jewish. I serve apples with honey at Rosh Hashanah, fry latkes at Hanukkah and prepare an entire meal sans leavening agents for Passover. She understands these food rituals represent a link to the traditions and background of her father and grandmother.
Yet,  every time I put a plate of pasta in front of her, the eyebrows raise and a sigh of disappointment escapes her lips. Isabella just doesn't feel the fondness for pasta that I do. She may as well stick an uncooked strand of spaghetti through my heart.
In her defense, I will take some of the blame. I can easily fall into a rut when it comes to pasta. A delicious one, made with fresh tomatoes, spicy basil and fragrant browned bits of garlic. To a developing palate though, perhaps she seeks something more than the bowl of comfort food I'd gladly eat every day for weeks before boredom might possibly set in.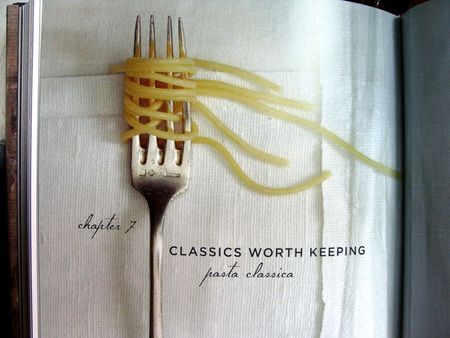 Then a few weeks ago Domenica's book came. As I flipped through the pages, it was clear we share the same passion for our food heritage, though I couldn't help but feel her's is more authentic having spent summers in Italy with family. My first and only trip didn't happen until just a few years ago. Still I long to go back. I felt like I was finally home as the ferry made it's way to Venice, even though my mother's family is from Naples and Sicily.
After curling up with The Glorious Pasta of Italy two things happened. First, excitement set in since I knew I'd actually get to meet Domenica a few weeks later at Eat, Write, Retreat. Then I pondered which recipe I'd make first. It seemed apropos to begin with the Classics Worth Keeping chapter. Italian-Americans are often mocked by real Italians for our bastardization of their food culture. I don't how we evolved to scatter Parmesan on our linguine with clam sauce (a big no-no), or decided spaghetti should swim in a pool of red sauce.
Not Domenica, though. She doesn't mock me. She doesn't make me feel inferior. She just makes me want to cook the food that binds me to a culture I want my girls to love as fiercely as I do. The Glorious Pasta of Italy is a lovely bridge of what I know about Italian food, both past and present, and a reminder of all I still have to learn.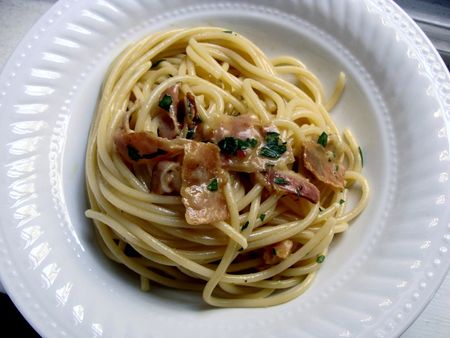 Spaghetti Alla Carbonara
from The Glorious Pasta of Italy by Domenica Marchetti (Chronicle 2011)

serves 4 to 6
One might say I'm a tweaker by nature when it comes to cooking. While that is true, my changes to Domenica's recipe were simply because I knew I could swap in acceptable substitutions. I'm including her recipe as-is here for you. I didn't have pancetta in the house, so used a smoky bacon I'd bought at the Italian market instead. And while she calls for two types of grated cheese—Parmagianno-Reggiano and Pecorino-Romano, I'm sure Domenica will forgive us all if we decided to just use all of one or the other (I just used Pecorino-Romano).
Whatever you do, don't skip the wine! I'm an avid carbonara maker, and this was an eye-opening addition. It adds a fruity undertone that helps to cut through the pontential heaviness of the sauce. And in case you're wondering, Isabella loved this dish. There is hope for her yet!

2 tablespoons extra virgin olive oil
1/2 teaspoon kosher or fine sea salt
2 large cloves garlic, lightly crushed
Freshly ground black pepper
1/2 cup (55 g) freshly grated Parmagianno-Reggiano cheese
1/2 cup (55 g) freshly grated Pecorino-Romano cheese
4 to 5 ounces (115 to 140 g) guanciale or pancetta, cut into strips
1/3 cup (75 ml) dry white wine
2 tablespoons finely chopped fresh flat-leaf parsley
4 large eggs, lightly beaten
2 tablespoons heavy/double cream
1 pound (455 g) uncooked dry spaghetti
Bring a large pot of water to a rolling boil and salt generously.
While the water is heating, warm the olive oil and garlic in a large frying pan placed over medium heat. Saute for 5 minutes, pressing down on the garlic occasionally to extract its flavor. Remove the garlic as soon as it begins to brown and discard it. Add the guanciale and cook, stirring from time to time, for 5 to 6 minutes, or until it has rendered some of its fat and is slightly crisp. Raise the heat to medium-high and pour in the wine. Let it bubble for a minute. Turn off the heat and cover to keep warm.
In a small bowl, whisk together the eggs, cream, salt, and lots of pepper. Stir in both cheeses and the parsley.
Add the pasta to the boiling water, stir to separate the noodles, and cook according to the manufacturer's instructions until al dente. Drain the pasta in a colander set in the sink, reserving about 1 cup (250 ml) of the cooking water.
Return the pasta to the pot and place it on the burner, but do not turn it on. Slowly pour in the egg mixture, stirring vigorously with a wooden or metal serving fork as you pour. Don't let up, as the stirring will ensure a creamy, rather than scrambled, sauce. Add a splash or two of the cooking water if necessary to loosen the sauce. Add the guanciale, along with any drippings in the pan. Toss the spaghetti to incorporate the ingredients. Transfer the pasta to a warmed serving bowl or shallow individual bowls and serve immediately.