Last year I hit my stride with pie making. After years of feeling like lattice crusts were intimidating, I realized all I needed to do was shed a little bit of my perfectionist personality, and accept there'd be a learning curve. Easier said than done if you really know me. I see this tendency in both my girls, as they're quite secretive with their art work until they feel it's ready to be seen beyond the scope of their own eyes.
It's also easy to get intimidated when you see all the magnificent creations on Instagram. Then I remind myself those pies, amazing as they look, are eye candy, and not a realistic goal for my life at the moment, maybe never. I'll continue to admire them from afar, and bake pies at home on my own terms.
That's how I happened upon this spur of the moment blueberry pie recently. The desire to bake it was last minute, but the ease with which it came together was thanks to my past self's planning.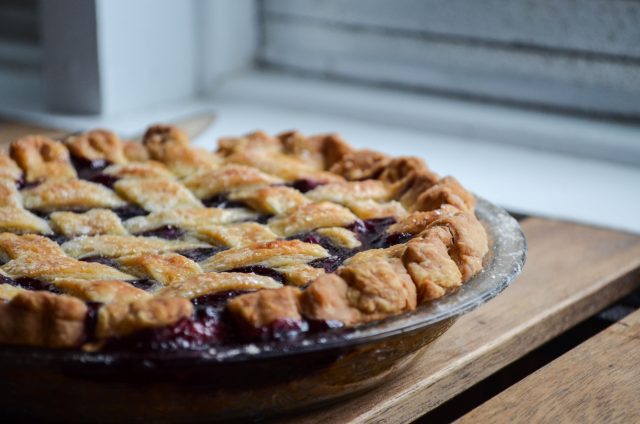 Each year I add something new to my canning endeavors. Last summer I decided pie filling was the next thing to conquer. I only put up a few batches (4 jars blueberry and 2 cherry) since I wasn't sure I'd like them. I know that sounds odd, but I'm so used to everything fresh, and have never used a canned pie filling.
All I can say after making this, the best blueberry pie I've ever eaten, is why the heck did I wait so long?
I actually forgot about the pie fillings. It was in surveying my inventory in the basement that I came across them. It's taken years of canning preserves, pickles, etc. for me to learn that hoarding them, for fear of running out is plain silly. I make them to extend the season, to share with family and friends, to and more recently make homemade pop tarts. Rather than be stingy this past winter, I diligently used and gifted them so I wouldn't be scrambling to use it all up before beginning the next canning season, except the pie fillings fell  off my radar.
Jump straight to the recipe for Best Blueberry Pie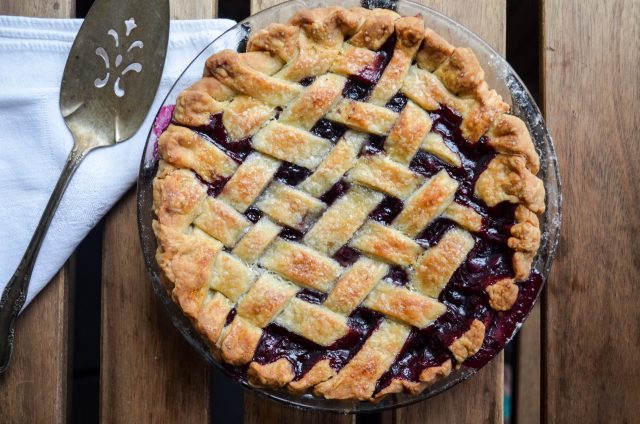 Right around the moment I brought a jar up from the basement as a reminder to make pie, I happened upon two pie crusts tucked away in the freezer. The real bonus? They were already rolled out. Genius, right?
You can do the same thing, too, to prep your pie crust in advance. Just roll out the crust, lay it on a sheet of parchment or waxed paper, and roll it up. Place the rolled crust in a ziptop bag, squeeze out all the air (but be careful not to smoosh the crust), and store it in the freezer. I can safely say it'll last at least six months since the bag was labeled 10/23/2017.
I let the pie crusts thaw in the fridge overnight, and the next morning this blueberry pie took just five minutes to make, including the lattice top. Much as I love that all of my pie crust recipes can be rolled out immediately with no need to chill, this is such a time saver, and still yields a wonderfully flaky, buttery crust.
If you want to make this pie, but didn't can blueberry pie filling, don't fret. Make the filling as directed in the recipe, and skip the canning process. I'd wage money you can even make it a few days in advance, and let it hang in the fridge until ready to use. Let us know if you give that a try, and how it works out, since I've not done it myself.
One last note, I baked this pie in my Breville Smart Oven. It's a total lifesaver since my kitchen is teeny. The smart oven sits on a shelf in my back porch, and essentially acts as a second oven. If you're in the market for a toaster oven, one that can truly do the tasks of a full size oven, you might want to consider this one. I've baked everything in it—cookies, scones, pizza, and now pie, all with spectacular results. In full disclosure, it was sent to me as work sample last year, but after a year of having this oven as part of my cooking family, I can whole-heartedly say it's worth the initial investment, and there are still so many features I've yet to try.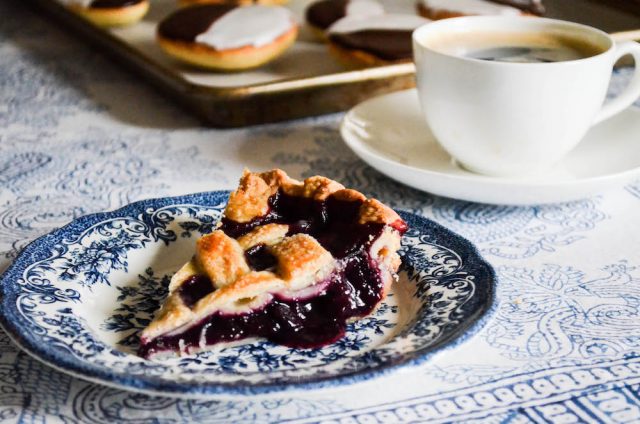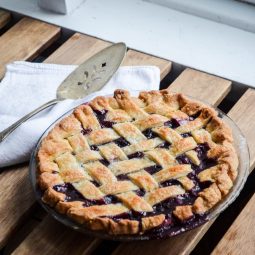 Best Blueberry Pie
Read through the post for notes on what to do if you don't have home-canned blueberry pie filling.
Ingredients
1

recipe Perfect Pie Crust thawed overnight in the fridge if using a frozen crust (or use one of these pie crust recipes)

1

jar

or batch blueberry pie filling, recipe here
Instructions
Preheat the oven to 425ºF (220ºC).

Fit one of the pie crusts into an 8-inch regular (not deep dish) pie plate.

Pour the filling into the crust.

Top with the remaining pie crust, or cut the crust into strips, and arrange them in a lattice pattern on top. Finish the edges as desired, and use a sharp knife to cut a few air vents if you didn't do a lattice pattern.

Bake 15 minutes.

Reduce to the temperature to 350ºF (180ºC). Bake 30 to 35 minutes more, until the crust is deep golden, and juices are bubbling from the pie.

Let cool completely on a wire rack before cutting, at least three hours.
SaveSave
SaveSave
SaveSave
SaveSaveSaveSaveSaveSave
SaveSave
SaveSave
SaveSave
SaveSave
SaveSave
SaveSave
SaveSave