A week ago, I set about making a blueberry pie. It was the beginning off a weeklong flurry of pie making, and planted the seed of an idea in my head. On that sunny Monday morning, making the crust by hand—there was no food processor available, squishing the berries between my fingers because I didn't see a potato masher in the kitchen, my usual modus operandi, it occurred to me just how happy and at peace I am while making pies.
There's something different about it than other baked goods. And of course, part of what I was feeling is because of the person for whom this pie was intended, as a belated birthday gift. Perhaps it's the mystery that shrouds pie making. Perfecting a crust feels elusive to so many people, and the secrets for such are as varied as there are grandmothers to pass down recipes.
The real secret, I think at least, is in doing it often. Pie dough needs a willing playmate, not a fearful one. Of course, a great recipe is crucial—I use my foolproof piecrust recipe. But the truth is, like life, pie making is 51% confidence. Funny how I can work the Danny Meyer hiring philosophy into pie making, but it fits so perfectly here.
People often tell me they can't cook—there's a big difference between can't and don't. If you don't want to cook, then conversation is over. No hard feelings, truly. If you say can't cook, well, then we have much to chat about. Cooking is a learned skill, the technical aspects, at least. The passion to want to cook is where that 51% lies.
As usual, though, I've strayed from my original thought. So, about the idea I had soon after making that blueberry pie. I wondered to myself, what if I set out to make a pie a day—for an entire year? I'd need a willing set of volunteers to take said pie off my hands. After losing 25 pounds, and hoping to lose more, a pie a day for a year could be quite the setback.
Fridays are an easy day to accomplish my goal since I began working one day a week as a baker at my friend's restaurant, Grazin', in Hudson, NY.
Mondays, Tuesdays, and Fridays I can send pies to the kids to share with their homeschool hub mates (until they tire of pie, at least). On the other days, I figure I'll share a slice here and there. I've got some of this Lemon Honey Chess Pie tucked into my bag for my accountant, and shared a slice with the clerk at the post office yesterday. I also I figured I'd talk to the shelter in town, and ask if they minded me sharing a pie or two once a week.
I don't really know the point of this pet pie project, except that regardless of what challenges my day brings, at least a little part of it will be all for me. A mediation of butter, flour, and whatever other ingredients are necessary for the pie I'm making on any given day. The making of something out of nothing, which is something we do every time we put one foot in front of the other to find our way in this often crazy, overwhelming world.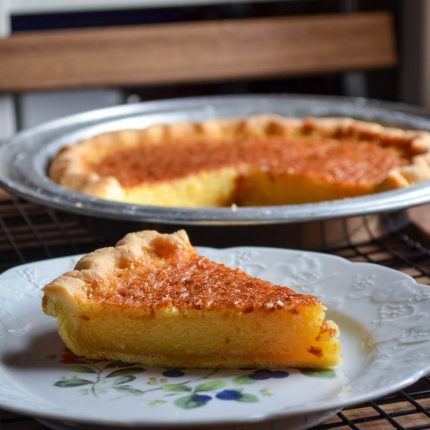 Lemon Honey Chess Pie
I originally set out to make a regular lemon chess pie, but as I began measuring out the sugar, it felt a bit too much for this particular day. So, I swapped in some honey. Yes, a sweetener is a sweetener, and if you're trying to cut back, then, well… I love the subtle flavor of creamy, churned honeys, and that is what I use primarily in all of my recipes. Please keep that in mind if you use a thinner honey, and do let us know if you have any issues with the filling, or decide to tweak the amount of honey. Oh, if you're wondering about consistency, think of this as a lemon bar in pie form. It's not 100% accurate but quite close if you're trying to imagine what it's like biting into a slice. If you're curious about why it's called Chess Pie, or the history of chess pies in general,
this
is an interesting read. One last note—chess pie is a great make ahead pie, as it holds nicely to serve the next day. In this particular iteration, the "rest" also allows the flavors of the lemon and honey to marry in a lovely way.
Ingredients
One 9-inch piecrust

I use this recipe

3

eggs

1

cup

granulated natural cane sugar

3

tablespoons

creamy

churned honey

1

tablespoon

cornmeal

1

tablespoon

flour

¼

cup

freshly squeezed lemon juice

from about 2 lemons

Freshly grated zest of 2 lemons

4

tablespoons

butter

melted
Instructions
Preheat the oven to 350ºF.

Lightly flour a counter or cutting board. Roll the dough out into a 10-inch circle. Fit into a 9-inch pie plate. Crimp the crusts with the back of a form (dipped in flour every few times to prevent it from sticking to the dough), or design the crust into whatever decorative finish you like.

Combine the eggs, sugar, and honey in a deep bowl. Whisk until well blended. Add the cornmeal, flour, lemon juice, and zest. Whisk until smooth. Whisk in the butter. Pour into the prepared crust.

Bake 45 to 50 minutes, until the filling is set and slightly puffed (it settles as it cools). Let cool completely, at least 1 to 2 hours, before slicing.