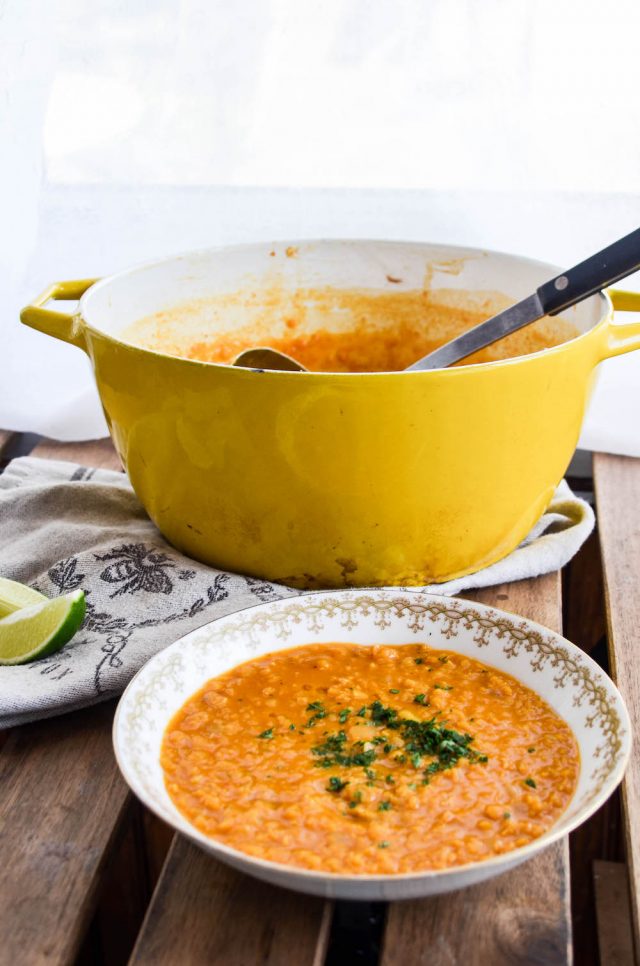 I know, it's springtime, and many of you might be done with soup. It's been the longest winter here, though, and we woke up to snow, again. On April 19th. The temperatures creeped up enough to mostly melt it by afternoon, but not enough for me to finally turn the heat down (I'll be so happy when I can open the windows for fresh air again!). In the meantime, I spent some time in the kitchen recently recreating this Thai Red Lentil Soup, one of my favorite soups from a cafe in Woodstock.
The soup sells for $6 a bowl (or is it $6.50?). An entire pot, yielding four generous servings costs probably less than $3 to make. I didn't do the actual math, just a quick guesstimate knowing the general cost of ingredients. It's such a hearty, filling, yet light soup. Another surprise is it's vegan. Ordering this soup was a lifesaver a year and a half ago when I was doing a little detox to find the root cause of some health issues. During that detox I pretty much followed a vegan, gluten-free, and refined sugar-free diet.
While I discovered a lot about my body during those three months, and good lord did it feel good to shed almost 30 pounds in the process, I know deep down I need more balance in my life. It can't be one extreme or another (written as I stare at a golden vanilla layer cake sitting on the dining table, sigh).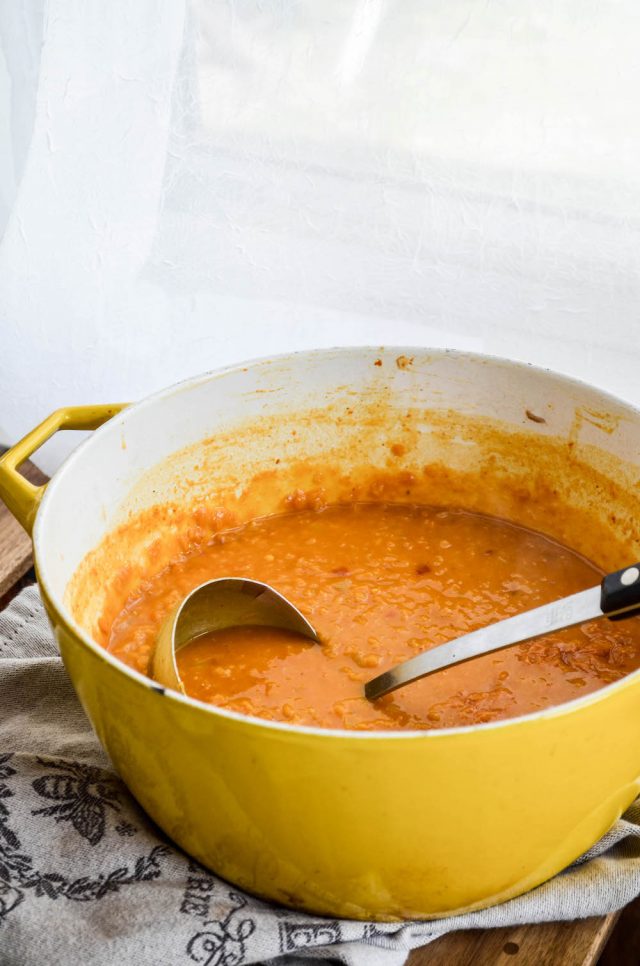 I've been trying to make some inroads to get back to moderation, and finally cracking the recipe for this Thai Red Lentil Soup is part of that. It's so darn delicious, you forget it's actually healthy. Sure, I could've asked the cafe manager for the recipe, but there's more fun, for me at least, in letting my taste memories guide me, along with a little base research on other red lentil soup recipes.
This Thai Red Lentil Soup is exactly like the one I fell in love with 18 months ago, only better for the fact that I can make it consistently every time. One little peeve (okay, actually a big one) is the cafe doesn't always get it right. Some days it's thick enough to stand a spoon, others it's brothy and flimsy on flavor. My guess is it's because the soup thickens significantly when cooled. I suggest using a little more coconut milk to thin it out if you prefer, over using broth, but of course use what you have available, or prefer for yourself.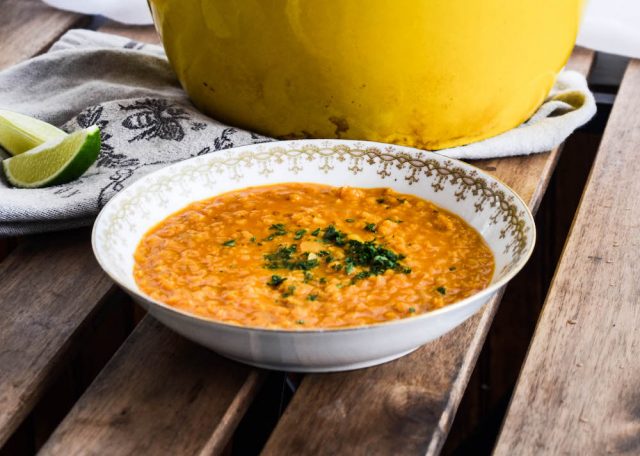 Admittedly, curry isn't a seasoning I work with often, but have grown to really the enjoy the last few years. I say this because I'm guessing a few of you might shy away from this recipe when you see it in the ingredients. The trick with curry, for me at least, is to find the right balance for my own palate. Too much, and I find it overwhelming. Too little, and it falls flat, kind of like why bother? Start with the less is more approach, and increase it after a taste. You can always add more, but you can't take it out once it's in there.
Same goes for all the curry lovers out there. You might want a bolder flavor. Go for it. That's always the beauty of cooking at home.
And the ginger. It seems like a lot, but I'm going to ask you to trust me on this. I know, it's annoying to say that, since "trust me" is such an overused term on food blogs, but really—just trust me here, okay? I went lighter on the ginger at first, and knew it was missing something. Some oomph in both heat and an overall balance. Salt wasn't the answer. Nor were curry or red pepper flakes. The secret was in adding more fresh ginger. Don't skimp and use powdered here.
A squeeze of lime at the end, just before serving, brightens and pulls all the flavors together. Hope you enjoy this Thai Red Lentil Soup as much as I do. I'm a bit more excited about a soup more than makes sense, but it's because I'm thinking about all the money I get to save now that I don't have to buy it anymore.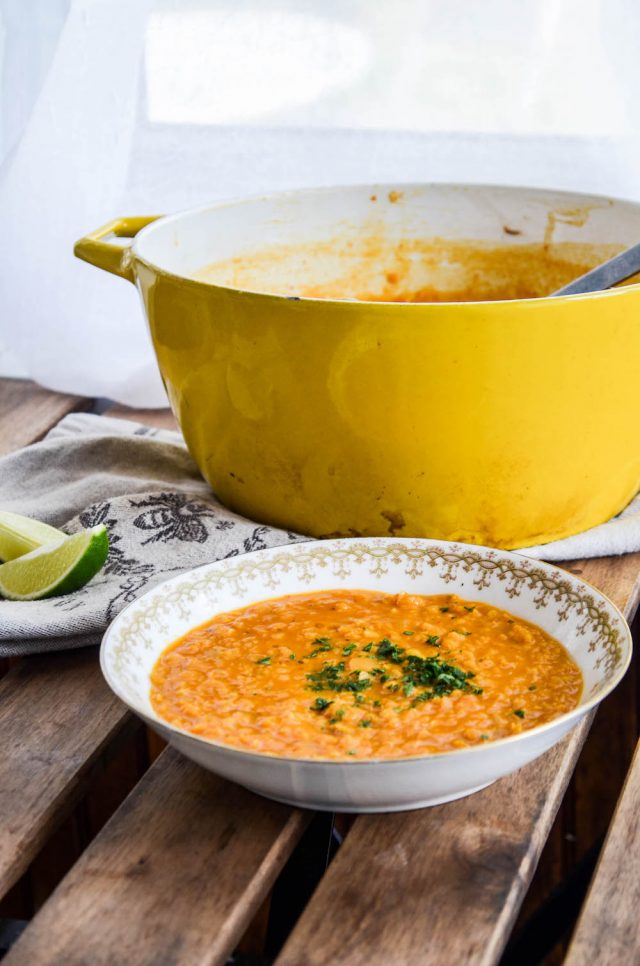 Thai Red Lentil Soup
Ingredients
Olive oil

1

medium yellow onion

chopped fine

2

garlic cloves

chopped fine

1-

inch

2.5-cm piece of fresh ginger, peeled & grated fine

2

tablespoons

30 grams double concentrated tomato paste

Sea salt & freshly ground black pepper

to taste

1/2

teaspoon

curry powder

1/2

teaspoon

ground turmeric

1/2

teaspoon

red pepper flakes

more as desired

1

can

15-ounce/425 grams coconut milk, water and solids

3

cups

.75 L vegetable broth (I make mine using this vegetable bouillon)

1

cup

200 grams dried red lentils, rinsed & drained

Handful fresh cilantro

chopped, to serve

Wedges of fresh lime

to serve
Instructions
Add a swirl of oil to a medium pot. Heat over medium-high flame until shimmering. Add the onion, and sauté until slightly softened, 1 to 2 minutes.

Add the garlic and ginger, sautéing until fragrant and barely golden, about 1 minute.

Stir in the tomato paste. Add the curry, turmeric, red pepper flakes, and season with salt and pepper.

Stir in the coconut milk and vegetable broth. Add the lentils. Bring to a boil. Reduce flame to a simmer, and cooking until the lentils are very tender, and broken down, 25 to 30 minutes. The soup will be thick, and the lentils broken down a bit. Serve hot, topped with cilantro and a squeeze of lime.

Note for leftovers: The soup thickens as it cools, so you might want to add a little more coconut milk or broth when reheating.
SaveSave
SaveSave
SaveSave
SaveSave
SaveSave
SaveSave
SaveSave
SaveSave