What Does Good Quality Butter Mean Exactly?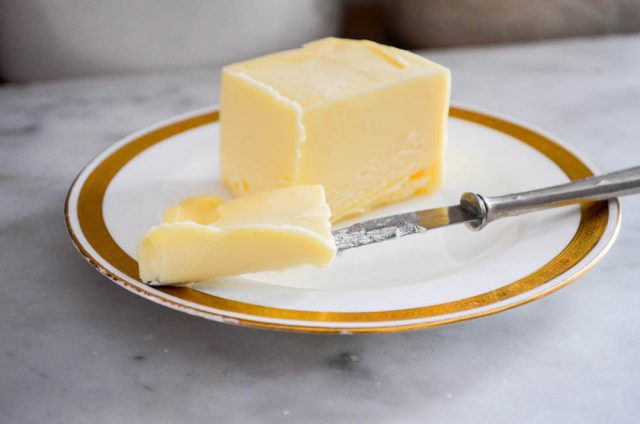 If you're subscribed to In Jennie's Kitchen, then this post will look familiar, so forgive what feels like a duplicate. So many of you wrote to tell me how much you loved this particular newsletter, and for that reason, I thought it would be a nice way to let new readers know the benefit of subscribing (you can do it here, and it's free!). While I always share new recipes directly here on the site, sometimes I write content exclusively for my newsletter, and the only way to read it is by signing up.
I knew how much butter meant in my life, but was pleasantly surprised to see how much the What Does Good Quality Butter Mean Exactly newsletter resonated with all of you! One of my best friends even messaged me to say it was the most informative and helpful article she'd ever read on butter. My last visit to Trader Joe's informed me the butter I mention below is currently out of stock, and should be back in their fulfillment warehouse the end of April. Perhaps it's because I encouraged thousands of you to stock up on it?
The question of high-fat, or good-quality, butter has come up a few times on the blog, both in the comments and private emails, so I thought it was worth talking about today (what better way to spend a morning than writing about butter?!).
So, what does good quality butter mean exactly?
Does it infer that American butter is bad quality or inferior? Taken on face value it's easy to understand why one might think that's the case. I like to consider myself a butter connoisseur (how pretentious does THAT sound?), in that I've tasted a lot of different brands and varieties during my travels. Oddly enough, while tracking down some ingredients in my rural area is challenging, a great selection of butters, both American and European, is quite easy. Go figure.
Most people think the main difference is butterfat percentage. Butter, when broken down into it's two basic characteristics is fat and water. More fat equals more flavor, but it's a little more complex than that when you realize the difference between American butter, with 80% butterfat, and European-style butter, a minimum of 82% butterfat, is minimal (I mean, we're talking only 2% in some instances).
Where does the flavor come from then? Most commercially produced American butter is made, packaged, shipped for sale, whereas European (or European-style if it's produced here in the U.S.) is usually fermented (read: cultured), which adds a tangy tasting note due to the milk sugars converting to lactic acid.
Milk is also a factor when it comes to flavor.
Most commercial brands taste homogenous purposefully. Consistent flavor means reliability, and that's what many customers prefer. Butter produced with milk where the animals are allowed to graze and feed as they normally would results in enhanced flavors, and will likely look and taste  different with the seasons, when cows are grazing on grass vs. relying on dried grass (i.e. hay). Summer butter tends to be more golden yellow, almost orange-hued, naturally, in the summer because cows are grazing outside on grass, and other vegetation.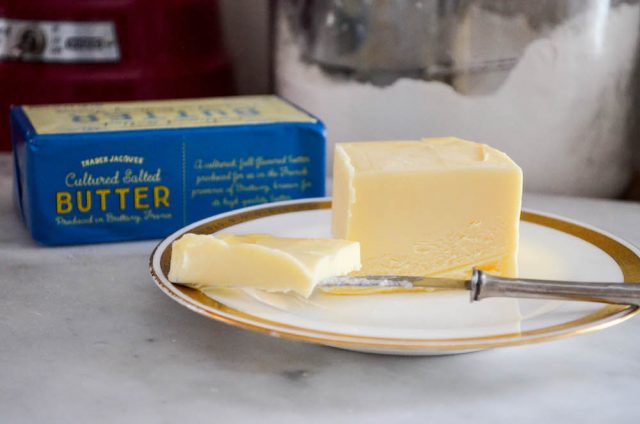 Who knew butter, a common kitchen ingredient required so much thought? For the purpose of recipe testing, I rely on two staple brands. Land O' Lakes is my go-to when working on commercial projects because of it's national availability, taste, and affordability (you can freeze butter, so stock up when it's on sale). My "house" brand when recipe testing for the blog, and using everyday at home is Kate's, a butter produced in Maine. Kate's can be pricey depending on where you shop, but thankfully Hannaford's, a local chain here in the Hudson Valley sells it for $5.19/per pound, often cheaper than the Land O'Lakes when it's not on sale.
What about the high-quality European and European-style butters available here in the U.S.?
I've used so many of them—Kerrygold (Ireland), Presidente (France), Colliers (British Isles), Plugra, and Anchor (New Zealand) to name a few. My favorite by a landslide, and the most economical of them all is the Trader Joe's private label cultured, salted butter produced in Brittany, France. This is the butter dreams are made of, and the closest to the kind I long for from my trips to Paris. It's faintly sour (a good thing in butter!), perfectly salted, and only $2.99 per 8 ounces.
So, how do you know which butter to use for which recipe? Some of this depends on your budget and preference. The Trader Joe's butter could easily do double duty with chocolate chip cookies (just omit the salt in your recipe) or a homemade brioche. Not all high-fat butters are this adaptable. The question is would you want to use such expensive butter for a humble sweet treat? Personally, I'm perfectly content to use Land O' Lakes or Kate's—the exception being for a shortbread cookies, where butter is the star ingredient.
Recipes for enriched breads (brioche, Mohnzopf, danishes, puff pastry, croissants, etc.) beg for high-fat, good-quality butter. Don't skip here if you can afford and easily find it.
One last word on butter. Until recently, I'd never worked with a vegan butter that was comparable in taste, texture, and usability to regular dairy-full butter. Then I noticed a brand, Miyoko's at the healthfood store in Woodstock about six moths ago, and I was hooked from the first taste. This coconut and cashew based butter tastes amazingly like some of the best European cultured butters I've ever had. It's pricey at around $8 to $9 per pound, and hard to find due to demand, but totally worth seeking out if you need a good-quality vegan substitute for butter.
For more buttery baking inspiration, see the recipe links listed below. And if you decide to bake any of them up this, be sure to tag me if you post a photo on Instagram (@jenniferperillo), so I can drool all over my screen. Hope your week is off to a peaceful start. xo-Jennie
Want to help support more quality content like this? Click here to contribute.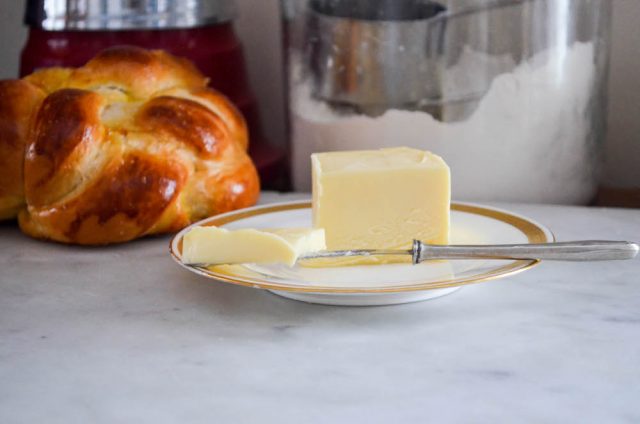 Read & Watch
No-Roll Pie Crust
Properly Softened Butter
Butter Splurge-Worthy Recipes
Any one of these pie crusts
Butterkekse Cookies
Sweet Cherry Coffee Cake
Raisin Pecan Couronne
Zuckerkuchen
Rough Puff Pastry
Everyday Butter Recipes
Perfect Chocolate Chip Cookies
The Best Chocolate Buttercream Frosting
Golden Vanilla Cupcakes
Perfect Buttermilk Pancakes
Sunday Best Waffles
SaveSave
SaveSave
SaveSave