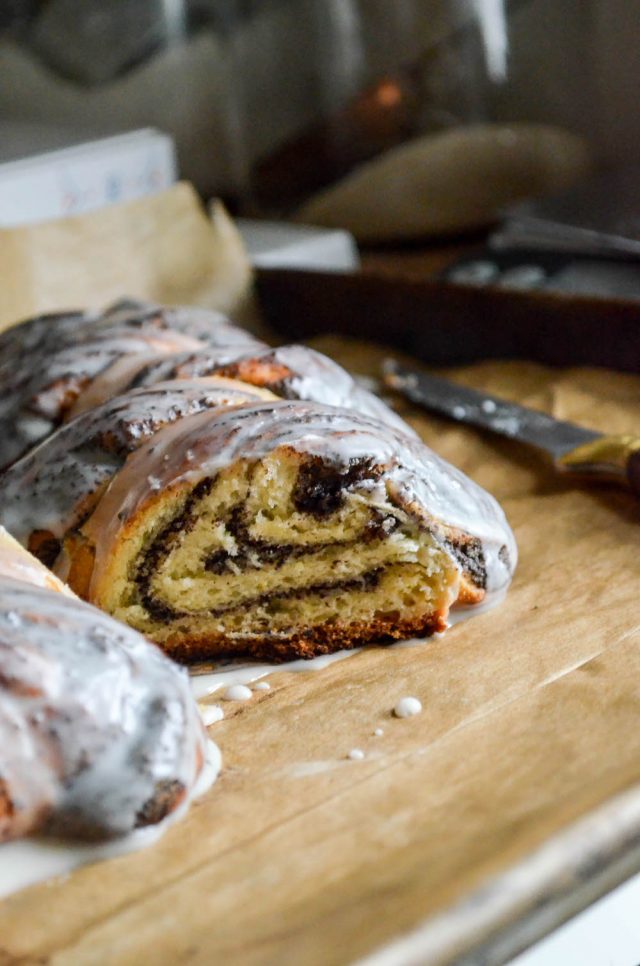 My love for Classic German Baking is no secret here. I don't remember the last time a cookbook inspired my creativity or captured my attention in this way, and for such a sustained period of time. The only other book in my collection that I find myself pulling down from the shelf time and again is Edda Servi Machlin's Classic Italian Jewish Cooking, which as you know has special meaning in keeping my connection to Michael alive and thriving.
In fact both of these books get a coveted spot in my kitchen, on an antique luggage rack from a train compartment, hanging above the tiny rolling cart that doubles as extra counter space. I've wanted to give some of the poppyseed-centric recipes a go since first buying the book a year and a half ago. Not owning a poppyseed grinder is what stopped me from doing so sooner. I'm still not in possession of one, as they're quite expensive, with solidly reviewed models hovering around $100 online. So, what's a poppyseed-loving girl to do?
Unlike other seeds and spices that can easily be ground in a coffee mill, the miniscule nature of poppyseeds makes the task more challenging. Some suggestions I read mentioned used a mill with a burr grinding mechanism. The Krups one I own just kept getting clogged. Instead of shelling big bucks for a proper poppyseed grinder, I decided to put some elbow grease into the efforts, and used my marble mortar and pestle. It sounds tedious, but was surprisingly meditative. And in the long run, if I find myself craving and baking poppyseed-filled pastries and breads, then maybe the real-deal grinder will be a worthwhile investment.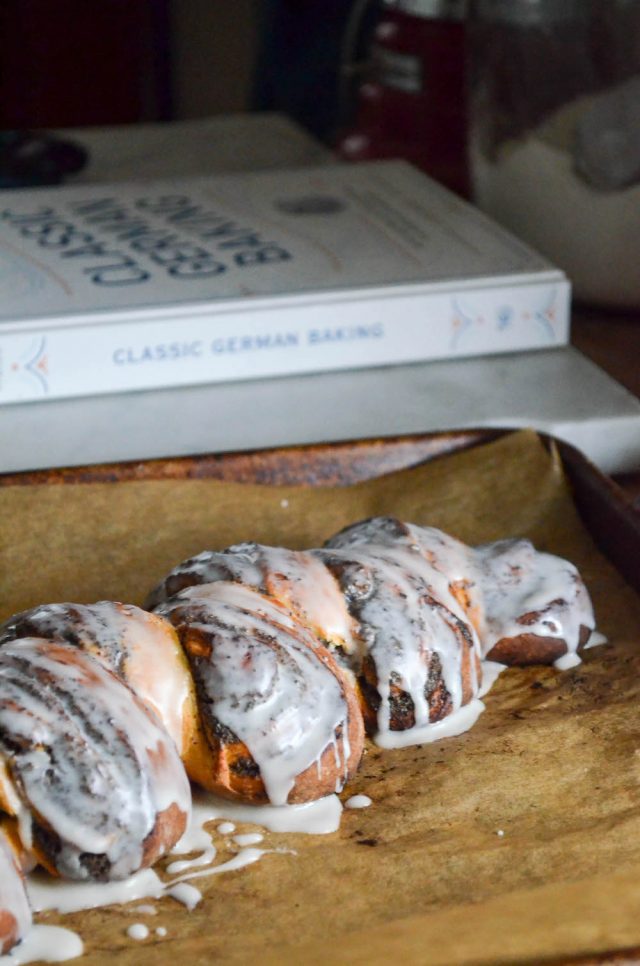 Once my poppyseeds were ground, I flipped through the pages of Classic German Baking to pick a recipe. It was a Sunday morning, and there was something utterly comforting about a Danish, the likes of which I've eaten so many times from my days growing up and living in Brooklyn. Mohnzopf it would be, the translation of this German word meaning poppyseed (mohn) braid (zopf).
Before I forget to mention it, this post is a great visual tutorial to grasp the twist technique for shaping this Mohnzopf. While the bread is called a braid, it's really a faux one, a method in which you cut slashes at intervals, and then tale turns twisting and fanning the slashes of dough out into a pattern that mimics a braid once baked.
Another unique thing about this dough, as Luisa explains in the recipe, is that it's two doughs in one. You begin my making a pie crust-like dough, and then once the yeasted dough is made, they both get kneaded together. It'll feel odd doing this at first, and you might even find yourself questioning if it'll work—it does, trust me.
Luisa's recipe makes two large loaves, far more than my small family of three can consume within a day or two. Beyond that the bread isn't worth the calories (at least for me). I suspect that maybe this approach was taken because the yeasted dough and filling both require one egg to achieve the right results. An easy fix can be had by either beating one egg, and dividing it to ultimately halve the entire recipe. Alternately, if you buy eggs from a local farmer or neighbor, chances are you'll get mixed sizes in the carton. That's the case with the eggs I buy from the food co-op. One smallish-medium egg easily takes the place of half a whole large egg.
One last note about the recipe and the cookbook. I love Classic German Baking very much. The headnotes alone show how well-researched and tested every recipe is in the book. As a veteran baker, there's a lot I can figure out from instinct. Until buying this cookbook, though, my experience with sweet yeasted cakes, though, was minimal, if not obsolete. Visual cues would be a great benefit, especially when working with yeast which comes with the variable of relying on temperature and humidity to rise.
The Mohnzopf recipe notes to set in a warm spot for one hour, with no indication of what the dough should look like at the end of that hour. After living with this book and the recipes for 18 months, I knew the dough needed to be well-puffed—it took closer to two hours to achieve that in my house. Just keep that in mind when approaching the recipe, and a few others in here, but certainly don't let that deter from you buying Classic German Baking. It's a dog-eared book, filled with spills and splatters, and lots of hand-written notes in the margins for good reason.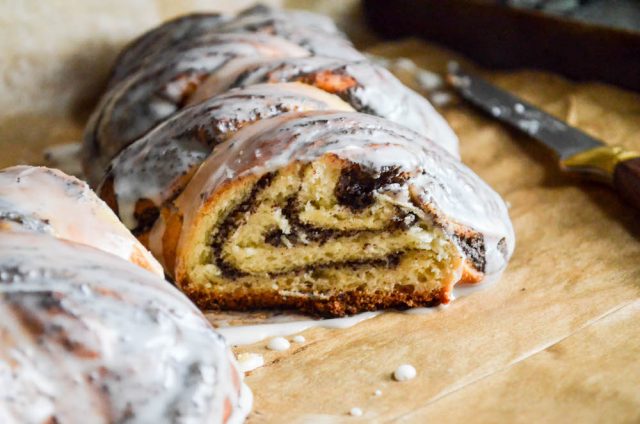 To get the Mohnzopf recipe, buy Classic German Baking from your local bookseller (find one here), or order it online at Book Depository (click here to order).
Note to readers: There are no affiliate links in this post, and I make no commission on sales of this book. I just love it so much, and think everyone who loves to bake should own a copy.
SaveSave
SaveSave