Last day of February. Wow. I'm still firmly in the I love winter camp, and not ready for spring. I'm also alone in this club as everyone around me seems to be Go Spring! Time, as usual, moves faster than I want. This morning is a case in point. I'm running out the door to substitute teach preschool, but really wanted to share this recipe for Hamantaschen since tonight begins Purim.
What is Purim? Truthfully, this recovering Catholic is the least qualified to explain proficiently, but in short, it's a celebration of the Jews being saved from the a plot by Haman to have them killed in the Ancient Persian kingdom. How is that the briefest explanation ever? Honestly, given the fact that I spent a good number of my elementary years in Catholic school, and have only a few moments to write at the moment, I urge you go read more about Purim on Tori's site (she has a detailed post about Purim here).
As with many Jewish holidays, food has a symbolic role, and hamantaschen, buttery, shortbread-like cookies filled with jams, or in this case the more traditional poppyseed filling (also known as mohn), is a common treat to make during Purim. The shape of hamantaschen are said to represent the hat Haman wore, but some research I came across also says they symbolize his ears.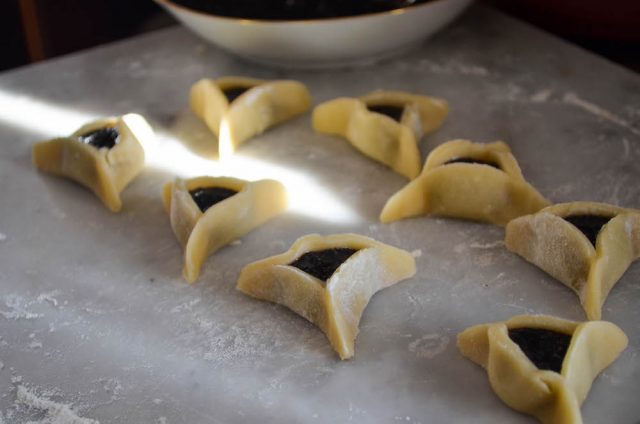 Symbolism aside, and whether you celebrate Purim or not, hamantaschen are wonderful cookies. They're do good, I wouldn't relegate them to this one day of the year either. The dough is an adaptation of one from Joan Nathan's The Jewish Holiday Cookbook. It's mostly her ingredients with the addition of some lemon juice, and a different technique for making the dough (I used the same approach for when I make pie crust to pull this dough together).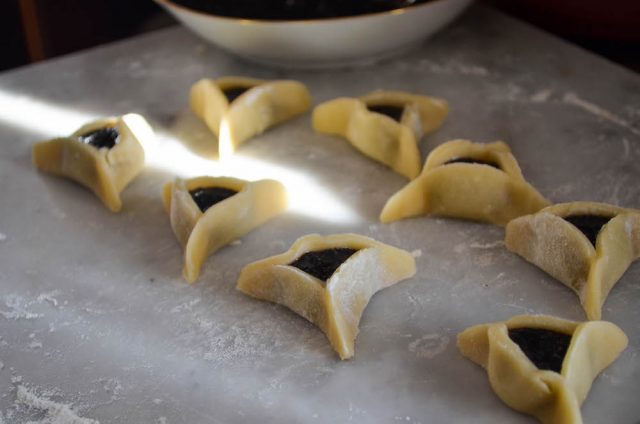 The poppy seed filling must be prepared in advance, so keep this in mind. And you'll need to grind the poppy seeds, too. Nathan suggests a coffee mill to do this, but poppy seeds are very fine, and unless you have a burr grinder, you might find that a challenging task. I used my marble mortar and pestle to grind them.
I took a few liberties with Nathan's filling. For starters, I quartered the recipe because it makes A LOT. I also swapped in sherry for the rum (I use this kind of sherry, and it's perfect for drinking, too). Rather than add the raisins whole, I decided to chop them fine to kind of mask them, but also for uniformity in texture. Nathan uses egg whites in her filling recipe, but since I chose not to add jam to the poppyseed filling as she called for, I used the whole egg.
You can make the filling up to a few days in advance, and it's actually easier to fill them with it's chilled. Speaking of filling, resist the urge to add to much to the hamantaschen. It'll seem so scant, just adding 1/2 a teaspoon, but I promise you it's the perfect amount.
Okay, I must run out the door now. This post feels a bit like a hit and run. I apologize in advance for that, but go make these hamantaschen because they're really that good. Both my kids loved them, and my sitter, too, and unanimous praise like that rarely happens in my home.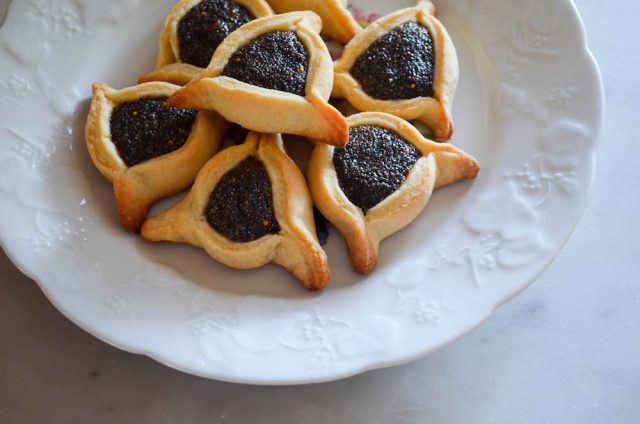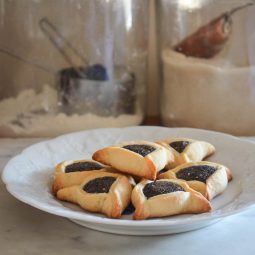 Hamantaschen
Before You Begin: the dough needs to chill 1 ½ to 2 hours before you can shape and fill the hamantaschen, so plan accordingly.
Ingredients
2 ½

cups

295 grams all-purpose flour

½

cup

100 grams granulated cane sugar

1

teaspoon

baking powder

Pinch

of sea salt

11

tablespoons

154 grams cold butter, cut into pieces

1

egg

½

teaspoon

vanilla extract

link to homemade recipe

1 to 2

teaspoons

fresh lemon juice

½

recipe of Poppy Seed Filling

recipe here
Instructions
Add the flour, sugar, baking powder, and salt to the bowl of a food processor. Pulse a few times until well blended.

Add the butter. Pulse a few times to cut the butter into the flour, creating sandy-textured mixture.

Add the egg, vanilla, and 1 teaspoon of lemon juice. Pulse until it forms a ball of dough. If dough doesn't easily come together in 1 to 2 minutes, add the remaining teaspoon of lemon juice.

Scrape the dough onto a lightly floured board. Gently knead a few times until smooth, and no longer sticky. Wrap in plastic film, and chill until firm, but still soft enough to roll out. Dough may be prepared a day in advance. Let it sit at room temperature 15 to 20 minutes to allow it to soften up enough to roll out.

When ready to shape and bake, preheat the oven to 375ºF (190ºC). Line to sheet pans with parchment paper. Keep a small bowl of water nearby.

Divide the dough into quarters. Take one piece, and place on a lightly floured counter. Sprinkle some flour over the dough, and roll out ¼-inch thick. Using a 2 ½-inch cutter, press out circles. You may reroll the scraps to use it all up.

Dip your fingertip in water, and rub around the edges of the dough circles. Drop a ½ teaspoon of Poppy Seed Filling into the center of each piece of dough. To fold the hamantaschen, use your pointer finger and thumb on both hands to gather the ends of the dough, and pinch them closed (you should have two sealed corners at the bottom). Pinch the top of the circle closed to form a triangle. Repeat with the remaining circles, and repeat the entire process again with one more piece of the dough. Arrange shaped and filled cookies on one of the prepared pans. Bake until edges and bottoms are golden, 15 to 17 minutes.

Meanwhile, repeat shaping and filling more cookies with the remaining dough while the first batch bakes. Let cookies cool completely on a wire rack before packing in a tin. Best eaten in a few days.
SaveSave
SaveSave
SaveSave
SaveSave
SaveSave