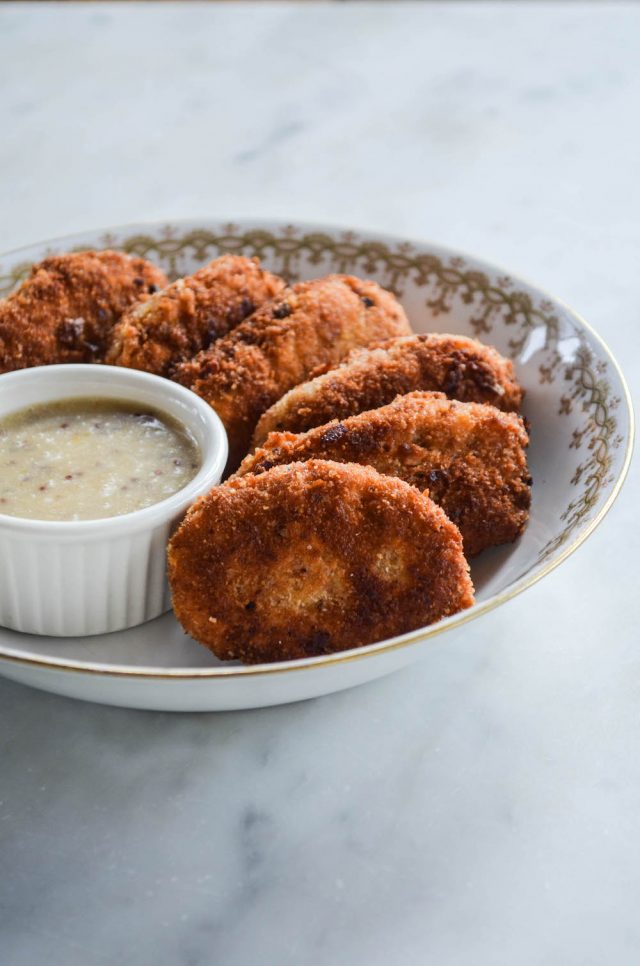 Now is the time to admit I'm human, and while I make 90% of everything we eat from scratch, there are conveniences I give in to from time to time. Boxed chicken tenders or nuggets are one of those things. I don't buy them very often, and not out of guilt, I just can't stomach when I see the list of ingredients, even in the most healthy of brands. Still, some days, I want a break, and want something the kids can heat and eat all on their own, with no help from me.
A couple of months ago, though, I started feeling like I wanted to cross this store-bought item off my grocery list, and move it to my homemade list. I could just as easily make my own when leftover chicken was waiting in the wings to be used up, fry them, and freeze them for the kids to enjoy whenever they wanted. Truthfully, we've yet to get to the freeze 'em stage because they disappear too quickly when I cook them.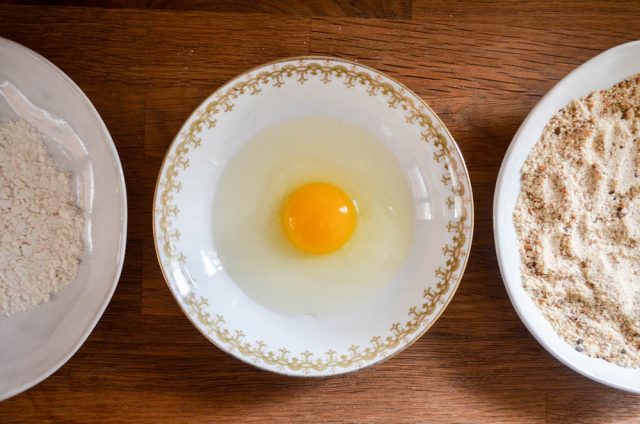 They take a little prep to finely chop the chicken. Thankfully, mixing up the filling can be done ahead of time. I usually prep it as I'm putting away other leftovers on the night I roast chicken for dinner. This way I'm one step closer to another meal during the week.
All you need to do then is coat them, and fry them up. I know someone is going to ask me if they can be baked, and I'm guessing the answer is yes. If you decide to give it a try, let us know in the comments what temperature you baked them at, and how long (please, and thank you).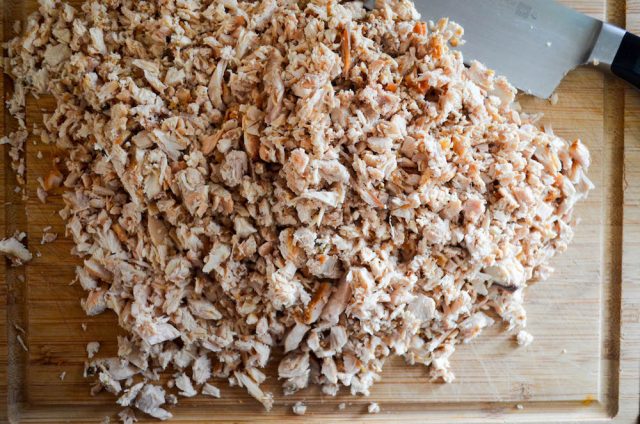 On the one rare occasion we had a few of these homemade chicken nuggets leftover, I snuck a few into Isabella's lunch box. She was beyond happy when she opened it a few hours later to eat (I know so because she told me when she came home that day).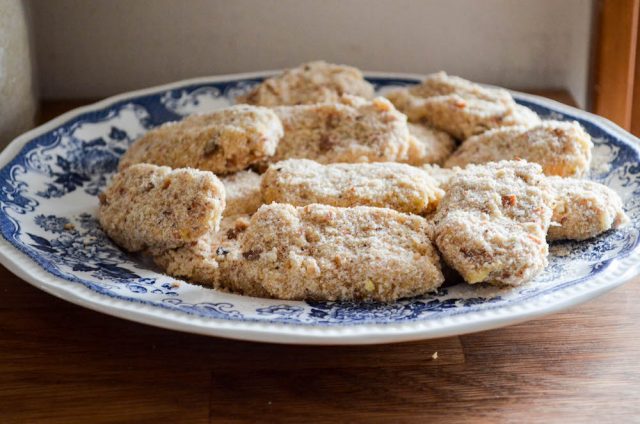 You can also prepare them all the way up until cooking, as pictured above, then spread them single layer on a lined sheet pan, and freeze until solid. Store the frozen, uncooked chicken nuggets in a ziptop bag, and fry them straight from the freezer as needed.

I prefer to drain them on a wire rack so they stay crisp, and it helps remove any excess oil. I know a lot of people, my mom included, prefer to use brown paper bags for this purpose.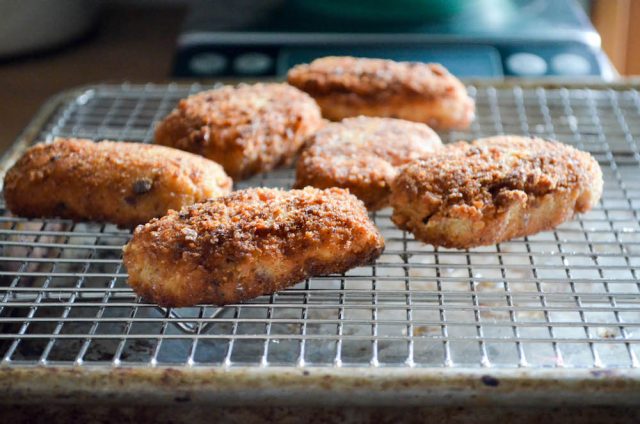 Of course, chicken nuggets aren't complete without a dipping sauce. For my girls that means ketchup (I'm guessing I'm not the only parent in this situation). I used to love BBQ sauce growing up, but now I'm more of a honey dijon dipping kind of gal. I'll be sharing the recipe for that soon, so stay tuned (and it's mayo-free, hallelujah!).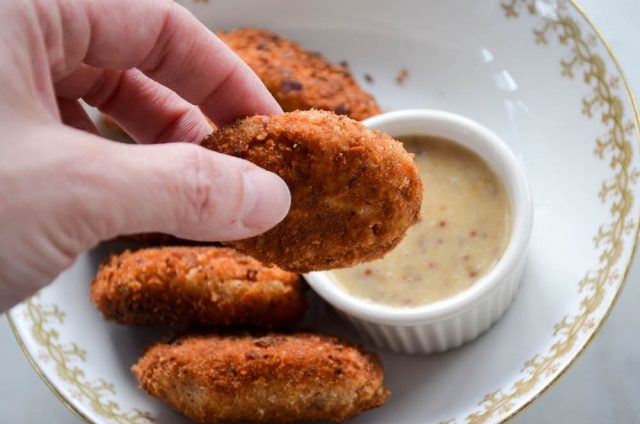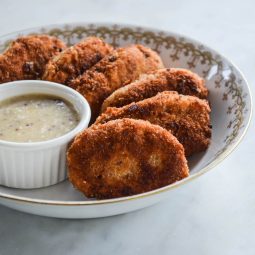 World's Best Homemade Chicken Nuggets
Ingredients
For the breading

1/3

cup

45 grams flour

1

egg

lightly beaten

1

cup

100 grams plain breadcrumbs

Sea salt & black pepper

to taste

For the filling

2

cups

220 grams cold, leftover cooked chicken, finely chopped

½

small yellow onion

grated

1

tablespoon

12 grams potato starch (or cornstarch)

1

egg

lightly beaten

¼

teaspoon

smoked paprika

¼

teaspoon

garlic powder

1

teaspoon

7 grams Dijon mustard

Oil

for frying
Instructions
Arrange a wire rack over a sheet pan; set aside.

Set up a prep station as follows with the breading ingredients: bowl of flour, bowl of egg, bowl of breadcrumbs, side by side in that order. Season the flour with salt and pepper.

Add the filling ingredients to a deep bowl. Stir with a fork until well mixed. Divide into 16 equal pieces, and shape into nuggets.

Press a nugget into the flour, while also tossing a bit of flour on top. Press lightly to coat, and shake off any excess.

Dip the nugget in the egg to coat all over, again shaking off any excess.

Drop it in the breadcrumbs, shoo some on top to cover the chicken, pat it firmly to coat completely. Shake off any excess breadcrumbs, and transfer to a dish. Repeat the whole process again with each remaining nugget.

Heat ½-inch of oil in a skillet. Once shimmering, add the chicken nuggets, making sure not to overcrowd the pan (that might mean you need to fry them in batches, or use two skillets). Add oil as needed if the level gets low, but let it come back to a shimmering heat again before adding any new nuggets. Cook until deep golden, turn, and cook until golden on the other side, about 2 minutes per side. Transfer cooked pieces to the wire rack so any excess oil can drain. Serve hot.