The Easiest Homemade Chicken Broth Recipe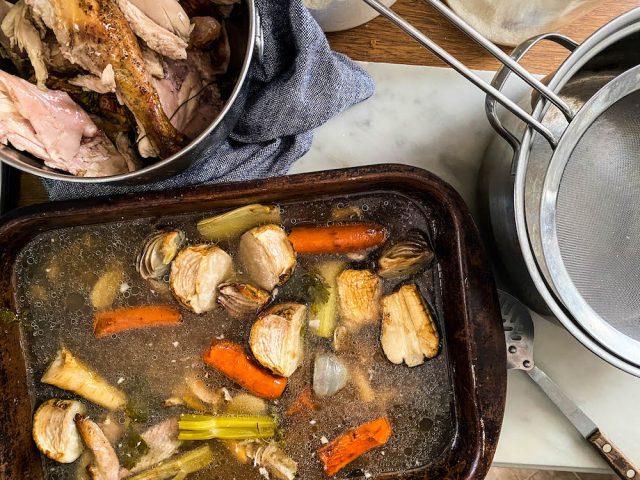 I rarely roast a whole chicken these days since Isabella is pescatarian and I'm mostly vegetarian. Virginia loves roasted chicken, though, and in anticipation of our first Thanksgiving with Matthew, I wanted to make sure there was homemade chicken broth (well, really stock) on hand to make the gravy.
Let's answer the first question you might have—what's the difference between stock and broth? Broth is usually quicker cooking, a simmer of meat and vegetables, and not as rich in flavor (though it can still be quite flavorful). Stock is a longer process, drawing out flavor from slowly simmering the entire bird, bones and all. Need a quick-cooking, full-flavored broth? Go check out this recipe.
Why roast a chicken when the end goal is chicken stock?
Using a leftover roasted chicken carcass to make chicken stock is the best of both worlds. You've already got browning from the roasting process and pan drippings for an added bonus. Plus, you're putting leftovers to good use. You could toss the carcass into a pot with vegetables and water to make a stovetop stock (my recipe for that method is here) but for the best flavor extraction, slow roasting is the way to go.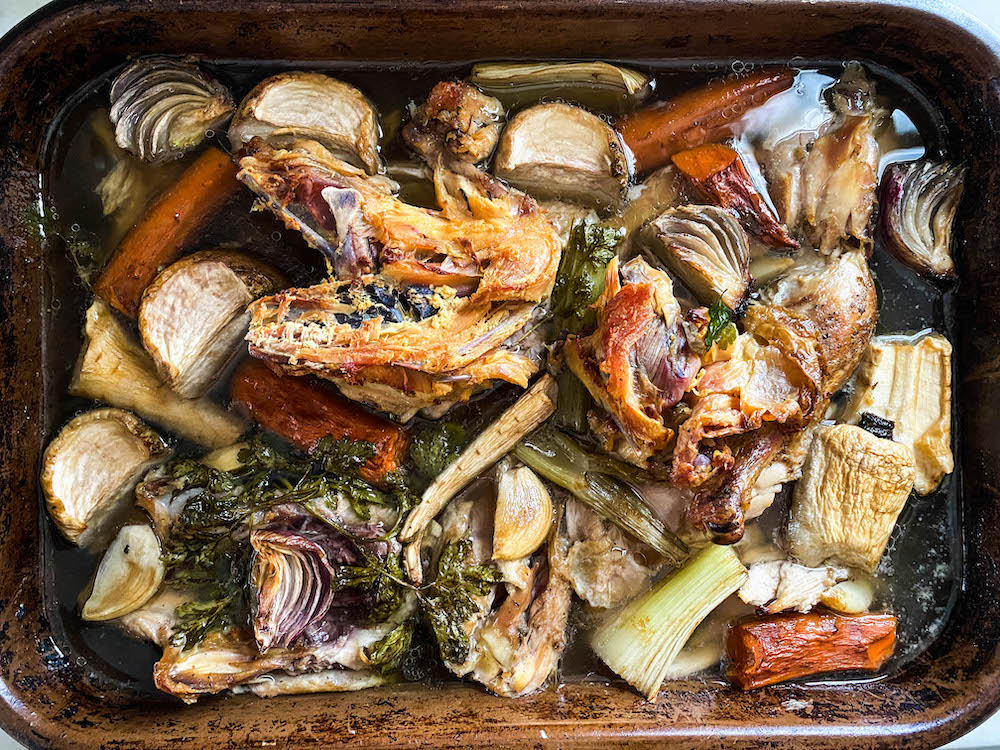 Instead, I add the roasted chicken leftovers, bones and all, back to the roasting pan with the drippings, any au jus leftover, and some aromatics—onions, garlic, carrots, celery. Parsley, turnips and parsnips are great, too, if you have them but not necessary if you don't have them on hand. I picked up a handy soup pack at the butcher that included them when I bought my chicken. Pour enough water in the pan to mostly cover everything, then tuck it into a 225–250ºF oven for 8–12 hours.
Do you need to season slow roasted chicken stock?
If you've used any herbs or other seasonings, keep in mind that'll affect the flavor of your stock. For a more universal-tasting chicken stock, this method works best when you've gone with a simple seasoning of salt and pepper for your roasted chicken, which is always my preferred roast chicken method (recipe is here). Provided you've properly seasoned your chicken with salt and pepper, you shouldn't need to add anymore when making stock from it.
It's that easy, as well as hands off and foolproof. When you wake up the next morning, strain out the meat and vegetables. Any remaining chicken will be incredibly tender, perfect for pot pies or these homemade chicken nuggets.
On the Sweet Side
On the Savory Side