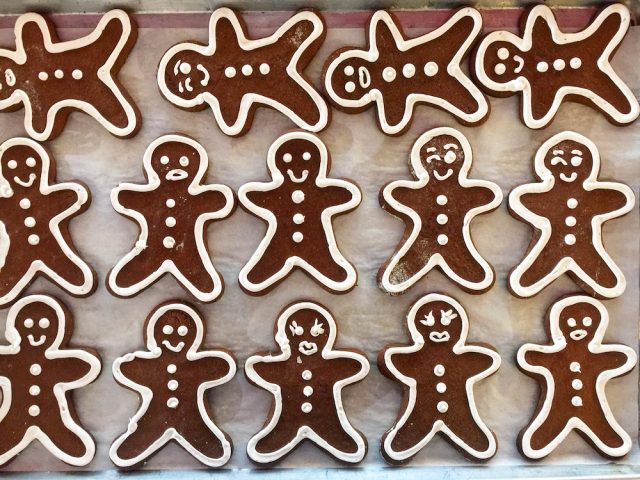 I recently came across the most amazing gingerbread cookie recipe. The spices almost slap you in the face, in a good way—exactly what gingerbread should do. It reminds your tastebuds they are alive.
This is a recipe that will leave sugar and butter cookies quivering in their tins. I know it's made me rethink my choice if I could make only one cookie during Christmas. Perhaps even the rest of my life.
To think this little recipe has been sitting under my nose all these years. It's my mother's, and for years was cast aside as a supporting character to her gingerbread houses, merely a vehicle to hold candy decorations.
Until now.
Today there will be eight kids running through the house. Homemade hot cocoa will be flowing freely, and there will be plenty of gingerbread men to dunk.
If you love making decorated gingerbread cookies, try my Royal Icing to get the job done (recipe is here).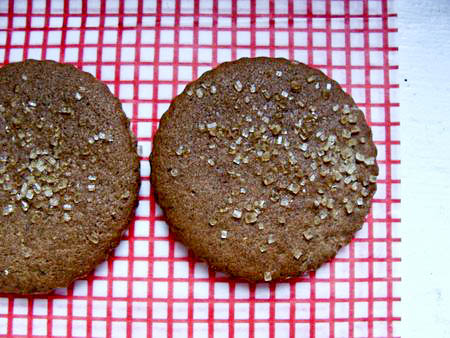 Mom's Gingerbread
Makes 5 dozen 2-inch round cookies or 2 dozen 5-inch gingerbread men
The girls adore decorated gingerbread, but my favorite way to enjoy these cookies is simply cut into rounds and sprinkled with coarse sugar. Throw in a hot cup of tea, and it's a perfect way to unwind at the end of the day.
p.s. These make a very crunchy cookie—even under baked ones crisp up within a few hours.
p.p.s. I've tried making these with butter instead of shortening, but think the flavor and crispness is much better sticking with mom's original fat of choice. Thankfully non-hydrogenated vegetable shortening is available at my local healthfood store. It also means these cookies are dairy-free too.

2 cups (295 grams) flour
1 teaspoon (4 grams) ground cinnamon
1 1/2 teaspoons (4 grams) ground ginger
1 teaspoon (3 grams) ground cloves
1/2 teaspoon (4 grams) sea salt
1/2 teaspoon (3 grams) baking soda
1/4 cup (112 grams/4 ounces) non-hydrogenated vegetable shortening
1/2 cup (100 grams) sugar
1 large egg, at room temperature
1/2 cup (112ml) robust molasses
coarse sugar, for sprinkling (optional)
In a deep bowl, whisk together the flour, spices, salt and baking soda until mixed well; set aside.
Beat shortening and sugar in the bowl of a stand mixer until creamy. Add the egg and molasses, and  beat until well combined. Pour in the flour, and with the mixer on the lowest speed, mix until just combined. Increase speed to medium-high and beat until it comes together, pulling away from the sides of the bowl and forms a lump of dough.
Transfer dough to plastic wrap or waxed paper and wrap tightly. Chill in the refrigerator until firm enough to roll, about three hours (if you have time, overnight is best to let flavors really develop).
When ready to bake, preheat oven to 325ºF. Line baking sheets with parchment paperl set aside.
Roll out to desired thickness—I prefer between 1/8 and 1/4-inch for a thicker cookie, then cut into shapes. Place 1 to 2 inches apart on prepared baking sheet, sprinkle with coarse sugar, if desired and bake 8 minutes for 2-inch rounds, or 10 minutes for 5-inch gingerbread men (they will puff slighlty while baking, and seem soft when removed from the oven).
Remove from oven, and let sit on baking sheet for 2 minutes before transfering to a cooling rack. Let cool completely if you intend to decorate with royal icing.