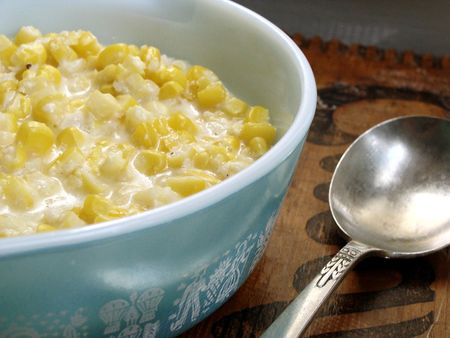 I missed the market this week due to my travel schedule. In fact, I'll miss it again next week since I'll be in San Francisco for Blogher Food. And the following weekend? I'm flying home on the redeye. I figure if I'm really determined I could try to muster the energy. Afterall, my flight does land at 5:56am that Saturday morning. I could go straight to the market from the airport.
But that would be crazy, right?
During these transitional weeks, that means I miss the chance for one last bite of some summer favorites that have found their way into fall. I had my fill of berries. Peaches I can bid adieu until next season.
Corn is another story. See, we had a bit of a renaissance this year thanks to Melissa. She ran a recipe recently in her Good Appetite column for a spin on it. Inspired by her original technique, I decided it was time to get past my horrid memories of canned creamed corn. Until a few weeks ago, that was the only kind I'd ever experienced. In fact, I probably only tasted a spoon of the stuff 30 years ago and have steered clear of it since.
I had a feeling I'd been missing out on something amazing, so long as it was homemade. Instead of cream, I decided to keep the nutritional integrity of the corn and opted for 2% milk. I hoped that since corn is a starchy vegetable, it would also help thicken this thinner, lower in fat, substitute. I also scraped the cobs after removing the kernels to extract every bit of juicy corn flavor.
The resulting recipe is so easy, it almost seems silly to even call it one. No fancy gadgets or pans. Just a little patience as the milk gently simmers into a creamy base to coat each kernel.
homemade creamed corn
serves 4
Tasty as this is the day of, it's even better a day or two (even three) later. A nice make ahead side dish while you're folding laundry (or procrastinating doing so).
2 ears of corn
1 cup 2% milk
Sea salt and freshly ground pepper
Scrape the cobs to release the corn "milk". Bring to just below a boil and simmer for 35 minutes until the milk begins to thicken.
This recipe and post were originally published six years ago. And man, that feels another lifetime ago. I'm sharing it again this week as part of Food Network's 2016 Summer Soiree. Below are more corn-inspired recipes from everyone else sharing in the fun this week.
The Lemon Bowl: Pesto Pasta Salad with Green Beans and Corn
Devour: Fire Up the Grill for a Mexican Grilled Corn Fiesta
Feed Me Phoebe: Sweet and Spicy Gluten-Free Corn Pasta with Ricotta and Chives
Creative Culinary: Grilled Corn Salsa with Poblano Chiles, Cilantro and Honey
TasteBook: Esquites (Mexican-Style Corn Salad)
Elephants and the Coconut Trees: Corn, Pluot and Grape Salad
Napa Farmhouse 1885: A Cornucopia of Corn Recipes For Summer
Healthy Eats: 7 Summer Salads That Put a New Spin on Corn
In Jennie's Kitchen: Easy Homemade Creamed Corn
FN Dish: If You Cook Any Corn This Summer, Make It One of These 5-Star Recipes