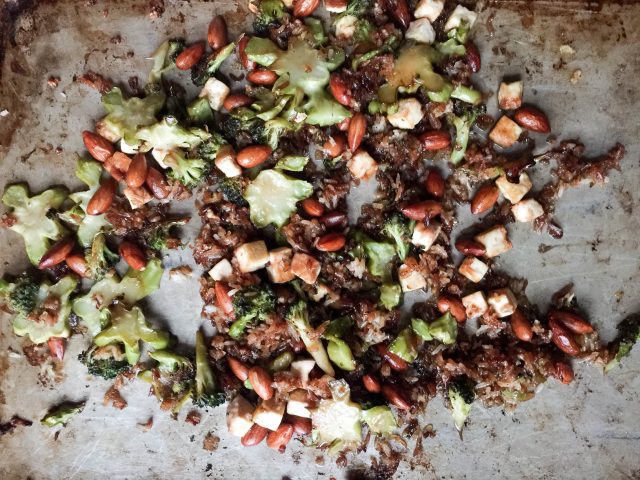 Last night's dinner is proof I eat more than just pie and challah, though you wouldn't know that from my follies with flour, sugar, and butter these last few weeks. This was also my first ever sheet pan supper. I never hopped on that bandwagon, but was feeling a little too tired to stand over the stove after baking at the restaurant all day, so I hacked this vegan Sheet Pan Fried Rice with fixings I foraged from the fridge. It's the perfect Earth Day recipe, don't you think?
I'm a capable cook, so figured it would be a bit more than edible, but hadn't expected it to be as amazing as it was since I was really just winging it. You'll even see from the recipe that there's no real precision. I could've easily gone back in another day, tested and measured it properly, but thought this was a good chance to let you all fly on your own. That's so much of what I aim to do as a developer. I want to inspire people to become so confident that they ultimately need me more for inspiration, not constant hand-holding.
The real surprise about this Sheet Pan Fried Rice is how much Virginia loved it. She went back for seconds, and kept raving about it. We both really loved the way the rice got crazy crispy, and added texture to the dish.
I also loved that it rescued items I was getting nervous about using up in the fridge. I kept it vegan because my body really needed a break from all the butter in those pie crusts, and I definitely feel like I've been eating too much meat lately. Tofu and sprouted almonds (almonds that I keep in water in the fridge) were the main protein. You can add cut up bits of beef or chicken, even ground pork if you want. If you have leftover cooked beef, chicken, or pork in the fridge even better—I'd just add those towards the last 10 minutes of cooking so they don't dry out.
I was so tired, I didn't even have the energy to grab some ginger from the freezer, but highly recommend a few fresh gratings in here. Scallions and cilantro would be nice, too, but only if you have them. I certainly see this dish in our future once a week as a clean out the fridge meal. Hope everyone has a wonderful weekend. I've got lots of cleaning, dusting, and laundry folding in my future!
One Year Ago: Crispy Potato Skin Straws
Two Years Ago: Shredded Cabbage, Apple & Toasted Sesame Seed Salad
Three Years Ago: Eggs in Purgatory
Four Years Ago: Orange Poppy Olive Oil Muffins
Five Years Ago: Roasted Rhubarb Jam
Six Years Ago: Traditional Cream Scones
Seven Years Ago: Gnocchi: a Love Story
Eight Years Ago: Zucchini Muffins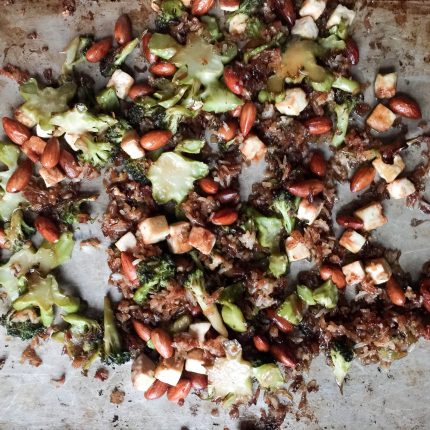 Sheet Pan Fried Rice
Cut up a broccoli crown along with some broccoli stems foraged from the crisper bin. Added it to a pan with little cubes of tofu, sprouted almonds I had soaking in the fridge, and some cold, leftover fried rice. Few dashes of olive oil, sesame oil, and soy sauce, plus a sprinkling of salt and pepper. Roasted it all at 425F for 20-25 minutes, stirring a few times. Love how the rice got all crunchy-crispy. Definitely adding this to the dinner rotation!
Ingredients
Broccoli crowns or stems

or both, cut up into bite-sized pieces

Tofu

cut up into little morsels

Sprouted almonds

Cold

leftover rice

Sesame oil

Soy Sauce

Olive oil

Sea salt & freshly ground black pepper

Optional add-ins: freshly grated ginger

chopped garlic, sliced shallot or onions
Instructions
Preheat the oven to 425ºF.

Spread the broccoli, tofu, almonds, and rice on a sheet pan.

Add a few dashes of olive oil, sesame oil, and soy sauce, plus a sprinkling of salt and pepper. Stir to mix well. If using any of the optional add-ins, stir them in now.

Roast for 20-25 minutes, stirring a few times, until the rice is crispy, tofu is golden & crisp, and the broccoli is tender. Serve hot.