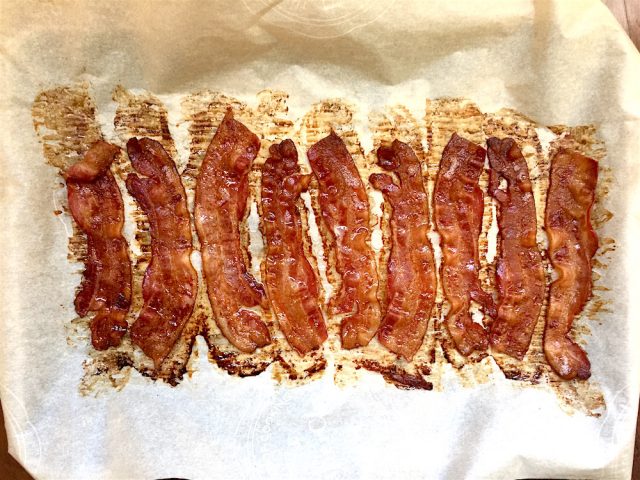 There's at least a dozen recipes to share with you, one of them being how to make vegan bacon, so the irony of today's post is not lost on me. Much as my tendencies lean towards a vegetarian, and sometimes vegan diet, there is one thing that often stops me in my tracks: bacon. This is what I hear my strict vegetarian say they miss most, too. I fully understand, and that's why I began making vegan bacon last fall. We'll get to that one day—promise.
I'm not going to lie—crispy, pan fried bacon is my first love. As we grow, though, and times change, life has a way of making us more amenable to adaptation. Or perhaps it's more laziness that kicks in. I clean my stove every day; sometimes multiple times, depending on what's on the recipe testing line up. Come the weekend, I try to minimize the work. And so, that is how I came to love oven roasting my bacon. It's actually how my mom made it when I was growing up, which is why I leaned more to the stovetop frying method. Odd the ways we choose to rebel.
Baking your bacon is hands off, leaving me time to focus on the rest of the breakfast menu. It's also a forgiving method. Once done, you can turn the oven down to 200Fº (95Cº), and it'll keep warm, without burning, until you're ready to serve it. Incidentally, baking your bacon sounds like a good band name, yes? Maybe we can take this show on the road?
It's also worth noting that the grease produced is what I call liquid gold, an instant flavor booster. Let the tray sit on the side until the grease cools, and solidifies. Scrape it into a jar, and store, covered, in the fridge. Use it as you would any other cooking oil—sauté vegetables, sear meat, a spoonful added to chili gives it a smoky essence. Using it to make popcorn is another favorite way to use it up.
Eight Years Ago Fried Green Tomatoes, Peach Raspberry Tart, and Trutas.
Seven Years Ago Freezer Preserved Tomatoes, Cantaloupe Cooler, Peach Blueberry Cobbler Cake, Pickled Jalapeno Watermelon Rind, and Ginger Soy Marinated Flank Steak.
Six Years Ago 60-minute Chicken Stock, Cherry Slushies, and Perfect Pancakes.
Five Years Ago Crispy Baked Eggplant, Homemade Corn Broth, and Smoky Watermelon Gazpacho.
Four Years Ago Easy Peach Jam, Peach Allspice Muffins, Lemon Blueberry Scones, and Day 742.
Three Years Ago Minty S'mores Milkshakes, Cantaloupe Sorbet, Crispy Buttermilk Fried Chicken, and A Clean Slate.
Two Years Ago Roasted Beet Greens, Seriously Delicious Ribs, and Homemade Vegan Ricotta.
One Year Ago No Cook Tomato Basil Sauce, Crispy Baked Kale Chips, Zucchini Oatcakes, Sweet Butter Pastry Crust, Peach Blueberry Tart, Quick Pickles, and Pork Fried Rice Salad.
How to Cook Bacon
Ingredients
Parchment lined rimmed sheet pan

8

ounces

224 grams uncooked bacon
Instructions
Preheat your oven to 375Fº (190Cº).

Arrange the bacon slices on the prepared pan, making sure they don't overlap.

Bake for 20 to 23 minutes, until desired doneness. If not serving immediately, reduce oven temperature to 200Fº, until ready to use (it'll hold nicely for 15 to 20 minutes) Transfer to a paper towel lined plate to drain any extra grease before serving.
SaveSave